Unlike traditional all-weather floor mats made from a rubbery, opaque material, the 3D MAXpider KAGU floor mats feature an attractive design with top quality materials and an excellent fit and finish. They blend perfectly with the rest of the interior.
Raised edge floor mats are typical now, so the real wow-factor of this product lies in its texture. Rubbery, bland all-weather mats will be a thing of the past now.
The carbon fiber looking material is a feature that is rare to see on all-weather mats, as most aftermarket floor mats struggle to get past the dated rubbery texture.
3D MAXpider Tesla Model 3 Floor Mats – at a glance
Some of the features of the 3D Maxpider mats for the Model 3
Easy to clean
As expected from all-weather mats, this set of floor mats from MAXpider are made with easy-to-clean materials. When the floor liners need to be cleaned, they can be quickly taken out and sprayed with water. For a deeper clean, car wash detergent will do a great job
Great-looking carbon fiber design
These mats won't ruin the refined and minimalistic look of Tesla's Model 3 interior. The carbon fiber texture gives them a sophisticated look that all-weather mats very rarely have.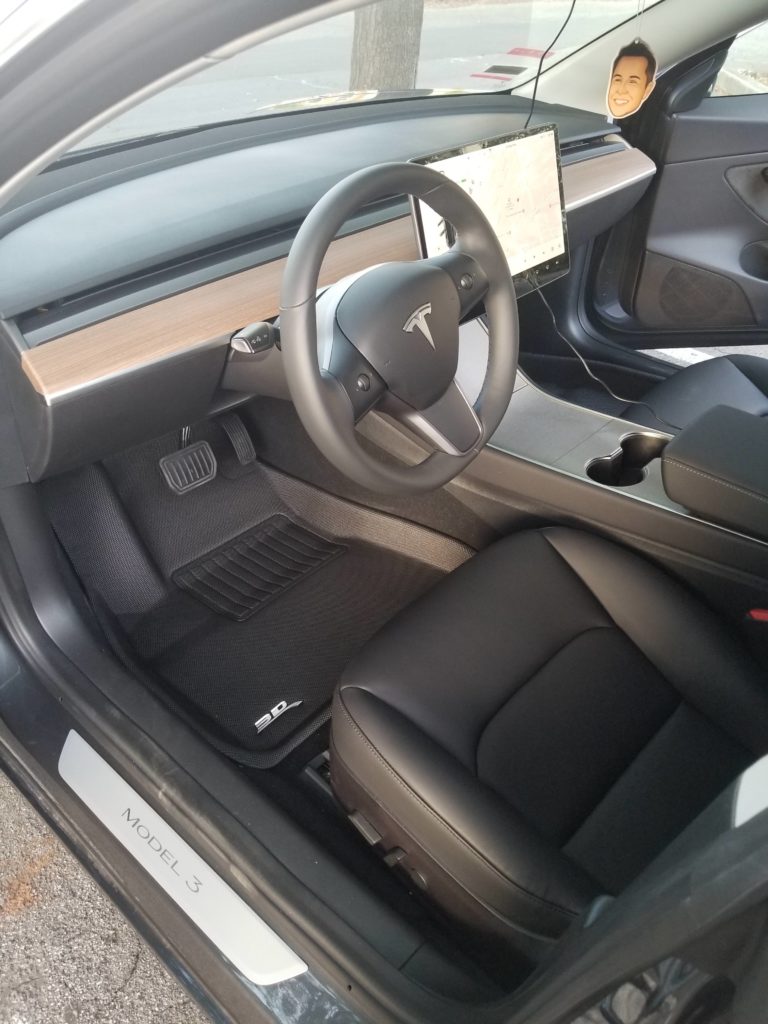 Exact fit
Specially designed for the Model 3's interior, these floor mats precisely fit right against the walls. Unlike a lot of all-weather floor mats, MAXpider mats are designed exclusively for only one kind of vehicle, and it's assured that it will fit perfectly on your interior.
Anti-skid design
The bottom layer, a patented anti-skid technology, prevents the mats from shifting around. This anti-skid material won't damage your original carpets or leave marks on them like other traditional mats manufactured from silicone.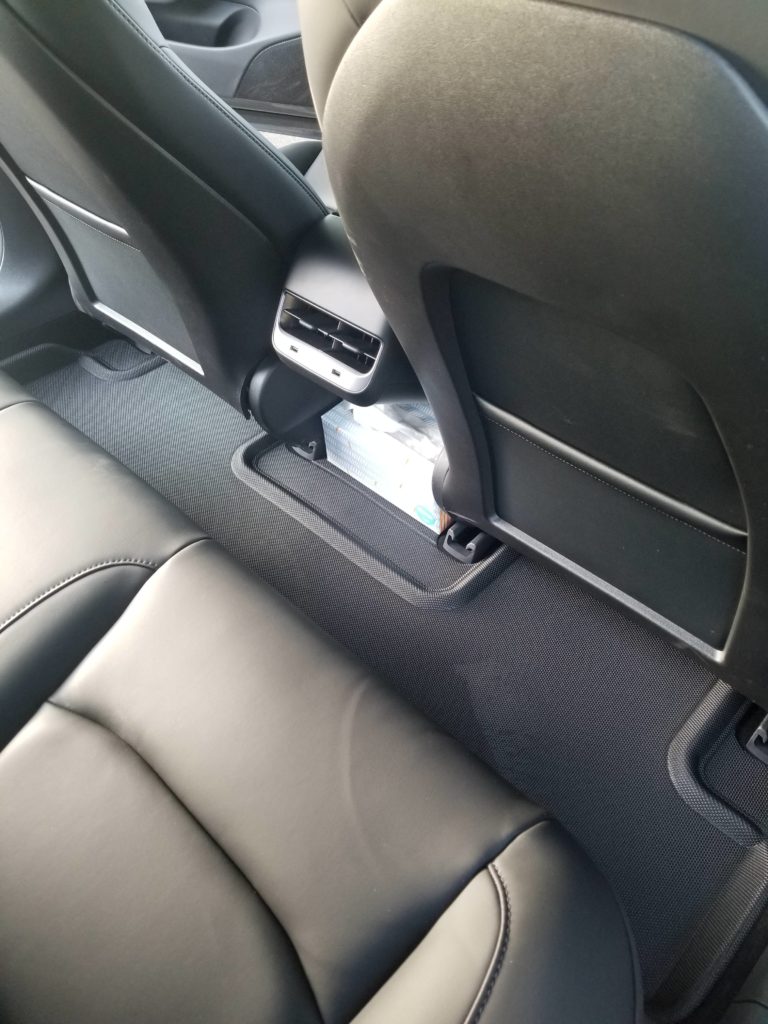 Reduced road noise
The middle XPE layer not only reduces foot fatigue but also provides a barrier to road noise. Floor mats are crucial when trying to reduce road noise and an additional layer that acts as another element insulating the cabin and passengers from the road.
Raised edge protection
Spills happen. The elevated edge design traps liquid spills without leaking it all over the original floor of the vehicle. The mat can then be removed or easily cleaned, leaving the interior as if the spill had never happened.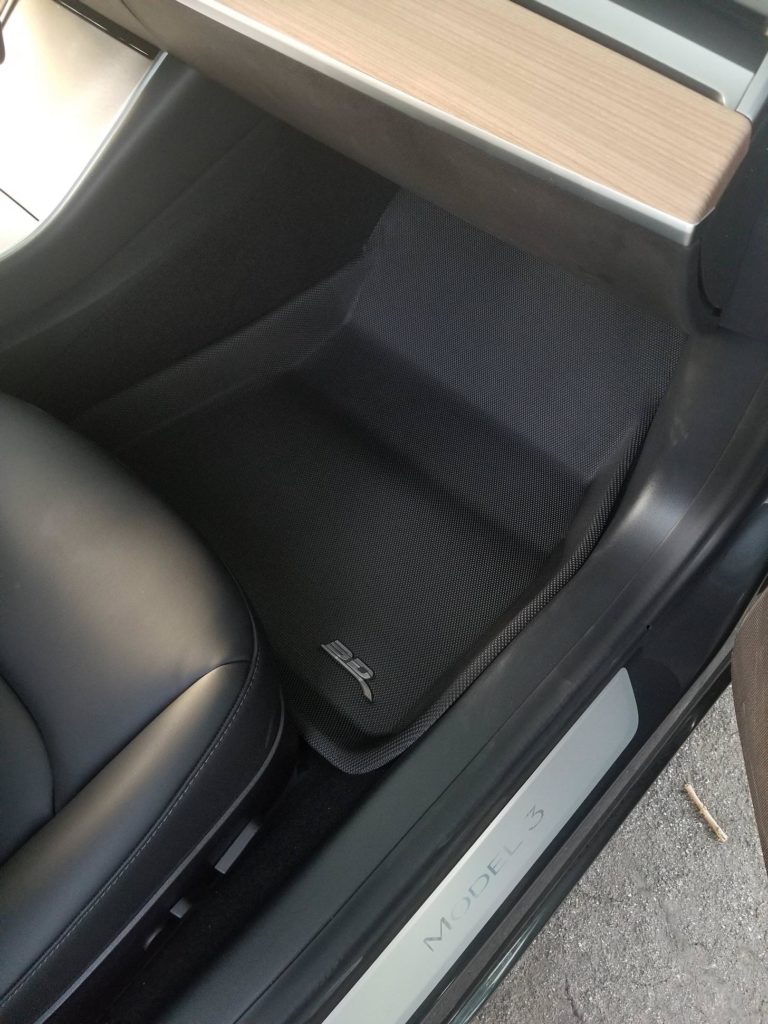 What are the advantages of all-weather floor mats?
All-Weather floor liners protect the original tapestry of your car from the elements. This means the floor of your vehicle will be protected from spills, pets, dust, little rocks, or simple wear and tear.
Another advantage is being able to put away the original floor mats your Model 3 came with during rainy and snowy months or even year-round. Our aftermarket all-weather floor mats are the ones putting up with daily wear and tear while our original mats are stowed away and kept in pristine condition.
In general, using a set of aftermarket floor mats will help you preserve the interior of your car better, saving you hours of cleaning and detailing and keeping the resale value of your vehicle high.
Related: Get the best range with your Tesla in the winter
Our conclusion
When looking for a set of floor mats that you can use year-round and at the same time don't want to compromise the interior look and feel of your Model 3, the 3D MAXpider KAGU all-weather floor liners are a solid addition for your Tesla.
This set of floor mats matches well with the interior style of the Model 3 while providing full protection to the actual tapestry of the vehicle. The main benefit of the carbon fiber-like material is how easy it is to keep clean.
We'd be delighted if the manufacturer decided to make the "3D" logo a bit less noticeable in future iterations of the product. The logo is evident when getting into the car, but it's not visible after positioning ourselves in a driving position. It's a matter of personal taste but we've seen it is a common complaint among users of this set of floor mats.
Know of any other solid alternative regarding all-weather floor mats for the Model 3? Let us know and share your thoughts on another similar product.