One of the main complaints of Tesla Model 3 owners is the seemingly unsophisticated pedals the car comes from the factory with. We praise Tesla's attention to detail and refinement in almost every area of the car's interior, however, when you look at the factory pedals they are bland, rubbery and it can leave a bad impression considering how luxurious the rest of the interior feels.
Before and After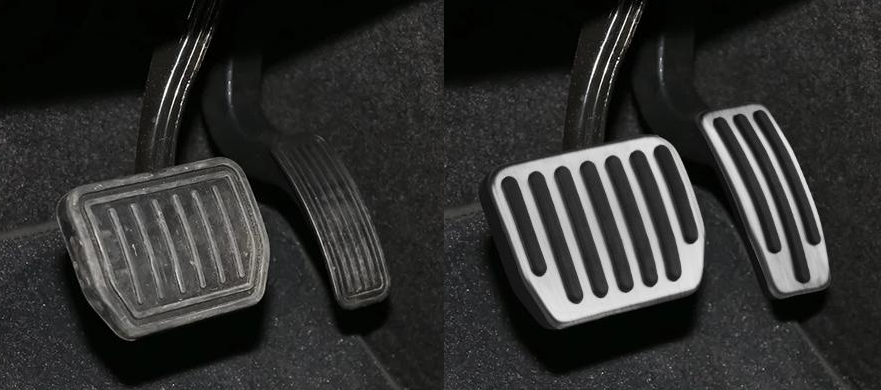 Topfit specializes in Tesla accessories. One of their products is the pedal covers for the Tesla Model 3. This type of pedal covers are standard in the performance version of the Tesla Model 3 but you can add that same sporty touch to any Tesla Model 3.
Key features:
Enhance the style of your Tesla
Tesla's Model 3 pedals are not exactly the most attractive looking pieces of rubbery and take away from the refined and futuristic-looking interior. The aluminium-textured pedals add to the already amazing driving experience of the Model 3.
Non-slip surface
These set of pedals will make your drive experience safer and more pleasurable. The anti-slip material will make your vehicle safe to drive no matter the weather conditions out there. Rain or snow won't be a problem as your feet won't slip away from the pedals.
Exact fit for Tesla Model 3 pedals
Exclusively designed to fit the Model 3 pedals. These pedals covers will fit perfectly on the Model 3 following the easy installation instructions. You can be assured they won't fall out or move around as they are designed only for the Model 3 pedals.
Easy to install
No screws required. No welding required. Unlike other aftermarket pedals, these have a really simple installation method. Simply warm up the pedals in warm water to let the rubber part expand and then simply fit the covers around the brake and accelerator pedals of your Model 3. Please make sure you are completely stopped and your car is completely turned off before you attempt to install the pedals to avoid any accidents.
Before installing your new pedal covers we recommend that you clean the stock pedals so that very little grime and dust stays between the new pedal covers and the factory pedal rubber.
Easy to clean
The pedals covers can get dirty over time but if cleaning is required they can simply be removed and washed in soapy water. This will ensure every part of your interior stays shiny and clean at all times of the year. Cleaning your factory pedal pads is a much more difficult process as they can't be easily removed, therefore not easily soaked in soapy water if a deep cleaning is required.
Conclusion
This is a perfect addition for any owner of a non-performance Model 3. Not everyone can enjoy the extra features of the performance version of the Tesla Model 3 and a simple set of pedals covers can give your interior a renowned look and feel.