Whether you like going on twisty side roads, hitting a dirt trail, or simply going around the park, biking is an incredibly enriching hobby.
A great way to take biking to the next level is by getting your vehicle involved. Having a bike rack for the Model 3 opens a whole new world of possibilities.
You could technically fit one or two bikes in the back of your vehicle, but this isn't ideal as you risk scratching the interior and damaging interior bits. To avoid that, you need a bike rack for your car. Let's take a look at the best Tesla Model 3 Bike Racks:
Best Tesla Model 3 Bike Rack – Top 3 Picks
Tesla Model 3 Roof Rack + Bike Carrier
OEM roof rack
Requires an additional roof rack bike carrier
Bike Racks for the Tesla Model 3 Reviewed
In this brief guide, we'll review some of the best aftermarket bike racks for the Model 3. They vary in form and function, but among the bike racks we've selected, all needs are covered. Take a look below and see which one fits your needs the best.
1. Allen Sports Deluxe Trunk Mounted 3-Bike Rack
Pros
Easy installation, no additional accessories required
2-bike and 4-bike variants available

Can be used on virtually any vehicl

e
Padded frame to avoid direct contact with the vehicle's body
Excellent value
Cons
Might partially obstruct your license plate
The Allen Sports Deluxe Trunk Mounted bike rack is a traditional trunk-mounted bike rack that adjusts to the back of your car by using the trunk as support.
We were surprised to see how well it fits a Model 3 considering the unusual rear shape of the vehicle. This is how it looks when carrying one bike, out of the three it can carry in total.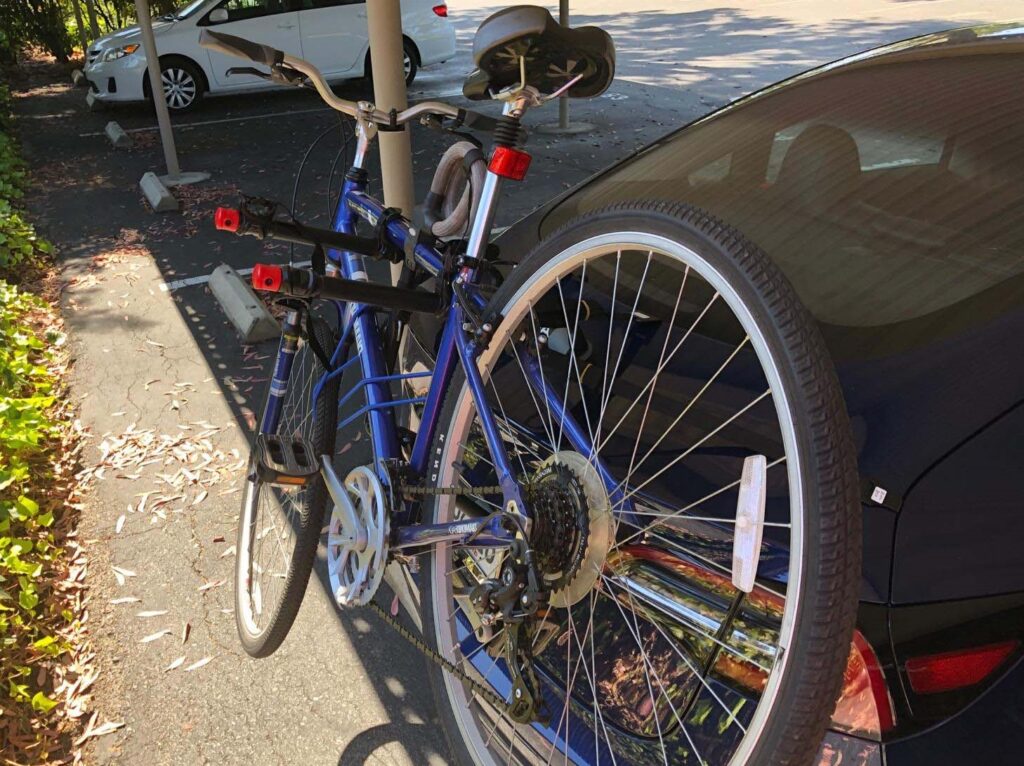 A common design issue with trunk-mounted bike racks is that in some vehicles, there is a risk that the top bars hit and break the rear window. Fortunately, you'll be able to open your vehicle's trunk with ease as the rack never comes in contact with the glass.
Allen Sports also offers variants with 2-bike and 4-bike capacities if the regular one with capacity for three bikes is not what you're looking for.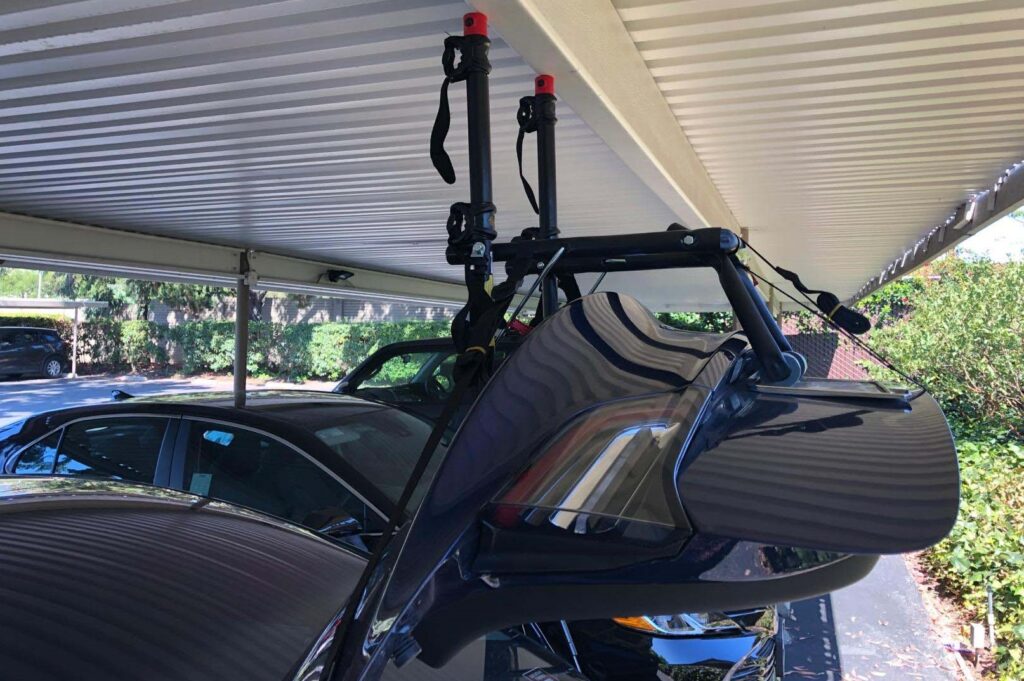 Overall, the Allen Sports Deluxe Bike Rack is an excellent choice for any Tesla Model 3 owner looking to get a bike rack that doesn't require a hitch to be installed. Its installation and removal are straightforward and you won't need any additional tools.
We do recommend utilizing bike rack scratch protectors if you want to fully ensure your paint is protected from the straps that attach to the bottom of the trunk lid.
Related: Best Tesla Model 3 Accessories
2. Tesla Model 3 Roof Rack by Tesla
Pros
Designed with aerodynamics and efficiency in mind
Can be used with cargo boxes as well
Made by Tesla
Cons
Requires an additional Roof Rack Bike Carrier to be able to carry bikes.
Height clearance can be an issue in underground parking lots or garages
Expensive
Even though Tesla didn't offer a factory option of a bike rack for the Model 3, shortly after releasing the vehicle they started offering this accessory on their website.
The Model 3 roof rack is specially designed for this exact vehicle, and it is engineered for maximum aerodynamic efficiency, minimal wind noise, and negligible impact to range due to its streamlined aerodynamic shape.
Read more: What affects range in a Tesla?
The aluminum crossbars blend seamlessly with the Model 3 lines, and they feature T-slots to be able to mount a variety of compatible attachments suck as bike racks, ski racks, and even cargo boxes for vehicles.
A downside of the Tesla Roof Rack is that it doesn't include an actual roof rack bike carrier as the picture would suggest. Tesla doesn't offer an official bike carrier for the roof rack but any standard bike carrier, ski rack, or cargo boxes can be attached to it as it has T-slots for mounting accessories.
Read more at Tesla's Store.
3. Seasucker Mini Bomber 2 Bike Rack
Pros
Can be used on any vehicle
Quick installation and removal
No additional accessories required
Cons
Need to be constantly aware of height clearance (in a drive-through for example)
The SeaSucker Mini Bomber 2 is the vacuum-mount bike carrier that can be attached to almost any vehicle. The Tesla Model 3 is not the exception as it can be easily mounted on the roof of it.
The accessory consists of three pieces: The main one is a long support consisting of four SeaSucker vacuum mounts. This piece is where the front of the two bikes that are being carried would be supported.
The remaining two pieces are the supports for the back tire of the bike. These have one vacuum mount each.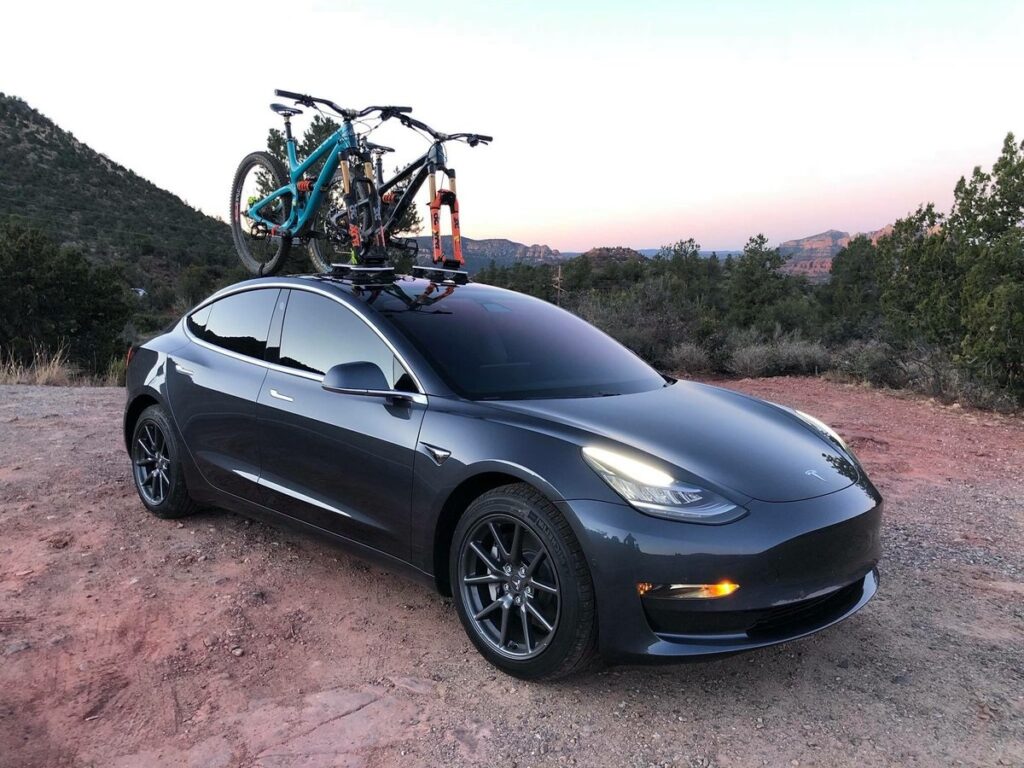 We liked the concept of the SeaSucker Mini Bomber 2 as there is no need for a hitch to be installed in your vehicle to be able to make use of it.
The main downside we found with this accessory is that if the vacuum is over tightened there is a risk the glass roof of the vehicle might be damaged.
4. Allen Sports 4-Bike Hitch Bike Rack
Pros
High load capacity. Up to 4 bikes
Can be set up rapidly
Ideal for families and groups
Cons
Requires a hitch to be installed on your vehicle
Heavier than other alternatives
This offering by Allen Sports is a high-capacity hitch bike rack with a capacity of up to 4 bikes. If your Model 3 is already equipped with a tow hitch this is an excellent choice due to its solid structure and high carrying capacity.
It hooks up to a regular 2″ hitch and can be set up in less than 5 minutes according to the manufacturer. The carry arm can accommodate various types of frames. Not all bike frames are the same so this assures that you can carry kid-sized mountain bikes or adult road bikes with the same confidence.
However, if your car does not have a tow hitch, we recommend opting for the trunk-mounted bike rack alternatives.
5. Seasucker Talon Bike Rack, 1-Bike Rack
Pros
Easy installation. Only four suction cups.
No additional accessories required
Compact size for easy storage
Cons
Limited bike capacity
Height clearance could be an issue and is something to be constantly aware of
The SeaSucker Talon Bike Rack works very similarly to the Mini Bomber 2 from the same manufacturer. Even though the concept and the design are the same, the size is smaller so only one bike be carried with it.
This product is ideal if you don't plan on carrying more than one bike. It wouldn't be possible to carry two bikes with this accessory, so we recommend going with the Mini Bomber 2-bike rack as there is always the possibility you find yourself needing that extra capacity.
Once again thanks to the SeaSucker vacuum mounts it can be attached virtually to any car surface.
6. Kuat Transfer Universal 2 Bike Hitch Mount
Pros
No direct contact with the bike frame
Reinforced steel construction
Can be installed on any vehicle
Cons
Requires a hitch to be installed on your vehicle
Fits only two bikes
The Universal 2-bike hitch mount by Kuat Racks is a more traditional solution to Model 3 owners in need of a bike rack.
It follows a more traditional design when compared to the SeaSucker alternatives as it just attaches to a tow hitch.
Video review:
The bike rack mounts on a hitch receiver that needs to be installed previously in your vehicle. It is a very sturdy design that provides a lot of stability for up to two bikes.
If you already have a hitch installed on your vehicle or plan on having one installed soon, this is an excellent choice. Its solid build will reliably serve you for years to come.
Additional Tesla Model 3 Bike Rack Accessories
Allen Sports Bicycle Cross-Bar Adapter
Car Scratch Protectors for Trunk Bike Rack
Read more: Gifts for Tesla owners
Advantages of having a bike rack on your vehicle
It's all about convenience and the ability to easily attach this accessory to be rear or the top of your Tesla, and carry a few bikes without sacrificing any of the interior space of our vehicle.
A bike or even two can fit in the Model 3 with the rear seats folded, but when we throw a bicycle on our vehicle's interior, we risk scratches and rips, not only to the hard plastic trim bits of the interior but also the leather. It would be a very bad sight to see that the fabric or leather of the back seat was ripped while we were struggling to unload the bike from the car. The chainring can easily rip a hole in the seat and the chain can grease up the interior.
A bike rack is a worthy investment for anyone who enjoys biking. It will let you ride outside of the same old urban trails that you might already know by memory and take your hobby to new locations.
Is a hitch required to use these bike racks on a Model 3?
We attempt to recommend accessories that require the least amount of installation time, that are practical to utilize in a variety of scenarios without having to dedicate hours of preparation just to be on the road with your bikes.
However, some do require a traditional hitch to be used and we will note that in our review to assure you are aware of the extra installation steps needed when you decide which bike rack best fits your needs.
We recommend the Allen Sports Deluxe Bike Rack as it doesn't require you to have a hitch installed. No additional installation or accessories are needed.
Trunk-mounted bike rack vs hitch bike rack – Pros and Cons
Trunk-mounted bike racks can be mounted onto your Model 3 in less than a minute and removed just as quickly. They do not require any prior modifications or additional accessories to be installed. This makes them the most practical out of all types of bike racks. The downside of this rack is the relatively low load capacity and the inability to open the rear trunk unless all bikes are removed.
On the other hand, hitch bike racks have a high load capacity, and some allow you to access the trunk while still having bikes mounted. Hitch bike racks are also the only type of racks capable of supporting the weight of an electric bike, as these are markedly heavier than a traditional bicycle.
The most obvious drawback of a hitch bike rack is the need to have a tow hitch installed, and they are also heavier to carry than other bike racks.
Hitch bike rack vs roof bike rack – Pros and Cons
Hitch bike racks have very sturdy frames and can generally hold more weight than other types of bike racks. The reinforced steel frame of the Kuat Transfer Universal 2-Bike Hitch Mount has impressive strength and durability. The downside of this type of bike rack is that a hitch installation is not practical for many owners that use it just a few times a year.
Roof bike racks leave full unobstructed access to the rear trunk, but they all share the same common weaknesses: increased wind noise, reduced height clearance, and make mounting the bikes more difficult as you have to place them on top of the car.
Height clearance is not going to be an issue for most users, as you are rarely going to visit establishments with low height restrictions like certain shopping malls and parking garages when going for a trip with bikes on top of your vehicle. Be really careful in drive-throughs when using this type of rack.
Some final thoughts
Take summer to the next level by having your Model 3 ready for any outdoor adventure. A Tesla Model 3 bike rack will allow you to change your usual biking environment to new, unexplored locations.
Whether it is for simply bringing a bike to the park, bringing them to the cottage, or simply using our vehicle to go over steep hills, having a bike rack on your vehicle is a great addition that can open a whole new world of possibilities if you're a biking aficionado.
Know of any better alternative? Have any suggestions? Please let us know.