Aero Wheel Covers improve the aerodynamic efficiency of your Tesla and can give you up to 5% more range. Unfortunately, they're not as aesthetically pleasing as the multi-spoke aluminum wheels hiding underneath the Aero Covers. To complete a new look, you'll need an Aero Wheel Cap Kit as Tesla doesn't include them from the factory.
If you're looking for a quick appearance upgrade to your rims, take a look at some aero wheel cap kits for the Tesla aero wheels. If you need a storage bag to stow away the Wheel Covers, there are also storage bags explicitly designed for the Model 3 Aero Covers. Let's take a look:
Tesla Aero Wheel Cap Kits – Top Picks
Model 3 Aero Wheel Cap Kits consist of center caps and lug-nut covers that allow owners to expose the better-looking multi-spoke aluminum wheels.
The main advantage of the Aero Wheel Caps is that it allows Tesla Model 3 owners to significantly change the looks of their vehicle without expensive modifications and without having to get a new set of rims.
Aero Wheel Cap Kits for Tesla Model 3 – Review
Tesla Model 3 Aero Wheel Cap Kit – Red
This Aero wheel cap kit is compatible with Tesla Model 3, Model S, Model X, and Y. It offers a clean, captivating and sporty look. The wheel center caps are specifically designed for Tesla and have a deep black with a red Tesla logo. This impressive kit is for drivers who want to showcase the remarkable spoke design hidden by the standard Aero Wheel Caps.
The Tesla wheel cap kit is made from anti-scratch, Anti-rust, and Anti-dust material that keeps your car always looking new. They are strong and durable and come with a protective plastic cover to prevent scratches. What's more, it is easy to install and remove, and they have an excellent fit as if it was an original factory accessory. Give your Tesla Model 3 a sporty look with the red Aero Wheel Cap Kit.
Also see: Aero Wheel Wrap Kit for the Model 3
Tesla Model 3, Y, S & X Aero Wheel Cap Kit White
The kit is for Tesla owners who wish to show the visually striking spoke design that is usually hidden beneath the standard aero covers. This Tesla Model 3 Aero Wheel Cap Kit also supports other Tesla models, including Model S, Y, and X. With this kit, your Model 3 wheels get a clean sporty look. Its wheel center caps are designed for Tesla and come with a white Tesla logo.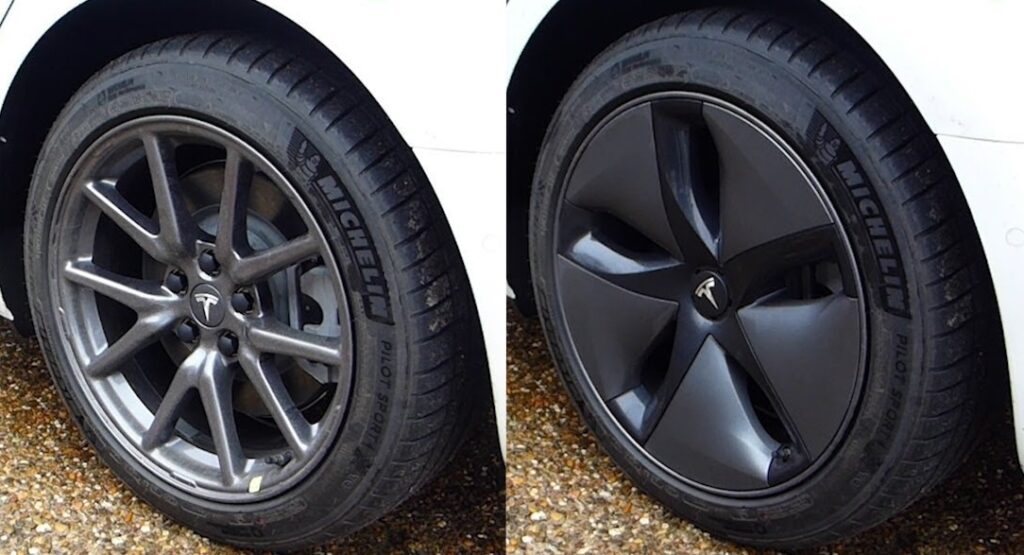 The pieces in this kit are made from waterproof, anti-rust, and dust-proof material and have a protective plastic coating that prevents scratches. It is easy to install and remove the kit. The black lug nut covers will complement the metallic gray spoked wheels on your Tesla. This wheel cap kit will make the wheels look like they should be that way. The look is way better than when fitted with the standard Aero wheel covers.
Aero Wheel Cap Kit for Model 3
This Aero Wheel Cap Kit is exclusively designed for Tesla Model 3 wheels. Its striking new and stylish wheel center cap gives the wheels a stunning look. The wheel kit complements the looks with its wheel center cap attracting attention thanks to the original model 3 logo. The wheel center cap is made from aluminum and re-enforced with a metal ring. The ring makes the center caps to clip on tight to the wheel without the likelihood of falling off. It is a high-quality kit with a color choice that is appealing and well designed.
This is an attractive kit if you want a sturdy Model 3 Aero Wheel Cap Kit and at an affordable price. What's more, you will be pleased with the new sporty look. The kit is made from high-quality material such as black aluminum alloy. The lug nut covers have clips that make them super easy to install and remove if needed.
Related: Tesla Model 3 Mud Flaps & Splash Guards
Aero Wheel Cover Storage
BASENOR Tesla Model 3 Aero Wheel Cover Storage Bag
If you decide to remove the standard Aero Wheel covers from your Tesla Model 3, you need a safe way to store them in one place. Fortunately, this Tesla Model 3 Aero Wheel Cover storage bag doubles up as a carrying bag and is the perfect fit for your Model 3 Aero Wheel covers. It has four compartments partitioned by 3 Velcro adjustable dividers that protect each Aero Wheel cap separately.
The storage bag is made from a strong, water-resistant, black polyester fabric and also has a zipper. Its excellent design makes it easy to carry your Aero wheel covers. With this storage bag, you can comfortably store and protect Model 3 Aero covers in your garage. It comes with soft inserts that protect the wheel covers from scratches. So, the storage bag provides a clean and neat way of putting them away.
How to remove the original Aero Wheel Caps
The process of removing the original Aero Wheels Caps is easy. However, you need to be careful to avoid scratching them both the original rims underneath and the Aero Wheel Caps. To remove the original wheel cover, you need to start slowly and at an angle. Start by placing your thumb on the tire and the other four fingers grabbing the cover through the vents. Next, slowly lift the cover from the wheel using four fingers while your thumb is on the tire and move to the next vent. This way, you will have control. Repeat this process with all the vents until the cover pops out.
Besides, if you already have an Aero wheel cap kit installed, you can easily remove the wheel center cap using a suction cup. Although it is also possible to remove the center cap with two flat-edged screwdrivers, you can easily scratch or leave marks on the wheel center caps.
Aero Wheel Cap Kit installation:
Once you have a Tesla Model 3 Aero Wheel Cap Kit, you can easily install it. After removing the original wheel cover, start with installing the wheel center cap. Make sure you remove the protective plastic covering before installing it. Press the cap until it snaps into place. Next, install the lug nut covers for each tire and ensure they have a tight fit by pressing them. Follow the same process for all four wheels.
Additional considerations when using Aero Wheels without cover
Model 3 Aero Wheels vs Sport Wheels range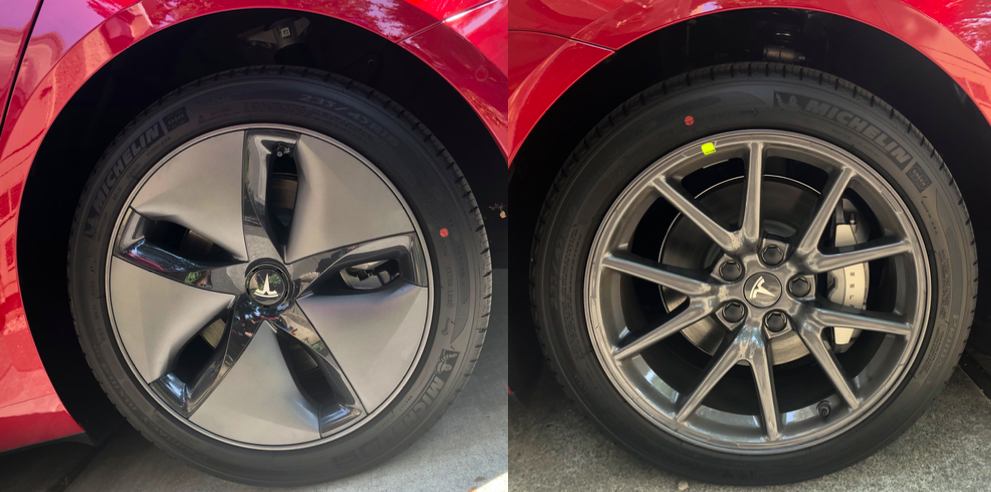 People who don't like the Aero-style on their Tesla Model 3 can remove the original Aero Wheel cover to reveal the stunning hidden wheels. The Aero Wheels are more efficient compared to the sporty Wheel look after removing the Aero Wheel covers. However, removing the wheel covers reveals a striking wheel design. The trade-off here is range.
Related: Tesla Road Trip Tips
Keeping the Aero Wheel covers on your Model 3 wheels can increase the range of the vehicle by up to 5-7%. So, for those who want a sporty look without spending extra cash, they can remove the Aero Wheel covers, while those who want a better range can keep the wheel covers. If maximum range is essential to you, having the Aero wheel covers gives you some peace of mind.
What does the Aero Wheel Cap Kit include?
The Aero Wheel Cap Kit consists of:
4 wheel center caps,
20 lug nut covers and
1 lug nut cover remover clip.
Each wheel has five lug nut covers and one wheel center cap. Whenever you want to switch back to the original Aero wheel covers, use the Lug nut cover remover to pull the lug nut covers out. The lug nut cover puller ensures you don't damage the covers when removing them.
Conclusion
Aero Wheels improve the aerodynamic efficiency of your Tesla. They can increase range up to 5% depending on your type of driving and speed. Tesla uses Aero Wheel Caps as a removable center cap that when removed exposes a much more likable but not as aerodynamically efficient alloy rims.
Removing the Aero Covers will give your Model 3, Y, S, or X a refreshed appearance by just installing the missing center cap and lug nut covers. We recommend the Aero Wheel Cap Kit for Model 3 as it gives your vehicle's center cap a distinctive red that goes well with the red of many Model 3s.