Ever since its debut in 2017, the Tesla Model 3 has been the best selling electric vehicle and one of the most affordable electric cars on the market. Its unique combination of advanced technology, recognizable styling, power, and long-range makes it the most desirable EV in its class.
The Aero Wheels aren't the most aesthetically pleasing feature of the car, and that's where wheel wraps come in. Fortunately, a Model 3 Aero Wheel Wrap Kit can give your vehicle a little more va-va-voom in the looks department. They provide a fuss-free and affordable way of taking your aero wheels from regular to remarkable.
Model 3 Aero Wheels Wraps – At a glance
If you opt for the efficient Aero Wheels, Tesla doesn't offer much customization, and they are not the best looking wheels out there. Aftermarket vendors offer various Model 3 Wheel Wraps, which is an inexpensive way to add a personal touch to your car.
There are numerous products on the market and it can be overwhelming to pick one as only a few are available with the unique shape of the Aero Wheels, luckily, we've done the homework on your behalf! Check out our brief guide to four of the best wheel wrap kits:
Aero Wheels Wraps for Tesla Model 3
EV Wraps Model 3 Aero Wheel Wrap (Carbon Fiber)
Quick Overview
Carbon Fiber Texture
20 wraps + 4 extra in case of installation error.
Squeegee included for install
Red center wheel cap not included
The first item on our list is the wheel wrap set made by EV Wraps; a company specialized in automotive wraps. There are two styles available, one with a carbon pattern and another with clear black vinyl.
Due to the nature of the process and possible mistakes that can happen during installation, the kit includes 24 wraps in total. You only need 20 for all wheels, but four additional ones are includes in case you need a few extras.
Even though this wheel wrap will not cover the whole surface of the wheel, it will still offer additional protection from scratching, chipping, or road debris. Buyers report that the product is easy to apply and remove if needed. The quality of the material is excellent, and it sets the car apart from similar Teslas on the road.
If we have to choose, we will give a slight advantage to the carbon style wrap since it looks more upscale and matches better to the overall theme of Model 3 as a technologically advanced vehicle filled with modern materials.
A downside of this product is that the red central cap does not come with the kit, and you will have to purchase it separately.
Related: Center Console Vinyl Wraps for the Model 3
EV Wraps Model 3 Aero Wheel Wrap (Satin Black)
Quick Overview
Satin Black Texture
20 wraps + 4 extra in case of installation error.
Squeegee included for install
Red center wheel cap not included
Boost the aesthetics and road-appeal of your Model 3 by adding EV Wraps to your wheels. The kit comes complete with twenty wraps, at five wraps per wheel that's enough to cover all four wheels. However, the kind people at EV have also added four extra wraps to the kit. If you make mistakes during the installation, you have additional wraps. They have also added a squeegee so you can give your new wheels a good clean afterward!
The Satin Black texture is just slightly glossier and smooth compared to the Carbon Fiber one. From a distance, the difference isn't noticeable, but as you get closer, you'll notice how the Satin Black is just a glossy black compared to the more sophisticated appearance of the Carbon Fiber kit.
Kenriko Model 3 Carbon Aero Wheel Wrap
Quick Overview
Carbon fiber texture
Wrap sheets for four Aero Wheels included
Metal razor blade and instructions included for install
High-Quality 3M 1080 Automotive Vinyl
The second product on our list comes from Kenriko, a brand name in the field of vinyl wraps. Their design for Tesla Aero wheels is a bit different since it covers smaller inside part of the wheel, giving it a distinct and fresh look. The reason for this is the fact that this wrap set covers a smaller surface of the wheel and comes without additional pieces in case you get something wrong.
Due to Kenriko's wrap design, this Tesla Model 3 Aero Wheel Wrap product is less protective of your wheels since it covers only smaller parts of the wheels. Yes, it is still better than having no vinyl cover, but you should have that in mind when ordering.
Customers reported that it is easy for installation as well as that the material is of high quality. However, this product is mostly aesthetic addition, not a full-on protective piece, so if you want to enhance the looks, it is a great buy. If you are looking for complete dependable protection, you might want look elsewhere.
Kenriko Model 3 Matrix Black Aero Wheel Wrap
Quick Overview
Matrix Black texture
Wrap sheets for four Aero Wheels included
Metal razor blade and instructions included for install
High-Quality 3M 1080 Automotive Vinyl
This product also comes from Kenriko wraps. However, the Matrix Black is a somewhat better purchase since the design pattern is different, and it comes with additional parts for customizing the interior of your Model 3 as well. This kit has the same carbon-style vinyl cutouts, which are designed to fit the inside of your Tesla Aero wheels, but in the package, you will find the pieces which will fit your center console and gave it that carbon-style look and upscale feel. Kenriko is proudly mentioning that all their vinyl wraps are laser-cut with the highest level of precision, which customers can confirm.
As with the previous item on our list, the level of protection against scratching and chipping of the wheels is not high since only a small portion of the wheel surface is covered. However, if you apply the additional pieces in the interior, you will protect the center console and cup holder area from scratching. Considering that the price of the Matrix Black kit is the same as of the Carbon Black, we believe that this one is better options since you will get more for your money.
Read more: Aero Wheel Cap Kit & Aero Wheel Storage
Installation process:
The best wheel wrap kits come with comprehensive instructions, and possibly even a video guide to demonstrate how it's done. Make sure you familiarize yourself with the product and instructions before you begin!
Many people want to know about the installation process for wheel vinyl wraps, and we are happy to say that this is one easy job anyone can do. But, in order to do it properly and be fully satisfied with the results, you need to follow these simple rules.
Thoroughly clean the wheels before you start. It is of utmost importance that the wheel's surface is fully dry and without specs of dust.
Be sure to apply the wrap according to the manufacturer's instructions and do it in a dust-free environment.
If you have problems with the air bubbles caught underneath the wrap, squeeze them out carefully with a piece of plastic or a credit card.
Our recommendation is to take the wheel off from the car and place it flat on the ground. This way, you will have a better approach, it will be easier to maneuver, and you will significantly reduce chances for error.
The best advice we can give you on fitting is to make sure you clean the wheels well beforehand, and, as previously mentioned, the wraps need to be installed in a clean and dust-free area – an excellent excuse to clean your garage out.
FAQ
How durable are the wheel wraps?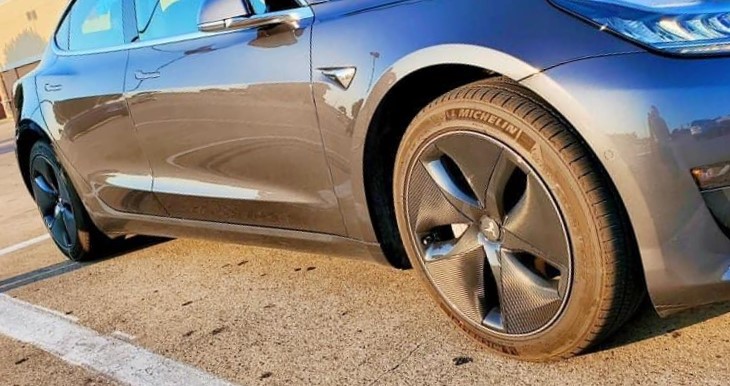 Customers often have concerns about the durability of vinyl wraps, especially those installed on the wheels. However, if the product was installed correctly in an environment free of dust, there is no reason the wheel wraps shouldn't last several years in regular use and everyday traffic. Of course, after that period, you can expect them to start peeling, or the color to start fading. The wheel wraps installed on vehicles driven by harsh weather conditions like extreme heat or cold have a shorter life expectancy.
The Wheel Wraps here all use High-Quality 3M 1080 Automotive Vinyl for maximum durability in all climates. Fading and peeling due to sun, temperature variations, and water may happen but after several years of usage.
Can the wrap be removed?
Removing your wheel wraps shouldn't be too much of a chore. Again, we suggest you follow any instructions given by the manufacturer. However, we can tell you that a heat gun should make the job a little easier. The heat will make the vinyl more pliable and will also loosen the adhesive on the wrap. This will allow you to lift and pull the wrap removing it from your wheel.
Of course, and it is also an easy job. When you want to remove it, peel it off the vinyl from the wheel. However, some precautions must be taken to not damage the wheel or peel the paint from it. After the wrap's removal, some residue, glue, or dirt will likely be trapped in the adhesive residue. To entirely remove that, try using some light cleaner fluid since soap and water probably won't give you the desired results. Some heavy-duty wraps will need a heat gun, but be careful not to damage the paint beneath the wrap.
Which is the Best Wheel Wrap Kit for You?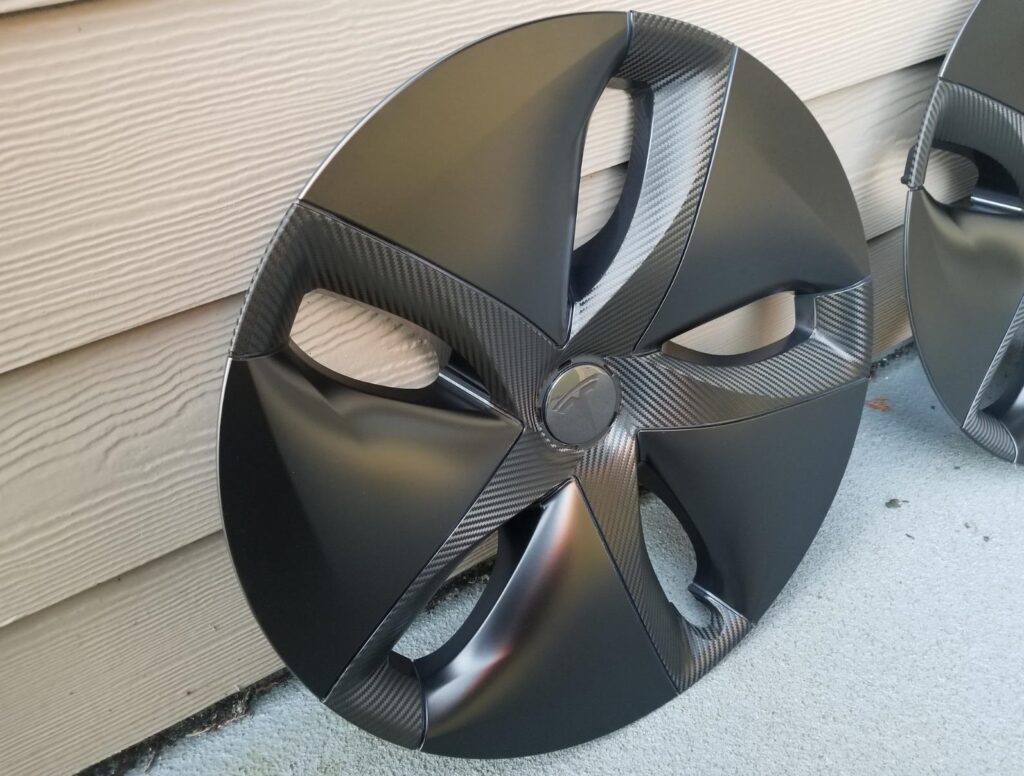 The aero wheel wrap kits we have looked at today both have their merits and will help you to not only improve the look of your vehicle but also protect your wheels. We feel the EV Wraps kit has the edge – the product has a high-quality look and feel. There's also the added benefit of being able to customize your design if you choose.
Benefits of Installing Aero Wheel Wraps
Wrapping your aero wheels will allow you to give your car a more aesthetically pleasing appearance. You can choose from the available colors, and some wheel wrap manufacturers will even allow you to customize your design.
However, it's not just about looking good! Functionality counts for something too. Wheel wraps can also help protect your wheels from scrapes and scratches, preserving your original wheels beneath. Keeping your vehicle in tip-top condition will help in maintaining its value – it will also save you from having to pay out for expensive replacements.
Wheel wraps kits are good value too, you don't have to spend the earth to get a decent kit, and they are renowned for their durability. Buy a quality kit, and you shouldn't need to keep replacing your wraps. The weather shouldn't have too much of an impact, and the best wraps could last for several years before showing signs of peeling
Final thoughts
You shouldn't think that Model 3 Wheel Wraps are just styling detail. Yes, they can significantly enhance the exterior look but also protect the unique-looking alloy wheels of your Tesla. During regular use, wheels are often scratched or chipped, which not only looks unappealing but also lowers the value of your car.
Buying a brand new set directly from Tesla can be very costly. With these practical, affordable, and easy-to-install vinyl wraps, you can keep your Model 3 Aero Wheels looking factory fresh for a long time.
We recommend the EV Wraps Carbon Fiber Wrap as it is the most aesthetically appealing wrap of the ones reviewed here, and it can protect your Aero covers for the years to come.