The Model 3 delivers ample cargo space, with two distinct storage areas including a front trunk, sometimes called frunk, and also a spacious rear trunk. A good investment to keep the cargo areas clean is are trunk liners or cargo mats, they won't only keep the factory mats clean but will make both trunks easier to clean.
There are several Model 3 Trunk & Frunk Cargo Mats available in the market, with varying materials, design, and coverage. Cargo Liners are compatible with all Model 3 models available, although Tesla changed from a smooth basin frunk to a beaded basin trunk in mid-2020, making existing frunk liners incompatible with this new design.
So, how do you decide which is the right trunk mat for your Tesla? In this article, we have listed some of the best trunk mats for Tesla Model 3. Keep reading to find out!
Cargo Liners for Model 3 Trunk and Frunk:
Compatibility

Frequently Asked Questions
Does the Tesla Model 3 come with trunk mats?
Yes. The Tesla Model 3 comes with trunk mats, but they're not very protective. We highly recommend that you buy another mat of better material and one that covers the edges perfectly. The mats that come with the trunk are just basic.
What is the cargo capacity of the Model 3?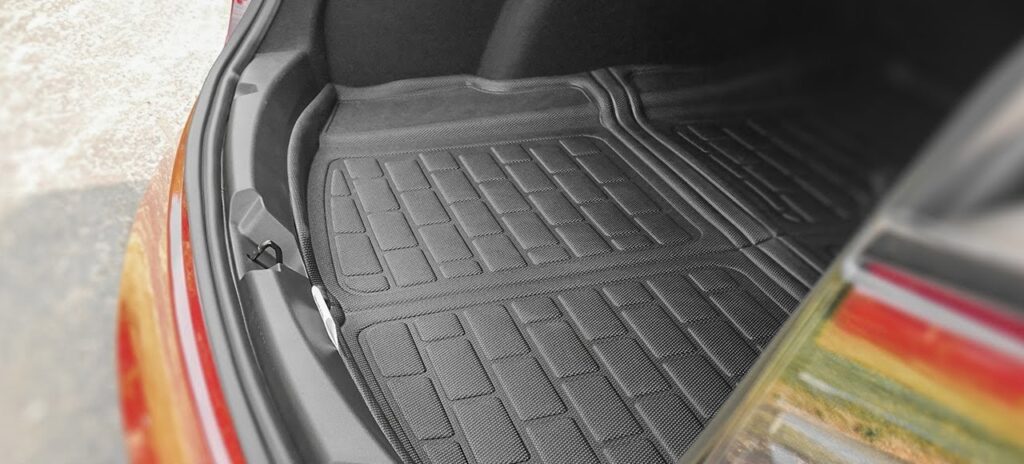 The Tesla Model 3 has 15 cubic feet of trunk space. The rear trunk has about 12.3 cubic feet of space, while the front trunk has 2.7 cubic feet of space. The front trunk is relatively small, but it still useful to store the extra items from the rear trunk.
Do these cargo mats cover the sub trunk/lower trunk?
No. Unfortunately, these cargo mats do not cover the sub trunk/lower trunk of the car. Only the SUPER LINER Trunk Mats cover the sub trunk/lower trunk.
What material are cargo liners made from?
The basic materials used for making cargo liners are XPE rubber, TPE material, heavy-duty silicone, etc. It varies from product to product.
The specific materials used for making the cargo liners mentioned above are as follows:
The top surface of the BASENOR Tesla Cargo Liner Rear Trunk Mat is made of thermoplastic rubber, and its inner layer is made of XPE rubber.
The SUPER LINER Tesla Model 3 Mats are made of low-density plastic material.
The 3D MAXpider All-Weather Cargo Liner Floor Mat is made of SGS certified thermoplastic rubber.
The Front Trunk Liner Cargo Mat by BASENOR is made of PET rubber that's eco-friendly.
The SUMK 3D Model 3 Cargo Liner Floor Mats are made of high-quality TPO environmental rubber.
The SUPER LINER Trunk Mats Rear cargo Tray Floor Mats are made of low-density plastic material.
Are the cargo mats slide proof?
Yes. All these cargo mats are slide proof and will hold and protect your stuff perfectly.
How should cargo liners be cleaned?
Cargo liners are very easy to clean. You can just spray the hose on them to remove the dust and other dainty things. For a thorough cleaning to remove some stains, you can easily take it out from the car and use mild detergent along with water.
Do these products have latex?
No. None of these products are made with latex.
Closing thoughts
Floor mats and liners play a crucial role in protecting the carpet in your car from tearing and getting worn-out. They also improve the interior look of your vehicle.
We have reviewed the best options in today's market to help you choose the right product for your Tesla Model 3. So, choosing any of these products is already the correct choice!
The material, structure, and design of these mats give you the best protection your trunk needs. With these mats installed in your trunk, you can easily maintain its factory condition, which can provide you with more edge during the car's resale in the future.