To some people, keeping their car's interior clean might seem like a waste of energy at times. It's just a tool, right? Why bother when it'll get dirty again after a short while? To others, their car is their second home, and they always like to keep it clean.
If you're looking for a way to make that job easier on a daily basis, the first thing to consider are floor mats. They help keep most of the dirt from spreading all over your car's floor, and they're super-easy to clean. So, if you're not certain which floor mat to choose for your Tesla Model 3, here are some suggestions to consider.
Best Tesla Model 3 Floor Mats – Top Picks
With the Model 3 becoming largely popular, there is growing aftermarket support for various accessories. This applies to floor mats too. Most of the models you can find online are all-weather floor mats, allowing you to even keep your car clean in heavy rain and snow. Using a bucket design, some of them can contain quite a lot of dirt and water before you need to clean them.
To choose the best floor mat for your Tesla Model 3, check out the six aftermarket models below, as well as one coming directly from Tesla:
1. 3D MAXpider KAGU Floor Mats
Quick Overview
The texture resembles carbon fiber
High-precision laser scanning for a perfect fit
Raised edges help contain liquid spills and dust
Multi-layer construction for strength, durability, and road noise absorption
These floor mats from 3D MAXpider are custom made for 2017-2019 Tesla Model 3 cars. Part of the company's KAGU series, this set includes two floor mats for the front seats and one for the rear. Made from black rubber, these floor mats are ideal to protect your Tesla's interior from mud, rain, snow, mud, and dirt.
Made to snuggly fit the floor edges of your Model 3, they minimize the amount of dirt that can slip underneath the mats. And thanks to their tray-shaped design, they can prevent the spreading of any sand or mud you bring into your car. Anti-skid materials on the backside of the mat ensure they'll remain in place at all times. As far as cleaning is concerned, their waterproof and stain-resistant surface allows you to clean them in just a couple of minutes.
Read more: Center Screen Protector for the Model 3
2. Farasla All-Weather Floor Mats
Quick Overview
Made with eco-friendly TPE rubber
Nibs on the back firmly grip the carpet of the vehicle for added stability
Excellent fit for front and back carpets
Easy to remove and clean
Built purposely for Tesla Model 3, Farasla All-Weather floor mats are another perfect fit for your car. Made to fit 2017-2020 car models, it's certain they'll keep the dirt away from the rest of the car's interior. Cleaning them will prove to be a breeze, as you'll only need some water and soap to get everything off it.
Using environment-friendly TPE materials, these mats are also quite durable thanks to their material's heavy-duty properties. Because of this, these floor mats from Farasla are both strong and flexible, while at the same time being non-toxic and waterproof, as well as fire- and UV-resistant.
3. Vanku All Weather Floor Mats + Center Console Liner
Quick Overview
Center console liner set included
Eco-friendly TPE material is odorless and resistant to wear and tear
Nibs at the bottom keep the liners firm and steady
Raised edges and groove pattern help contain spills
This nine-piece kit from Vanku is a great buy. First or all, you get two custom-made mats for the front seats and one for the back. Perfectly following the lines of your Tesla Model 3 interior, these floor mats ensure no loose dirt and mud will escape. Made from tough materials, these eco-friendly mats are also quite resistant to wear and tear.
The back side of each floor mat has a specific weave patter that prevents it from slipping under your feet. Besides the floor mats, Vanku's kit also includes the non-slip liners for your center console storage bins and cup holders.
Related: Car Cover for the Model 3
4. Teexpert All Weather Interlock Floor Liners
Quick Overview
Velcro helps keep the mats in place
The minimalistic design matches the rest of the interior design
Polyester fabric makes the liners lightweight and flexible
Unlike the sturdy-looking rubberized floor mats described above, Teexpert soft mats provide a more stylish look for your car's interior. With their specific design to suit any Tesla Model 3 car built between 2017-2020, these front and rear mats cover the entirety of the car's floor. And thanks to their interlocking back side, they remain in place without any kind of slipping. To further improve the safety of your car, there are additional Velcro strips to prevent the floor mat's movement under pressure.
Even though Teexpert's mats don't have a tray design that prevents large amounts of dirt or water from spilling, they're weatherproof nevertheless. That being said, they won't have any problems keeping smaller amounts of sand, salt, and water in. Since the upper layer is made from polyester, you can simply hose the mats down and they'll be clean in a minute.
5. TOPlight All Weather Floor Mat Set
Quick Overview
Precise fit for driver, passenger, and rear footwells
Thickened edges to give the liners a strong build
Velcro backing helps keep them in place
TOPlight's Tesla Model 3 floor mats are another rendition that uses a sturdy all-weather design. Thanks to their tray profile with elevated edges, they can hold a lot of dirt and water before it spills over into the car's interior. Of course, they're custom-made to fit your Tesla, so you don't have to worry about the mat moving around under your feet.
Another great addition to this design is the grainy chain-like texture of the mat's upper surface. This helps prevent your shoes slipping across the mat when it's dirty or wet. A definitely welcome feature considering the safety of your drive.
6. Road Comforts Custom Floor Mat
Quick Overview
Six different variants available
Trunk mats available
Elastober compound grants grip and durability
1/2″ thickness ensures wear resistance
100% recyclable materials
With a perfect edge-to-edge fit for Tesla Model 3, the Road Comforts floor mats are a great all-weather solution. They provide protection for your car's interior regardless of any rain, snow, mud, or sand. Adding a reinforced heel rubber support, you also get additional comfort for longer drives.
Using an Elastober rubberized compound, these floor mats will provide a superior grip in any weather condition. Moreover, this material is very flexible in both low and high temperatures, preventing any cracks or curling to develop. Using special anti-slip nibs, you can safely secure these mats to the floor of your car, preventing any unwanted slipping while driving.
7. Model 3 All Weather Floor Liners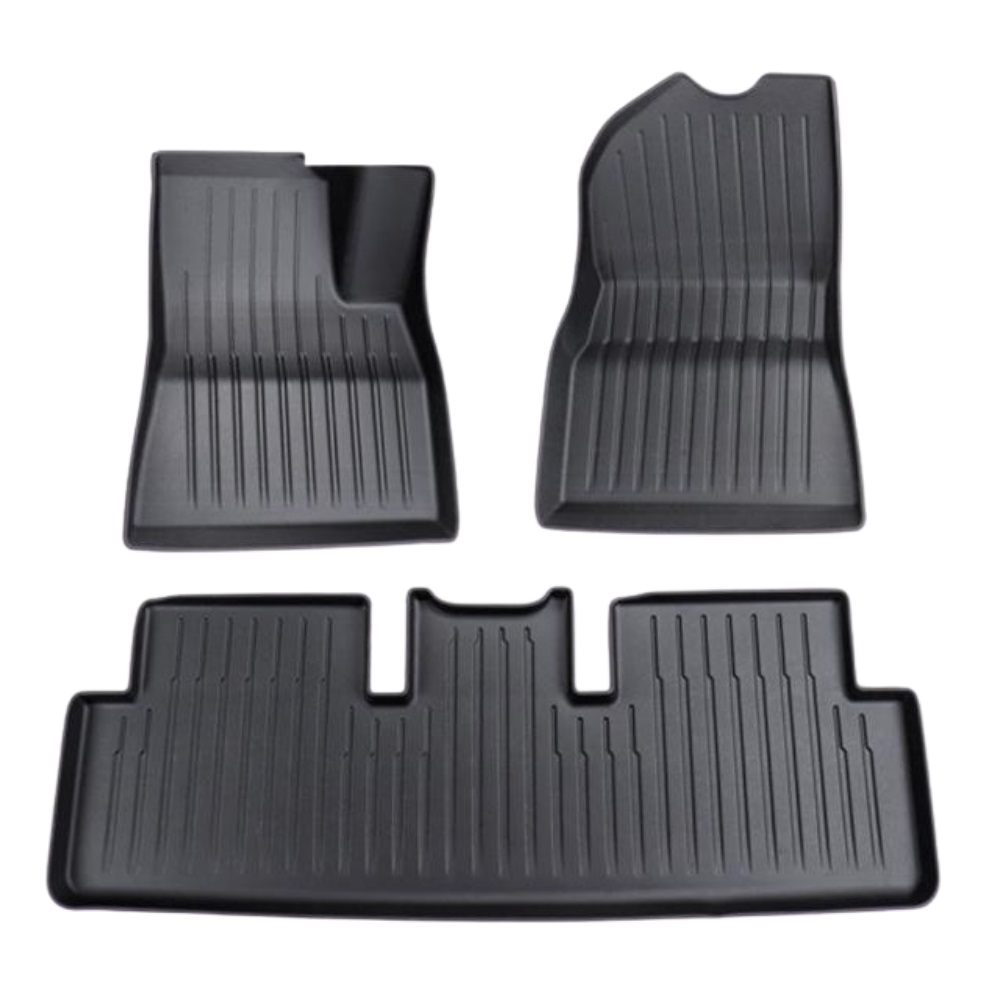 Quick Overview
OEM floor mats from Tesla
Exact factory-like fit
Often out of stock
Finally, these floor mats come directly from the Tesla factory, and they're available on their online shop. Using special thermoplastic elastomer materials, these floor liners are 100% recyclable and don't contain any lead, cadmium, PVC, or latex.
Thanks to their perfect fit and high side walls, you can be sure that no dirt or water will find their way onto your car's interior. Being weatherproof and sturdy enough, you can use high-pressure water hoses to clean them in a matter of minutes. Unlike other third-party floor mats with similar properties, Tesla floor liners use a discrete grid pattern that's in line with the car's overall design.
FAQ
Does Tesla Model 3 come with interior floor mats?
Whether or not your Tesla Model 3 comes with floor mats will mostly depend on the model you choose. Unfortunately, the Standard Range Plus model doesn't come with floor mats. If you opt for either the Long Range or Performance models, you'll also receive the factory floor mats.
What materials are floor mats made out of?
Most floor mats use recyclable thermoplastic elastomers or TPE for short. Simple to manufacture, floor mats made from this material are not very expensive, while still providing great overall properties. They have a high tolerance to wear and tear, and can tolerate extreme temperatures, both high and low. This allows them to retain their physical properties in any weather, regardless of their shape.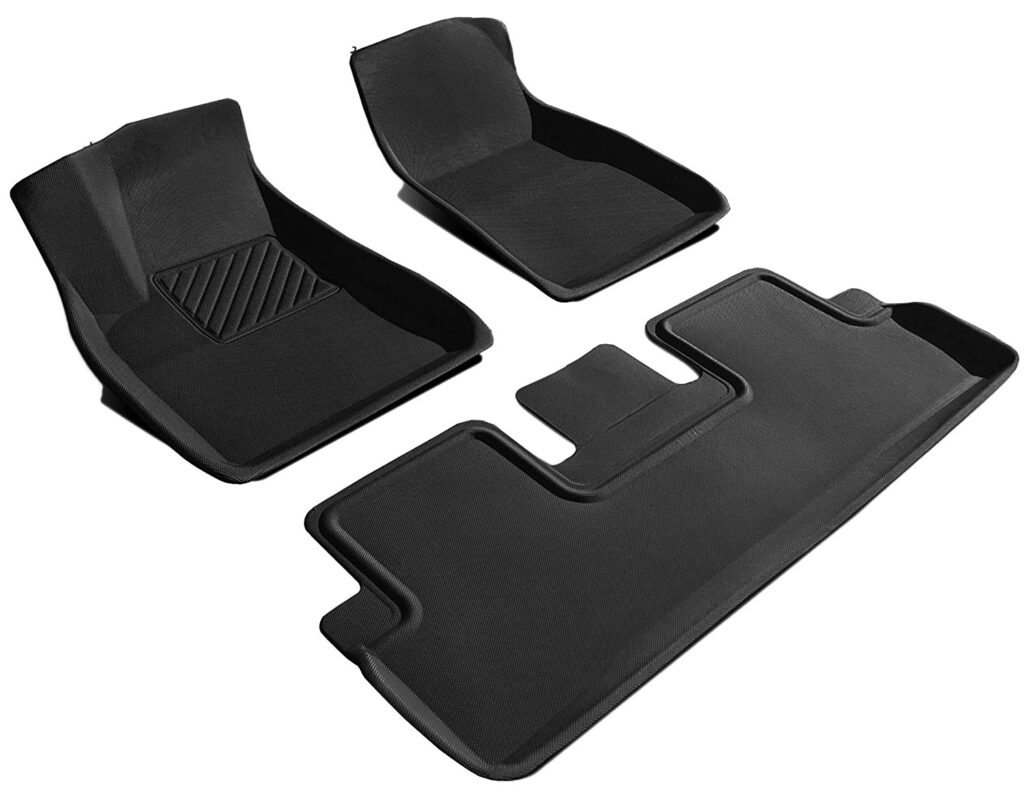 What is the most eco-friendly material for floor liners?
Since floor mats require replacing after a couple of years of use, it's important that they're recyclable. That's why the common materials used for this purpose are thermoplastic elastomers (TPE) and thermoplastic olefins (TPO).
When looking at their eco-friendly properties, both TPE and TPO are 100% recyclable. They are very durable and don't deform under extreme shifts in temperature. Unlike standard rubber floor mats, TPE and TPO are completely odorless, allowing you to use them right off the bat. Another benefit over standard rubber materials is that TPE and TPO floor mats are lightweight, allowing for more convenient handling when cleaning and storing them.
TPE vs. TPO Floor Mats
When comparing TPE to TPO, there are three major differences, but none of them affect their usability in any way. Firstly, there's the difference in their feel, since TPE is more elastic of the two. In that sense, TPE feels more like rubber, while TPO is closer to plastic.
Next, when using TPE, manufacturers can make more delicate patterns on the floor mats than they can with TPO. Finally, there's also the cost. Since TPE certainly feels more premium, with that comes a more expensive manufacturing process. On the other hand, TPO is cheaper in production, making these floor mats more affordable.
Can aftermarket floor mats void the warranty of the vehicle?
Luckily, adding an aftermarket floor mat to your Tesla Model 3 will not affect the official warranty in any way. What's more, it will protect your car's interior from any stains or odors that can come from water or dirt.
Can floor mats damage the original carpet of the car?
Depending on what kind of retention system a floor mat uses, some damage to the car's original carpeting may appear over time. For example, Velcro strips may cause some wear on a delicate interior, especially if you remove the mat very often.
To prevent this, most manufacturers use the edge-to-edge design that's custom made for your car model. This will prevent it to slip under your feet, removing the need for additional retention points on the mat. Furthermore, TPE floor mats usually have anti-slip patterns on their lower side, keeping them in place, even under an increased pressure.
How do I clean interior floor mats?
All weather floor mats are very easy to clean. In most cases, you'll need to only spray them with water to remove any dirt. If your floor mat develops stains, these are easy to clean too. Just use some warm water and soap and that's it.
Are all floor mats compatible with all year models of the Model 3?
Since the Tesla Model 3 is a fairly new car, most floor mats will do just fine, regardless of the car's production year. That being said, there are slight differences in 2017-2019 models and the one made in 2020. Of course, when purchasing an aftermarket floor mat, make sure it fits your car perfectly first. You can either check the product description or contact the manufacturer directly.
Closing thoughts
Hopefully, this article has helped you find an ideal floor mat for your Tesla Model 3. Also, now you know the difference between the TPE and TPO materials that manufacturers use to make their floor mats. Depending on your needs and budget, you can opt for one of the two. Of course, before you make a purchase, please make sure to read the product description in detail. This will tell you what kind of material the floor mat is made from, as well as if it will fit your exact Tesla model.