It used to be that jacking a car up was simple – simply put the jack underneath the vehicle and use it to raise the car so that you can change a wheel or perform maintenance.
Teslas, however, have battery packs close to the jacking points. Having a special pad in place when raising a Tesla is important because without a jack pad adapter, the lift puts excessive uneven pressure near the battery packs, which can lead to long-term damage and could be even a fire hazard. A Jack pad adapter for your Tesla allows you to jack up your vehicle safely.
In this article, we're going to outline a few jacking lift pads for any Tesla.
Best Jack Pads for Tesla
Tesla Model 3/S/X/Y Jack Pad Lift Point Adapter
Quick Overview
4 lifting jack pads for Tesla
Non-slip rubber ring
Protection for all four jacking points
Easy to remove when done jacking the car
The non-slip rubber ring on this jack pad model allows a better grip and diminishes the chances of chipping and harming your Tesla's chassis. It has been specifically designed for Tesla models 3, S, and X, and the package features four lifting pads.
Although the main goal here is avoiding battery penetration and damage, this pack of rubber pads also minimizes the risk of scratches and chips on your Tesla vehicle's chassis. These will fit the majority of jacks and are light enough to be carried inside your car's trunk.
To place the adapter pad correctly, place it directly beneath the appropriate jacking point on your Tesla's chassis and position the jack right below it.
Tesla Jack Pad Lift Point Adapter Tool 4-Pack
Quick Overview
Reinforced rubber for improved grip
Works with all Tesla vehicles
Low profile design gives more clearance for any kind of floor jack
Includes storage mesh bag
This one features a brilliantly designed metal-reinforced upper that fits the appropriate positions on a Tesla's chassis perfectly.
The male adapter (the protruding part that goes into the hole on the chassis) is short enough to be compatible with most Tesla models. These pads are easy to remove after maintenance has been completed. If you remove it carefully and in the proper sequence, you won't cause damage to your Tesla.
Unlike many jack pads, the Traverse Ridge Racing model boasts durable rubber instead of aluminum. This not only helps prevent slippage, but also reduces the chances of scratches and chips. These Tesla Jack Pads have a metal reinforced upper area and boast a low-profile design. This means that they will provide more than enough clearance for your floor jack.
The package comes with a mesh storage bag that's both durable and convenient.
Traverse Ridge Racing Tesla Jack Pad Adapter for Model S 3 X Y
Quick Overview
Improved design for better fitment and firmer structure
Zipper mesh storage bag included
This premium edition of Traverse Ridge Racing's jack pads for Tesla vehicles is even more durable than the company's original jack pad model. They're a higher density than the regular pads, which results in more resilience and longer life. Secondly, the upper is metal-reinforced, which means that it lasts longer and is a better alternative to aluminum pads. The result: no slippage, no scratches, no chips.
You get four jack pads and a quality zipper mesh storage bag for easy transport from home to car. The pads themselves are very light and can be kept in your Tesla vehicle's trunk for emergencies.
Lift Point Pad Rubber Adapter for all Tesla Models – 4 pcs
Quick Overview
High-quality POD plastic
Available in 4pcs, 2pcs and 1 piece
Available in black, silver, and red.
Compatible with all Tesla models
Although it is advertised as a tool for Tesla Model 3, these jack pads may work with other Tesla models. Unless you own a Model 3, you can find four-pack options for this jack pad; we recommend getting a single piece and giving it a try. Its aluminum design might not be as gentle to a Tesla chassis as the rubber models, but it does minimize damage to the painted lift points. This is not a feature that many other jack pads can offer.
Luckily, you don't have to worry about the scratches and chips, either, as this pad's top surface is equipped with a rubber washer, along with a rubber O-ring.
If you are a Model 3 owner, having this piece in your maintenance kit is a no-brainer.
Compatibility
2012-2022 Tesla Model S
2015-2022 Tesla Model X
2017-2022 Tesla Model 3
2020-2022 Tesla Model Y
All of the jack pad adapters listed above are compatible with all Tesla vehicles as they use the same jacking point adapter shape.
What Is the Purpose of Jack Pads?
You can lift a Tesla vehicle without a jack pad, but this is not recommended. Jack pads are adapters used to protect your car's undercarriage, chassis, and battery from hard and pointy metallic car jack parts. Using jack pads is ideal to ensure that the battery pack of your Tesla is sufficiently protected while you are lifting the car.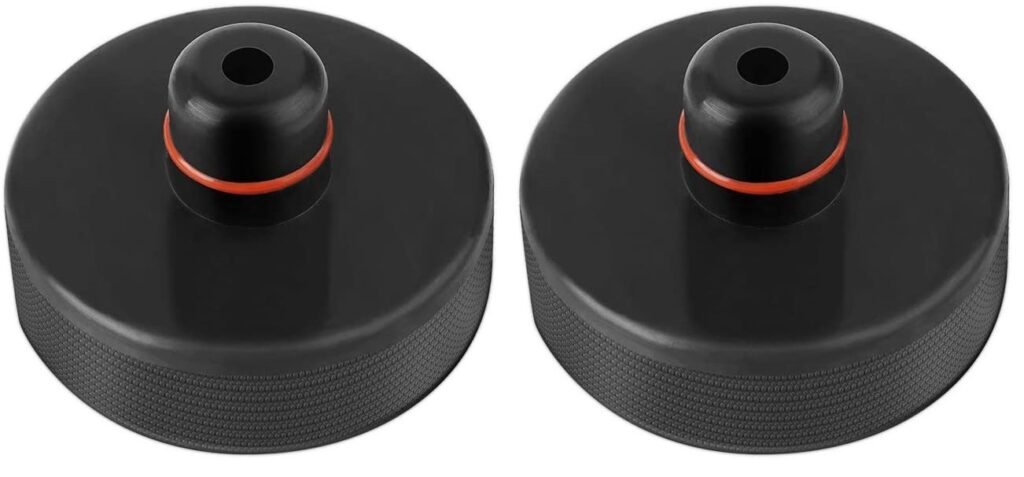 The jack pads absorb some of the pressure and distribute it evenly across the jack point area, thereby keeping the batteries intact, and also protecting the side skirts from deformation and damage.
How to Use Jacking Lift Pads on a Tesla
Using jack pads on Tesla vehicles is actually very simple. Each Tesla vehicle has four jack mounting points on the outer side of the chassis near the car's wheels. To use a jack pad, simply place it between the jacking point on your Tesla vehicle and the jack itself.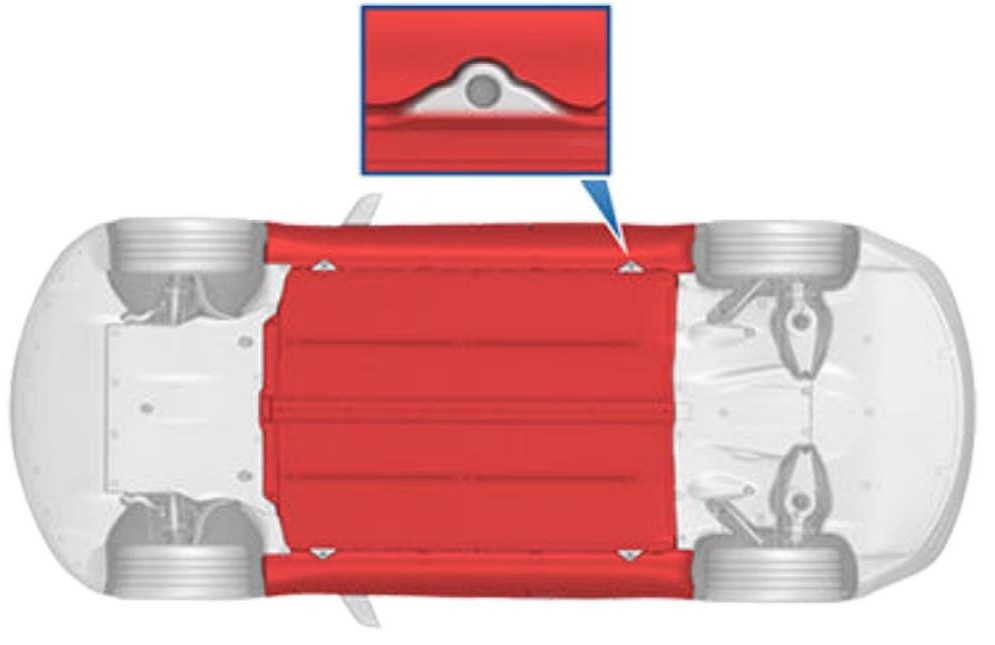 How to safely lift your Tesla
If for any reason you want to lift your Tesla at home, here is one of the safest ways to do so:
Do not attempt to lift a Tesla if you are unsure how to do it or if you don't have proper jack stands. Lifting a car erroneously can cause property or personal injury.
Teslas are heavy cars so try to use the highest load-rating possible for any hydraulic jacks and jack stands you could be using.
Closing thoughts
The batteries of a Tesla are an integral and irreplaceable part of the car. The danger of damaging them is quite high if one uses a jack without a jack pad. With the proper high-quality Tesla Jack Pad, you can prevent such damage as the pads absorb most of the pressure and keep the vehicle stable.
To minimize the possibility of damage, do not try lifting your Tesla vehicle without a jack pad. Without them, you're risking battery damage, scratches, or in the worst case, your Tesla falling off the jack.