Although the Tesla vehicles all come well-equipped from the factory, there are still more than few exciting upgrades you can do, improving your user experience. One of the more affordable but still usable and practical details is the puddle lights that are easy to install and can provide a great deal of help when entering or exiting a car in the dark.
Puddle Logo Lights for Tesla Model 3, S, X & Y
Puddle Lights for Tesla
Ultra-Bright Led Puddle Lights for Tesla Model 3, Model S, Model X, Model Y
Quick Overview
High definition projectors provide a clear logo projection on the ground
Aluminum shell with excellent heat dissipation
Plug-and-play interface
Plastic trim removal tool included
This product includes a pack of two puddle logo door lights compatible with the Model 3, Model S, Model X, and even the new Model Y.
A three-later combination lamp with a triple filter ensures a very clear projected logo and the high-efficiency LED chips ensure excellent luminosity and low power consumption. High quality glass ensures no fogging and long term durability.
The alloy aluminum outer shell offer good heat dissipation and high temperature resistance to lower the risk of any components melting and burning the lights prematurely.
Overall, these are advanced and well-made plug and play Tesla logo puddle lights for your car and even include a trim removal tool for easier installation.
Related: Ambient Lighting Upgrade for the Model 3
Tesla Model 3 Model Y Model X Model S Ultra Bright LED Puddle Lights
Quick Overview
Clear lens help provide a bright and clear image
Integrated aluminum alloy shell for heat dissipation
Plug-and-play installation for effortless installation
Although there are several similar products, the Tesla Puddle Lights by Motrobe are built with aluminum casing and high-quality plastic using LED technology to provide users with a bright puddle courtesy light and low energy consumption.
This product also displays a Tesla logo on the ground, which is a cool touch. It comes with extension cords and an installation manual. This item has a lifetime warranty.
Tesla Puddle Lights with Logo Projector
Quick Overview
Compatible with all Tesla vehicles
Multi-layer lens ensures a clear and bright logo projection on the ground
No drilling and no additional wiring required for installation
The Carwiner's Tesla Puddle Lights are an interesting product since they come with a slightly improved casing design than the stock items, which proved to be better and more durable in everyday use. High-transmittance three-layer combination lamp and triple filter provide this item with clear and bright light and sharp "T" logo with Tesla letters displayed on the ground. This product is compatible with all models Tesla currently makes (Model S, Model Y, Model 3, and Model X) and comes with a 12-month warranty.
With a significantly longer warranty (lifetime) and similar technology, the JD Parts' Tesla Puddle Lights aims at the same buyer type. However, this product is not compatible with the whole Tesla range. Still, with Model S, Model 3, and Model X., It also features a "T" logo with Tesla script and uses LED technology for a sharp look and low energy consumption. The package includes two puddle lights and two extension cords which are required for installation.
Red Tesla LED Bright Puddle Lights for All Tesla Models
Quick Overview
Red Tesla logo puddle light projector
Also available with "Tesla" letters
High-definition lamp for a crisp and clear image
Pluggable pig tails provide a convenient plug and play installation
The final product on our list comes from GP-Extreme, and it is the Tesla puddle lights set designed to be simply installed, replacing the factory units. This product displays the Tesla long onto the ground, but it is less bright or sharp than the competitors. However, it still improves the overall visibility from the stock factory puddle light.
Also, it is possible to rotate the picture by simply moving the lens. You can slide the knob and set it to the position you prefer. They offer you control, unlike any other puddle lights. You can set them according to your requirements and change them whenever you want. It is all up to you.
Frequently Asked Questions
What is the purpose of the puddle lights?
Even though they may look like a novelty item, puddle lights are a highly functional feature in modern vehicles. They are used as an additional light source when entering or exiting the vehicle in order to avoid stepping into a puddle, mud, or dirt. Apart from helping you keep your shoes clean, the puddle lights are useful when you drop your keys, wallet, or your phone entering or exiting the vehicle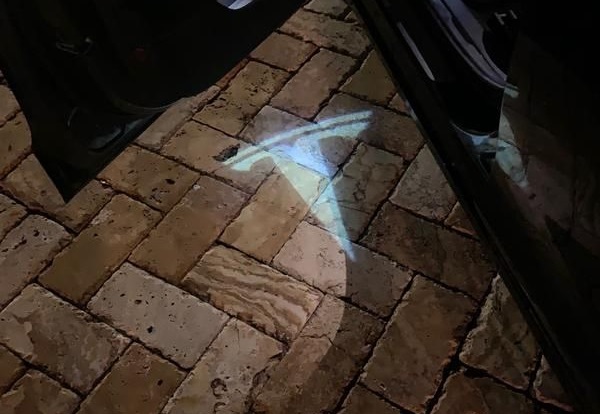 Often you will experience that getting into the car, your keys, phone, or waller may drop out of your pocket when getting into the car. A puddle light will help you find objects in the ground even in the pitch dark.
Is there any need for additional wiring?
In short, no. The aftermarket Tesla puddle lights are all designed to fit perfectly into the factory sockets and replace the factory items. Some products will come with a set of short extension cords for a perfect finish and OEM look.
Will the aftermarket Tesla Puddle lights void the factory warranty?
Since this is a minor and peripheral modification that is not affecting any primary functions of the vehicle or its electrical system, the installation of Tesla Puddle Lights will not cause any warranty problems. However, we suggest keeping the stock items just in case. If there are any problems and this is highly unlikely, you can always swap the old ones back.
Is there any warranty on the lights?
Yes, there is a warranty on all of these puddle lights. However, it should be noted that this warranty varies from seller to seller. For some puddle lights, it is 1 year while for others, it is a lifetime warranty.
Can those puddle lights be fitted on all Tesla Models?
Tesla uses the same design and connectors throughout its range. This means that all stock puddle lights are the same dimensions and use the same components.
LED Puddle Lights Installation
The installation process for puddle lights is very simple and straightforward:
Remove the factory lights carefully using the trim removal tool included
Unplug the original puddle lights
Connect the upgraded aftermarket lights
Test for correct functionality of the upgraded logo puddle lights
Install the puddle lights where the factory lights were installed. Keep one thing in mind
It is recommended that you read the installation instructions first before proceeding.
Compatibility/Fitment
2015-2022 Tesla Model S
2015-2022 Tesla Model X
2018-2022 Tesla Model 3
2020-2022 Tesla Model Y
Final Thoughts
Although they are small and easy to install, Tesla Puddle Lights can be a real-life-saver, whether you are going to an important dinner and don't want to show up with muddy shoes or you lost your phone exiting the car at night. Simple, inexpensive, but immensely helpful, there are many options on the market.
We recommend the EastFly Tesla Puddle Lights since they offer a high build quality, excellent fit, appropriate brightness, and the manufacturer offers a solid warranty.