With Tesla now offering an option of having a chip card for the Model 3, a lanyard becomes an essential accessory to have our access card easily accessible with us all the time. A lanyard is also useful if you have the traditional car-shaped key, like the Model S, X, and most 3's.
With a Tesla Lanyard, you can carry the Key Fob on your neck all the time, avoiding the worry of losing it and making it easier to find when it's in a bag or so. The lanyard itself will act as a keychain, making that little card much more practical to carry around.
Looking for a Tesla-branded lanyard? Here are a few excellent alternatives to make carrying your Key Fob around easier.
Key Fob Lanyards for Tesla – Top Picks
Best Tesla Key Fob Lanyards
Tesla Logo Lanyard Keychain with Quick Release Buckle
---
This lanyard with the Tesla logo is ideal if you want a simple, black lanyard that you can use either as a keychain or around your neck to always have your key with you.
Made from high-quality Nylon, the lanyard boasts a premium feel and look with an embossed logo and letters with high contrast that results in an attractive and refined design.
The quick-release buckle is amazingly useful in situations where you need to release your keys. It's not a practical addition, but it also adds a safety layer if the keychain gets stuck to something and we need to unfasten one of the ends quickly.
Tesla Lanyard Key Card Holder with Quick Release (Red)
---
The Tesla Lanyard offers a similar design to the offer above but in a bright red color with black letters. The red premium nylon allows a crisp, vibrant look that stands apart. While it might be too showy for some tastes, this lanyard is ideal if you want to match the color of your vehicle in case you own a red Tesla.
A quick-release buckle ensures practicality and ease of use in case you want to quickly release the top part or want to use it independently.
Tesla Model 3 Lanyard with Key Card Holder
---
The Tesla Model 3 features a Key Card that can be used as the actual key. No more need to use a bulky traditional key. The new key card uses a chip to let the car know that the owner is near, much like the current keyless entry.
However, a key card has the disadvantage that it needs to be carried differently compared to a standard key. A wallet might be a bad idea as it can be hard to find in a clutter of bank cards, reward cards, and others.
This Lanyard with a Key Card holder is ideal for Tesla Model 3 owners looking for a practical way to carry their key with them at all times. It can also be used independently if needed. The lanyard easily detaches from the leather key card holder.
Tesla Lanyard with Quick Release (White)
---
If you prefer white tones or want to match the color of your white Tesla, this premium nylon lanyard is excellent due to its soft-touch nylon comfortable on the skin and a quick-release mechanism for when needed.
It comes with a removable string that can be attached easily to virtually any keyring or keychain. You can also use the metallic clip to attach it in mere seconds without having to tie knots.
While the white color is bright and crisp, it has the downside that it will get easily dirty over time and need to be washed frequently to maintain its original color. If you don't mind handwashing it every few weeks, this won't be a problem. We don't recommend machine-washing this item as it might tear other pieces of clothing, and the plastic buckle can get damaged.
Tesla Lanyard with Quick Release Buckle (Black)
---
Another solid choice is the Sports Motors Tesla Lanyard. It features a simple black design with "Tesla Motors" and a logo printed on both sides. The high-quality soft nylon its made from will endure use and abuse and provides comfort when being used around the neck.
A quick-release buckle ensures that the lanyard section can be released with a simple click whenever you want to use the accessory as a simple keychain without carrying around the cord.
The downside of this lanyard is that the tip doesn't include a mechanism to attach a keychain to it easily. The cord provided can be used for that, but it needs to be knotted around, and this is not as practical as just clipping it like the other offerings.
Other considerations
Related: Tesla Key Fob Covers
Using a lanyard with your Tesla Key Fob
By themselves, the Key Fobs of all Tesla vehicles don't have any way to attach a key ring or any other kind of accessory to it. They are glossy slabs of plastic with no holes or strings to attach anything to them.
If you want to install your Key Fob on your Tesla lanyard, you will need a Key Fob Cover for your key. These protect your key from scratches, give it a new look, and will also allow you to attach any keychain or keyring to it; this includes a lanyard.
Installing a keyring into a Tesla Key Fob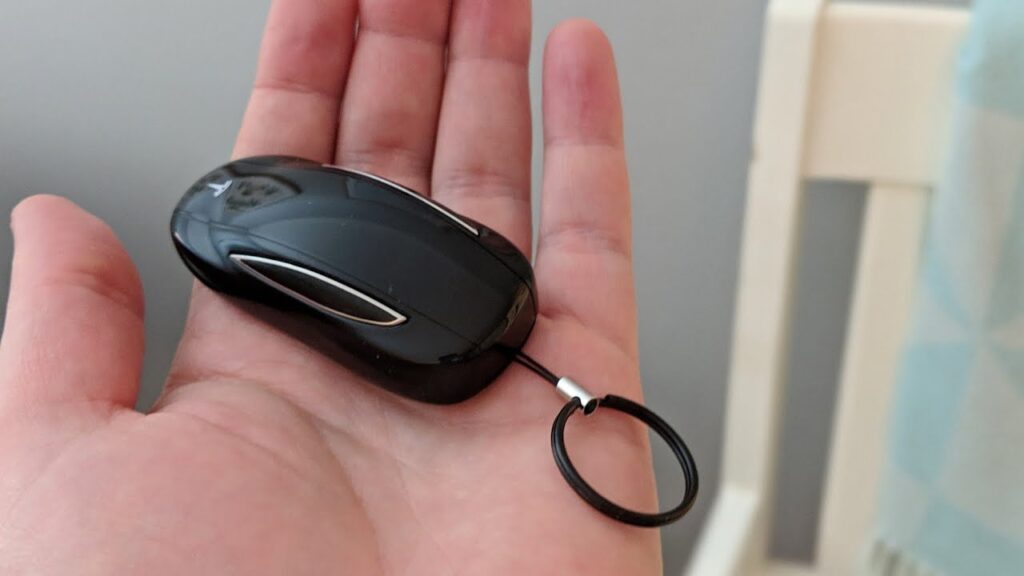 If you already have a Key Fob Cover for your key, adding a keyring can provide tons of extra practicality. It makes the key harder to misplace, easier to find, and you can attach anything you'd want to it.
Some key fob covers already include a keyring attached to it, but others just include a way to attach
Final thoughts
The Black Tesla Lanyard with Quick Release buckle is a solid choice for users looking for a simple, no-frills accessory with Tesla branding. It is our top choice based on user ratings, the quality of the materials used, and the quick-release buckle for quick detachment.