The Model X is a head-turner and an amazing feat of EV engineering. Tesla is known to include lots of features in its vehicles for added practicality. However, there is always the opportunity to make your ownership experience better with a few accessories that can add utility, customize your vehicle to your liking and improve your ownership experience.
Let's take a quick look at the best Tesla Model X Accessories. We consider some of these as must-haves but we encourage you to take a look and decide which one would be the best addition for your vehicle.
Model X Accessories – Top Picks
Interior & Exterior Accessories for the Model X
3D MAXpider All-Weather Floor Mats for Tesla Model X
Quick Overview
Excellent year-round floormats
Blends in with the Model X interior
XPE foaming layer and thermoplastic surface helps reduce interior noise
Strong build
These all-weather mats can be a great addition to your Tesla Model X due to their quality construction. The texture is carbon fiber which adds elegance and style to the car. Its inner foam layer deadens the sound that makes for a quieter ride and makes for an amazing cushion to rest one's feet on. The bottom layer of the mat is anti-skid which keeps it in place without causing any harm to the original carpet.
All-weather Protection
The mat is built to withstand various elements so you wouldn't have to worry about getting the floor damaged, especially in the rain. The surface is waterproof that repels dirt, water, and other spills and messes. Its curved edges also ensure that the spillage is trapped and contained so it doesn't spread.
Hassle-free cleaning
If and when the mat gets dirty due to dirt, snow, or grease, it can easily be cleaned and replaced. Just use a wet towel to wipe it with or soak it with a hose and let it dry. The material is completely environmentally friendly and odorless. Its design is measured to exactly fit the cabin contours of the Tesla Model X and provide full coverage to the car's interiors.
TapTes Qi Wireless Charging Mat
Quick Overview
Dual Qi Wireless charging for enabled smartphones
10W fast charging supported
Integrated cup holder
USB Type-C cable integrated
Dual-Wireless Charging
The TapTes Wireless Charger Insert supports both iPhone and Android smartphones with Qi Charging. When a supported smartphone is placed on the mat, the charger will start charging automatically. No need to deal with cables or connectors, just place the phone on the mat and let technology do its job. When the charging is completed the accessory will automatically stop charging the phone.
Integrated Cup Holder
It is very easy to install and cleaning it is a breeze as well. The accessory allows you to put two cups, bottles, or cans of 2.8 inches in diameter easily in the holder though putting open cup glasses in the holder is not recommended.
A nice touch is the inclusion of an integrated cup holder in this accessory. You can place small to medium-sized cups up to 2.8 inches in diameter. Make sure to not place any open glasses mugs as it the cupholder is placed directly next to the wireless charging mat.
USB Port
An integrated USB cable allows users to charge a USB-C enabled smartphone for added versatility or if you want a to charger a device without support for Qi Wireless charging.
Overall, the TapTes Qi Wireless Charger is a great addition to your Tesla and one of the best Model X Accessories for users who own a smartphone with wireless charging support.
Related: Wireless Chargers for Tesla
Topfit Tempered Touch Screen Protector for Tesla Model X
Quick Overview
Perfect fit for Model X/S 17″ touchscreen
Scratch and shock-resistant
Premium-grade tempered glass
Bubble free installation
Leaves no residue when removed
Complete Protection
This glass touch screen protector is replete with various features that provide full protection to the Tesla multimedia screen. It is scratch and shock resistant so you won't have to worry about a dip in its looks after long use. It also resists oil and fingerprints thereby ensuring that the screen remains fully visible without any blemishes.
Installation kit included
The tempered glass has a 9H hardness surface and can be installed within minutes. The package itself includes a dust cloth and glass cleaner kit to clean the screen before installation. Simply place the protector onto the screen and press the bubbles out and you're good to go.
Tesla Model X Turn Signal Carbon Fiber Cover
Quick Overview
Fits all Teslas with Autopilot 2 side view camera
Adheres directly to the camera cover.
Adds a subtle sporty touch to the Model X
Custom Design
This indicator cover is designed especially for Tesla Model X and is a perfect fit that decorates the exterior body of the car. It really upgrades the exterior look of the car and blends well with the color.
Quality Material
The cover is made from ABS plastic which is very sturdy and much more durable than vinyl. It looks like carbon fiber thereby keeping the premium look of the car intact.
Easy Installation
Installation is a breeze and is done without requiring any tools or cutting. Simply clear the area of any debris before mounting and ensure that the back of the tape paper is removed. When cleaning, press evenly with a cloth but refrain from doing so 24 hours after installation.
TOUGHPRO Trunk Mat for Tesla Model X (6 or 7 Seater)
Quick Overview
Computerized cut for excellent fit
Excellent interior protection
Interlocking hexagon pattern looks in dust, water, and mud
Design and Fit
This product by ToughPro is cut with 3D scan patterns that ensure that it fits like a glove in the trunk of your Tesla Model X. The trunk mat has hexagonal grooves and ridges that trap moisture and prevent spillage. This allows it to adapt to any terrain which ensures that the owners can travel without any worries.
Material
The mat is made with a unique blend of rubber material that is temperature resistant and has a quality that far exceeds what one generally finds in trunk mats. The nibs at the bottom ensure that it stays in place and doesn't slide. It is also much thicker than your run-of-the-mill mats.
Cleaned in minutes
The mats do not require frequent cleaning. However, when the need arises, they can be easily cleaned with a wet cloth or by hosing it down and letting it dry. One can just as easily use a vacuum on it as well to clear away dust and debris.
Ultra-Bright Easy-Plug LED Lighting Upgrade for Model X
Quick Overview
Lifetime warranty from the manufacturer
Significantly brighter than OEM interior lights
Plug and play
LED lightning upgrade
If you are tired of the dull and lackluster lighting of Tesla Model X, then it is time to make an upgrade with these ultra-bright interior LEDs. The lights enhance the ambiance of the car without blinding the passengers or draining out the battery. The lights have a lifetime guarantee and one can simply install and forget about them for many years.
Increased Brightness
The lights are 20 times brighter than the regular Tesla interior lights and add a stylish glow wherever they are placed. With these lights, you will never have to worry about dark spots as you will experience a noticeable improvement, especially in the trunk and frunk.
Plug and play installation
The lights are designed to fit most Tesla models including Model X. Theirs is a unique play n play installation that hardly takes any time or effort. There is no need for any tools or blind fiddling as they come equipped with extra-long wire plug which snaps in easily.
Tesla Model X Mud Flaps Splash Guards
Quick Overview
Custom-fit for the Tesla Model X
Protects the lower portion of the vehicle from mud, debris, road salt, and rocks.
Easy installation
Made of strong ABS thermoplastic
Total protection
Driving on the open road can encourage corrosion on the exterior of your Tesla Model X. To protect it from mud and debris, it is highly recommended that users check out these splash guards. These protect the skirts of the car from snow, mud, sands, rocks, and debris that the wheels throw about. These also ensure that the car paint is protected from the stones that are hurled about. Without these, the paintwork is likely to be vulnerable to the elements.
Durable Material
The splash guards are constructed from top-quality polyethylene that are quite sturdy and durable. It is this strength that allows them to protect the car even in harsh environments and weather conditions.
Installation process
These mudguards are designed especially for Tesla Model X and can be installed in a short amount of time. They are pre-drilled and include all the necessary materials that are required for installation. The mudguards are perfect for keeping your cherished car from dust and grime.
Topfit Charging Cable Organizer for Tesla
Quick Overview
Simple installation
Keeps your charger plug and cable organized
Protects the inner connector of the plug from dust or water
Usability
If you're tired of dealing with tangled cables and want a quick solution to your wiry problems, then this charging cable organizer would be quite handy. The wires can be coiled around the organizer and keep them free of dents and loops.
Durable Material
The charging organizer is very stable and durable as it is made from high-quality plastic. It also secures the internal metal plug from different elements such as rain, snow, and dust.
Compatibility
The charging organizer is fully compatible with Tesla Model X and can be easily installed on the garage wall with the screws and the drywall anchors provided. The organizer can be plugged into the mount with ease and has a little knob at the bottom that hooks it in place so it doesn't slip out.
Topfit Silicone Key Cover for Tesla Model X
Quick Overview
Custom-fit for the Model X Key
Protects the glossy finish of the keyfob
Embossed button to easily the key functions
Compatibility
This key cover is fully compatible with Tesla Model X keys. The rubber embossing on top allows you to find the different key functions easily thereby increasing its utility.
Design and Protection
The cover is designed with eco-friendly material. Its silicone construction has a smooth and silky feel and doesn't have the annoying 'grippy' feel that most key covers are associated with. The battery compartment is fully enclosed and the cover itself provides complete protection even in the rain. The cover is available in different colors allowing you the freedom to choose according to your taste and preference.
Related: Tesla Key Fob Covers
Considerations when looking for Model X accessories
There is a spate of accessories for Tesla Model X available in the market. Deciding which ones to get and which ones to forego depends on a variety of factors. First and foremost, it is important to be aware of what is available in the market and how it is beneficial to you and your car. Utility, therefore, becomes the number one priority when getting Tesla Model X accessories.
What are the best Tesla Model X accessories?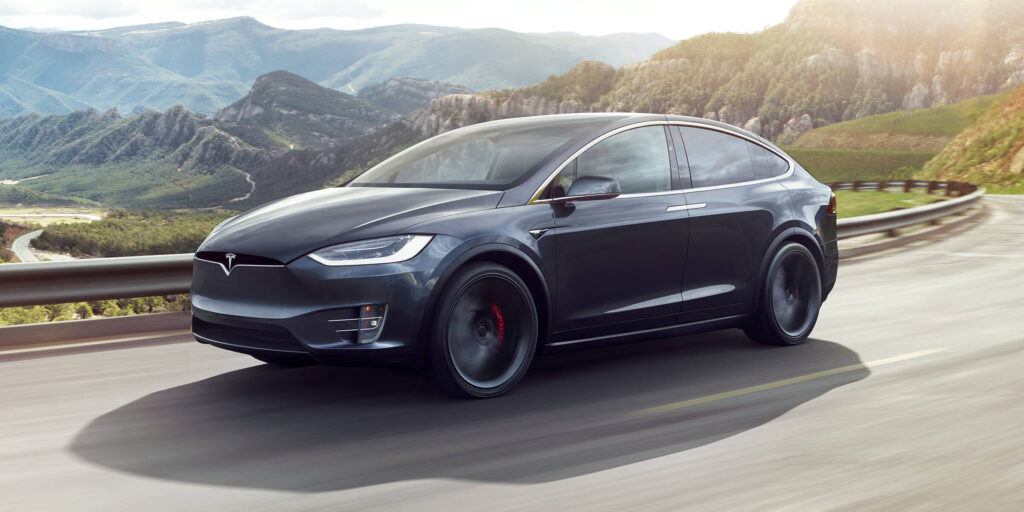 Accessories that allow you to keep your car in prime condition and make your life easier are some of the most utilized accessories. Convenience is another factor that is closely tied with utility. Anything that enables you to save time and effort without necessarily coming in the way of your driving experience is a good accessory to get. This invariably includes the time it takes to install these accessories.
Lastly, accessories that allow you to add embellishments or amplify the style of your Tesla Model X are considered highly valuable. Though Tesla Model X is in itself a luxurious car, it does leave room enough for you to make the car completely your own by infusing a part of yourself into it. Ensure that whichever accessory you decide to get doesn't stick out starkly and blends in well with the color and feel of the car.
Some final thoughts
These are the top 9 accessories that you can get for your cherished Tesla Model X. We consider many of them extremely essential if you want to take your driving experience to the next level. Though all of these are optional, they do add great value to this already exceptional car.
Many of them will protect your car from weather elements and keep your car in its prime condition. Others are designed to be an upgrade over the original parts and even protect them from damage that is contingent upon rough usage.
Most of them are designed to blend in well with the color and premium-quality of the car parts thereby ensuring that they don't stick out like sore thumbs. Hope we helped you to make an informed decision as to which accessories would be worth getting for your Tesla Model X.