Wind noise can very noticeable in an electric vehicle compared to a traditional gas-powered car. Not having a roaring engine in front of you makes the interior more silent but also makes every other noise source such as tire noise and wind noise much more noticeable.
A Model 3 Wind Noise Reduction kit can significantly quiet down the ride, especially when driving at highway speeds. The door seals also help to isolate the cabin from exterior noise even when the vehicle stops. Here are the best kits to reduce Tesla Model 3 Wind Noise:
Tesla Model 3 Wind Noise Reduction Kit
We'll take a look more in detail at some door seal strips for the Model 3. They all have the same functionality but vary in the number of rubber strips included or the type of adhesive used.
Take a look below to find out what would be the best wind noise reduction kit for your needs.
BASENOR Tesla Model 3 Wind Noise Reduction Kit
The Basenor Tesla Model 3 Wind Noise reduction kit consists of rubber seal strips designed specifically for the Model 3. The custom-cut seals drastically reduce wind noise as it makes the car slightly more aerodynamic and acts as a noise insulation layer.
It can also help block other outside noises from entering the cabin as the expandable rubber creates a tighter seal between panels, improving the noise insulation of the Model 3.
Installation is simple and straightforward: Clean the installation surface well. Place the rubber seal all along its respective body panel. The seal kit includes the adhesive required to stick the rubber bands to the body panels.
Motrobe Tesla Model 3 Door Seal Kit
If you're looking for a complete door deal kit for the maximum noise reduction in your Model 3, the Motrobe Tesla Model 3 Wind Noise Reduction Kit is a package of 10 custom-cut seal strips for complete coverage of body panel gaps from which noise could enter the cabin,
Made of EPDM expandable hollow sponge rubber, each section provides excellent noise insulation and heat/cold endurance for superb durability.
Installation is a simple two-step process: thoroughly clean your door edges out of any dust or dirt to make the adhesive stick well. With the included adhesive tape, stick the stripping foam along the door edge. Press firmly for a few seconds for the best results.
GOLOHO Door Seal Kit for Tesla Model 3
The GOLOHO Door Seal Kit is specifically designed the Model 3 and will help you reduce interior noise for enhanced comfort on long trips and day-to-day driving. Tighter seal doors also mean increased HVAC efficiency, a crucial factor in an electric car.
Included are 6 EPDM rubber pieces that are installed along the door frame. Adhesive as well as an adhesive spreader pad are included in the kit.
To install, clean the door edge with a light detergent and wait for it to dry. Then, coat the border with the adhesive and follow the door frame shape. Adjust before the adhesive dries up and ensure that all the door seals are adequately aligned with the door frame.
Related: Best Model 3 Accessories
Effectiveness of Wind Noise Reduction kits
Youtuber Emmett Short tested the effectiveness of a door seal kit for the Model 3 and found a significant reduction in the interior cabin noise after installing it the seals in between the body panels.
Before installing the noise reduction rubber strips, he experienced an average of 74 dB of cabin noise during regular highway driving. After installing a noise reduction kit, cabin noise decreased significantly down to 69 dB during regular highway driving.
A reduction in sound level from 74 to 69 decibels might not seem like a significant reduction for those that aren't familiar with the decibel scale. We have to remember that decibel is a logarithmic unit, so the noise reduction from 74 dB to 69 dB is around 50%! That's a very noticeable difference that most drivers will appreciate in day-to-day driving, especially during highway commutes.
Advantages of installing a door seal kit in your Model 3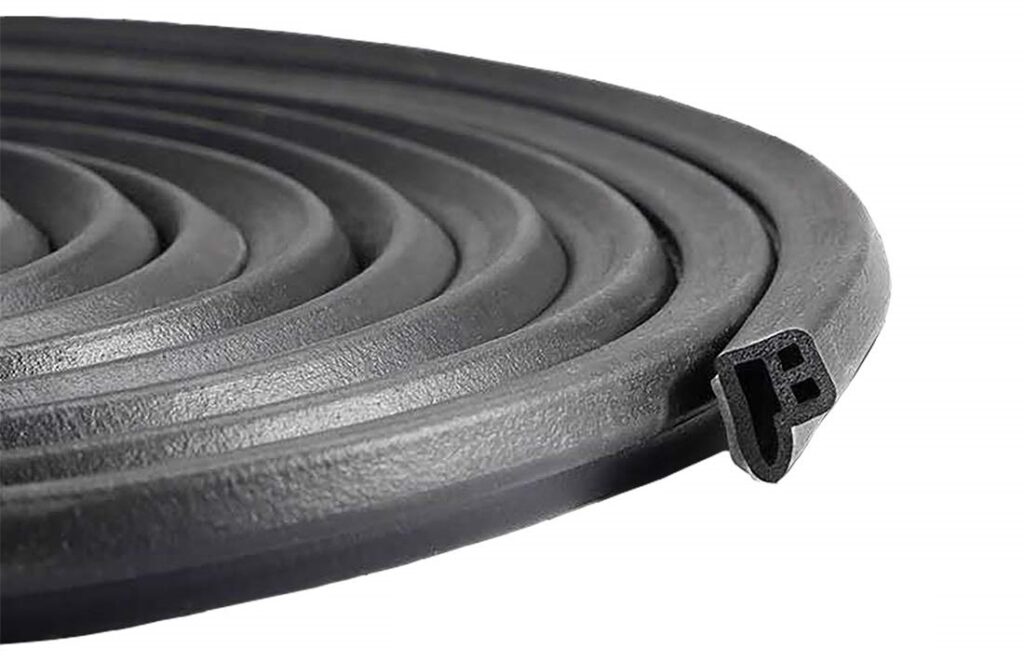 Reduced interior noise
A wind noise reduction kit works in two different ways to reduce interior noise caused by airflow around the car:
Reduces aerodynamic turbulence around body panels by sealing and significantly lowering the depth of the gaps, allowing air to flow around the car more efficiently.
The rubber kit is yet another layer of insulation between your ears and exterior noise caused by airflow.
Privacy
Noise insulation works both ways. Not only will you hear less noise coming from the outside of the vehicle but also noise coming from the inside of the car will be heard less or at a lower volume outside.
The wind noise reduction kit won't turn your Model 3 into an isolated studio sound room, but it may reduce the noise coming from your car heard by people standing outside. As the Model 3 is completely silent when stopped, this can be an effective way of keeping conversations private and sound/music leakage low.
Increased cooling and heating efficiency
A tighter interior seal means less air escaping the cabin and fewer energy losses due to the HVAC having to cool or heat the cabin more frequently. Being electric cars, Teslas are already pretty efficient but a well-installed kit of insulating rubber can make a difference and increase your driving range.
Tesla Model 3 Wind Noise Reduction Kit Installation
Some final thoughts
Tired of wind noise in your car? The Tesla Model 3 is a premium vehicle but at times it feels the cabin noise at high speeds is higher than it should be for a car of this category. Electric vehicles can feel louder than gasoline vehicles at high speeds as there is no engine revving at thousands of RPM in front of you and wind noise is much more noticeable.
Thankfully a kit of Door Seals for the Model 3 can help quieten down things a fair amount. The BASENOR Wind Noise Reduction Kit is a worthy investment if you want to make your car feel more refined and comfortable.