Any Tesla Model 3 owner will rapidly notice that it is a rather well-equipped vehicle with a plethora of impressive features that make driving easier, safer, and more comfortable.
The ownership experience can be improved further with a few accessories that bring extra functionality, help take care of the interior, or enhance visual appeal to the vehicle. Let's start with our top choices of the best Tesla Model 3 Accessories:
Must-Have Accessories for the Model 3 – Top Picks
After careful consideration, we have selected the ten best Tesla Model 3 accessories. We'll be going over their pros and cons and providing some quick thoughts on each. Let's begin:
Best Tesla Model 3 Accessories – Top 10
3D MAXpider KAGU All-Weather Floor Mats
Pros
Carbon fiber-like texture
Matches well the rest of the interior
Excellent year-round protection for your Model 3 interior
Easy to remove and clean
Cons
Manufacturer "3D" logo is very noticeable
All-Weather floor mats will help you keep the interior of your Model 3 in pristine condition. Having All-Weather is especially important in climates where rain or snow are common occurrences.
Tesla offers its own set of floor mats, but they're just traditional rubber mats that provide little added protection and don't have the attractive design and texture of the 3D MAXpider Mats.
The 3D Maxpider KAGU floor mats are undoubtedly the best floor mats available for the Model 3. Stylish, resistant, and easy to clean best defines this set of floor mats.
Related: Full review of the 3D MAXpider KAGU Tesla Model 3 Floor mats
TapTes Model 3 Wireless Charging Pad
Pros
Can charge two phones simultaneously
Blends in seamlessly with the interior
Attractive, minimalistic design
Cons
Wireless charging is a relatively new technology that has increased adoption substantially in recent times.
Pretty much every flagship smartphone supports it; Apple iPhones have supported it since 2017. It is very likely that your current smartphone is compatible with wireless charging — might as well have a wireless charger available to take advantage of it.
The TapTes Tesla Model 3 Wireless charging pad plugs into your USB ports and seamlessly blends in with the center console.
It boasts an attractive, minimalistic design, similar to the rest of the car's interior.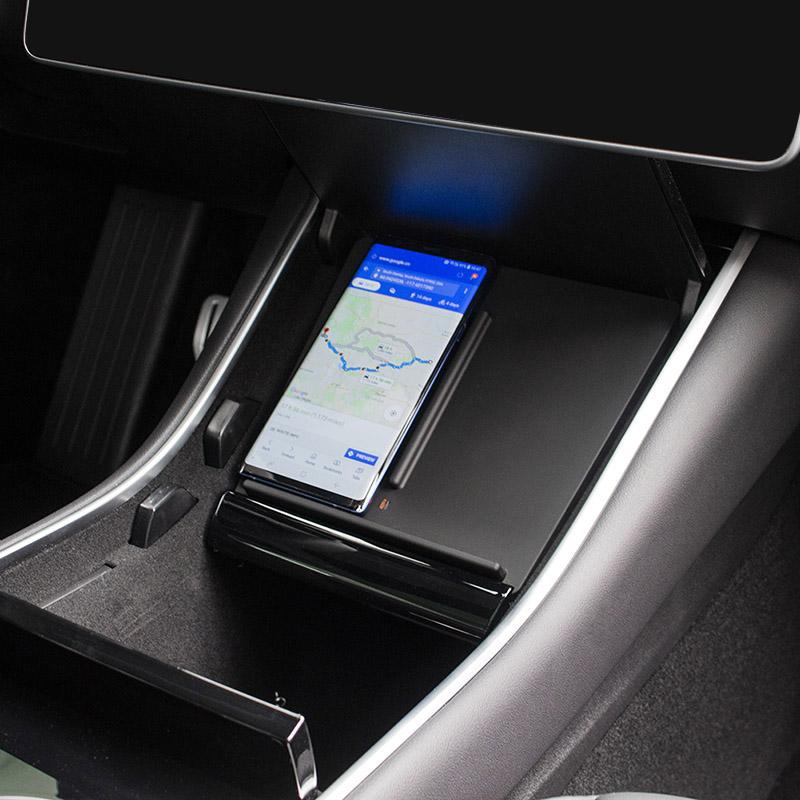 It's a great addition to your car if you have a wireless charging-enabled smartphone. Up to two smartphones can be charged simultaneously, side to side.
No need to worry about cables or plugging in your smartphone while driving. Simply place your phone on the charging mat and let technology do the work.
The only downside we found with this accessory is that it uses both of your center console USB ports. Some users might find that inconvenient as this Tesla Wireless Charger needs to use both ports constantly.
Tesla Model 3 Touch Screen Protector
Pros
Protects your screen from scratches due to rings, zippers, etc.
Easy install
Cons
May need to be replaced every couple of years due to wear and fading
The Model 3 features an enormous 15-inch touchscreen as a control center for every aspect related to the vehicle. From air conditioning to exterior lights, the massive screen is one of the most distinctive elements of the car.
Just like any glass-based display, it is susceptible to scratches and general wear and tear. We'd think a display in the cabin of our car wouldn't be vulnerable to this as much as a smartphone screen, but rings and other metallic objects that make contact with the display can leave permanent marks.
A screen protector will help avoid this as it protects the actual glass with a thin, replaceable transparent film that takes the scratches while leaving the actual screen spotless.
As with any plastic-based material, it can get a yellow-ish tone after years of use and sunlight exposure and you might want to replace it every couple years.
Due to its low cost, we consider it an excellent investment and a must-have Tesla Model 3 accessory as it will keep your center console display pristine without scratches.
Allen Sports Deluxe Trunk Mounted 3-Bike Rack
Pros
Installation doesn't require any additional accessories

Universal mount for virtually any sedan

Padded frame to avoid direct contact with the vehicle paint
Cons
Your license plate visibility might be obstructed when carrying several bikes
Not all bike racks can accommodate to the Model 3's peculiar body panel design. Even though it is technically a sedan, the short trunk lid and long rear window give it a shape that can resemble a hatchback.
The Allen Sports Deluxe Trunk Mounted bike rack is a traditional bike mount that attaches to the trunk of your Model 3 and offers capacity for up to 3 bikes.
We were surprised seeing how well it fits the vehicle considering the unusual rear shape of the car. Here is how it looks when in use: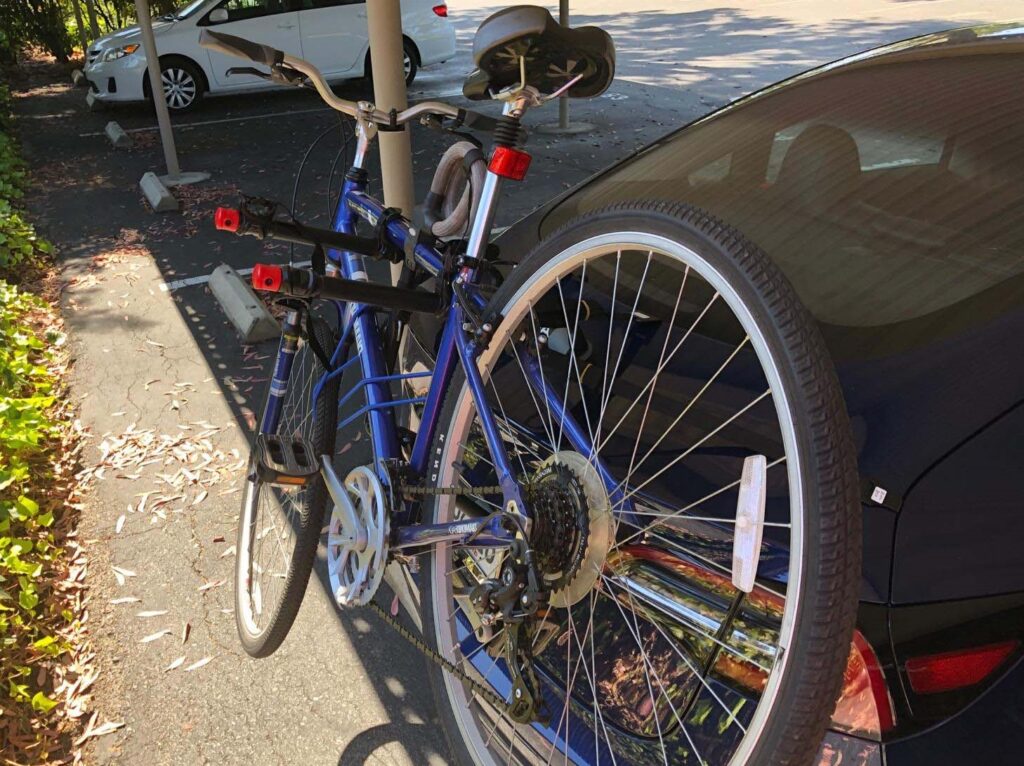 The trunk can be opened normally while using this accessory. There is no risk of breaking the glass with either the bike or the frame of the bike mount if we need to get access and open it while using the bike rack.
Overall, the Allen Sports Deluxe Bike Rack is an excellent accessory for any Tesla Model 3 and will enable you to bring your biking hobby to new locations.
Related: Tesla Model 3 Bike Racks
EV Wraps Tesla Model 3 Center Console Wrap
Pros
Protects the glossy surface of the center console
OEM-look
Available in various colors
Cons
The edges of the sticker could start peeling off after a few years
Tesla's Model 3 center console is a notorious fingerprint magnet. The shiny surface it's tough to keep spotless as even the cleanest of fingers will leave marks on it.
As with the screen protector, this wrap will also protect the actual surface from the center console from scratches and normal wear and tear.
There is also a carbon fiber texture variant for this product if you're looking for a unique look.
AutoRover Tesla Model 3 Windshield Sunshade
Pros
Especially made for the windshield of the Model 3
Keep your vehicle cool in the summer
Enhanced privacy when leaving your car outdoors
Protects the interior console from sunlight degradation
Cons
Roof sunshade is not included
This is another accessory that should be considered a must-have for owners living in sunny environments. Hot summers not only make the cabin hot and uncomfortable when the car is left outdoors but also the strong sunlight slowly degrades our interior when there's nothing there to protect it.
A windshield sunshade is especially useful for owners that don't use an indoor parking space or park their cars outdoors in the driveway frequently.
The windshield reflector works as a mirror, it reflects sunlight away, helping keep the car fresh and the interior pristine. No need to keep burning your hands with a hot steering wheel.
Another benefit of having a sunshade while parked is increased interior privacy. Less light coming in means the interior of the car is not as visible from the outside. It gives you peace of mind when leaving valuables inside your Model 3.
Check out our review of Tesla Model 3 sunshades if you are looking for other products to protect your vehicle's interior from the sun and heat.
Door Sill Wrap protector for the Model 3
Pros
Protects an area that is susceptible to heavy wear and tear
Invisible. You won't even notice its there.
Cons
It won't protect the door sill against exceptionally sharp objects
This simple accessory might sound like it is not really needed at all as we all expect some wear and tear to develop in the door sill area. However, according to some reports by Model 3 owners, the chrome door sill can be very easily scratched.
The wrap takes 5 minutes to install and its completely invisible once it dries up. It will help any owner keep the vehicle in pristine condition and retain value.
Trunk Spoiler for the Model 3
Pros
Gives the non-performance Model 3 a sportier look
Available in various colors
Carbon fiber texture available
Cons
Aerodynamic efficiency is diminished.
While this is not a must-have accessory, we all can agree that a carbon fiber spoiler is an excellent addition for owners wanting to give their Model 3 a more sporty look, resembling the performance version of the vehicle.
The carbon fiber texture is a nice touch, although some owners might prefer the more discrete matte black variant.
Model 3 Interior LED upgrade
Pros
Brighter interior lightning
Plug-in accessory. No additional adapters needed.
Cons
Some people might find these LEDs too bright at night
The original lightning on the Tesla Model 3 can be considered dim. New LEDs improve not only interior visibility at night but also provide visual appeal due to their crisp bright lightning. No more blindly riffing around in the dark.
This LED replacement kit is plug and play, no need to change any wiring or additional modifications. To install, simply remove the original lights of your vehicle interior with these.
Some people might find these a little too bright at night. If you are currently pleased with the cabin illumination of your car, we recommend you skip purchasing this kit.
Tesla Model 3 Performance Pedal Set
Pros
Protects the original pedals
Higher grip than the stock pedals
Gives your non-performance Model 3 a more sporty look
Cons
Installation could take up to half an hour
A performance pedal set another accessory for Model 3 owners wanting to give their vehicle a more sporty touch, once again resembling Tesla's performance offering of this same vehicle.
However, apart from the visual appeal, this set of pedals can provide increased grip and surface area for safety-conscious drivers.
It's a simple touch, but this is a nice detail that you will notice when getting into the car.
Related: Performance Pedals for the Model 3
Some final thoughts
Whether you're looking for a simple cosmetic enhancement to your car like a spoiler or an accessory that will let you charge your Tesla virtually anywhere like the NEMA 14-50 adapter, there is a wide range of aftermarket products that can improve further your Tesla ownership.
Some of these Tesla Model 3 accessories are "must-haves", essential to the ownership of the vehicle as they help keep your vehicle in top shape and provide basic comfort. Others are visual mods that you can use to improve the aesthetic of our car.
Know of any must-have Model 3 accessory that we missed? Have any suggestions? Please let us know below.