One of the common complaints of Model 3 owners is the interior lighting. At times it can feel dim and even inadequate. For a car with such a great interior, the interior ambient lighting could be upgraded to be more in line with the futuristic and advanced look. It's not a bad interior to look at but at night it can be difficult with the factory interior lights.
Luckily, the interior LED's can be easily upgraded for brighter ones and even different colors to match the ambient tone you want to achieve for the cabin. As far as interior lighting upgrades for Model 3 go, there are plenty of aftermarket options. Don't worry – we reviewed some of the best Tesla Model 3 interior ambient lighting upgrades.
Here's what we learned:
Model 3 Interior Ambient Lighting LEDs – Top Picks
Interior Ambient Lighting Upgrades for the Tesla Model 3 – Reviews
Tesla Model 3 Interior Ambient Lighting RGB strip
Basenor is a well-known Tesla aftermarket accessories manufacturer. Their products are custom-designed for each vehicle, and this neon light strip is no different. It fits the Tesla Model 3 and Model Y center console and gives it an excellent interior ambient lighting.
What's even better is that there are no cables you have to deal with. Everything is designed to be clean and smooth. Cables are hidden, which makes the front interior look sleek and tidy, but that's not all – you can also change the lights in any color you want.
These LED lights come with an app that has an RGB control. Here, you can select any color option you can think of to change your interior in a second. The app also allows you to change different lighting effects through several modes for creating a different atmosphere while driving.
It also has a music effect that changes light along with the beat of a song you are listening to. What's stunning about these lights is that they are practically invisible when turned off, they don't look out of place.
BougeRV LED Light Upgrade Kit for Tesla Model 3
The Tesla Model 3 is a fantastic car, but many people like to give their cars a bit more razzle-dazzle. This BougeRV LED light kit gives you a package of 4 LED lights that you can attach at various spots on your vehicle. They act as replacement lights for the stock ones.
No matter which lights you want to change, these aftermarket ones can fit with ease. Compared to the stock lights, they offer much brighter lighting that's also surprisingly very easy on the eyes. These lights are compatible with all the lights in the interior in the Model 3, Y, and X.
Here are the lights you can change:
Lights in the glove box
Footwell lights
Trunk light
Puddle lights
Frunk light
If you can't find the lights, there is a manual that comes with the kit. It shows all the locations of lights that can be changed with this lit. Yes, these lights look fantastic, and although we don't see the point in lighting your legs, if you like it, go for it.
The kit also comes with a prying tool that you can use to pop out the stock lights and then unplug them. You won't have to modify or tamper any wires or electronics.
Model 3 Interior LED Upgrade Kit – 4 pieces (Blue)
Even though we've never heard of "Puduo" and their car accessories, we wanted to give them a shot. To be fair, we were skeptical about these LED lights, but they surprised us in a positive way.
The lights are compatible with these models:
They are designed for the interior cabin, the trunk, and the footwell lights. These lights are simple to replace, and you'll only need a prying tool – there are no cables or drilling involved.
The lights don't increase power spending while giving a brighter look. Even though the brightness differences are noticeable straight away, we found them non-intrusive. You can drive freely at night without being blinded.
To be honest, they are pretty similar to the BougeRV LED lights – you can't go wrong with either option.
Motrobe Ultra-bright Interior LED Lightingfor Tesla
If you have a Model 3 Y, these are custom-designed LED lights that will fit like a glove. Still, they fit the Model S, X, and 3 as well. It's probably the brightest option, and we estimate that they are around two times brighter than the OEM originals.
The package comes with lights and a manual for all models. There are many possibilities for replacement, but we think that these lights are the best option for the trunk.
Even if you're in complete darkness and need some tools or anything else out of the trunk, you'll be able to see everything. It's simply amazing how much the trunk area is transformed after installing these LED lights.
Like other models on our list, there's no need for moving wires, drilling holes, or changing anything. They are plug and play.
How to Install Model 3 LED Lighting Upgrade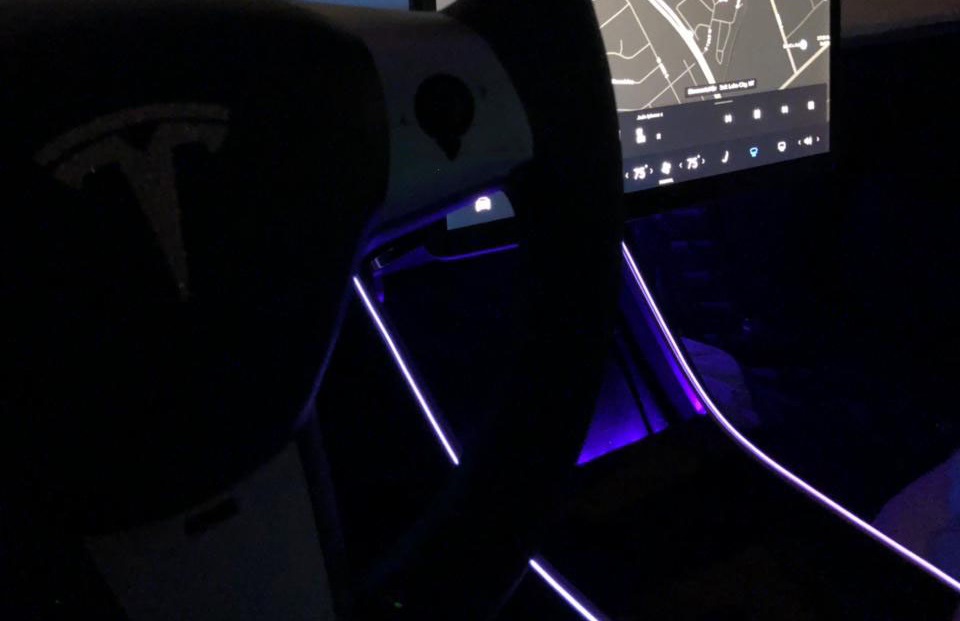 One of the main reasons why these lights found their place on this list is that they are all straightforward to install. You will only need a prying tool to do this. Some kits have a prying tool included. If not, you can get one at every local store.
Just make sure that the tool is plastic to avoid scratching your car. Sure, you can use a screwdriver, but why risk it if there's no need.
Here's how to install them:
Take the pry tool and put it under the light to get the light out (sometimes you will have to press a bit harder to get it out).
Press the knob on the back of the light and pull out the connector.
Take the new LED light and simply pop in the connector.
Put the light back into the socket.
That's it – you're good to go!
Other considerations:
Why upgrade the interior lighting?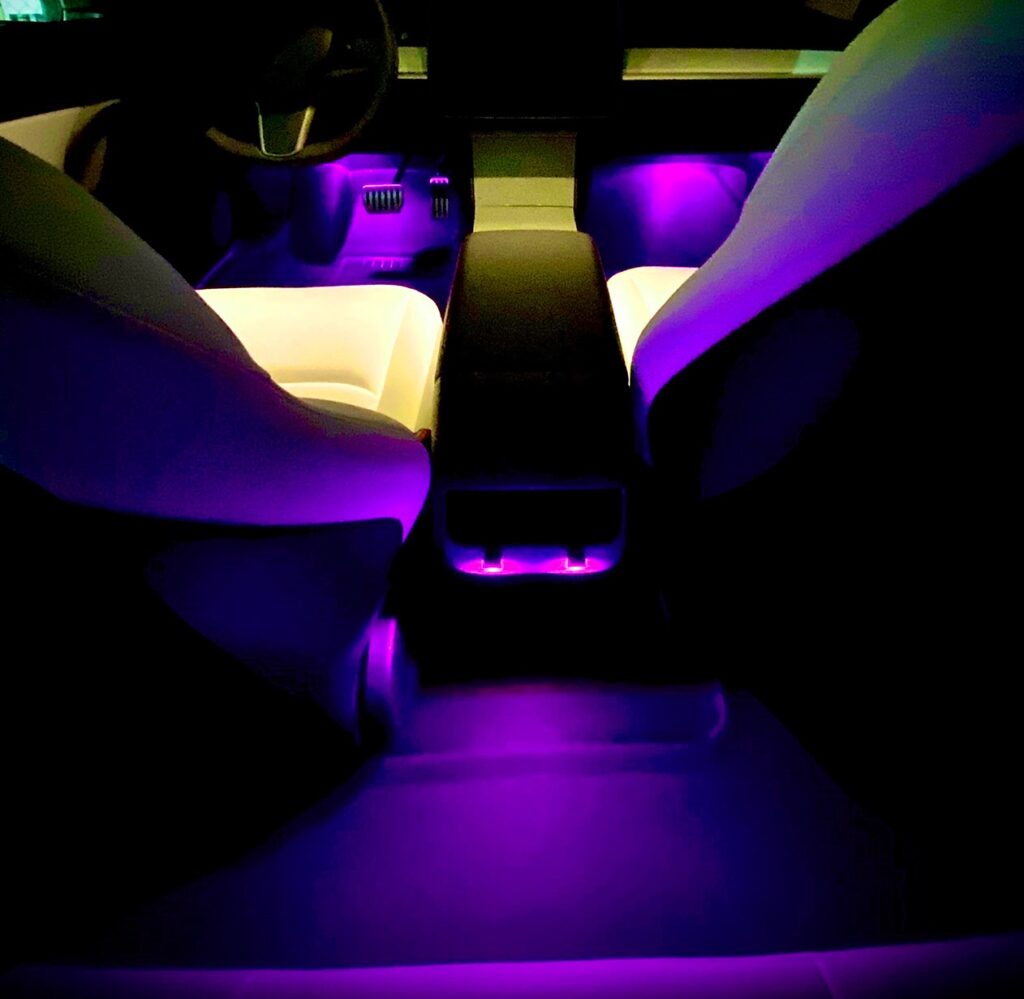 The interior light in all Tesla 3 models is acceptable. However, for some people, it's not enough. The stock lights are quite dim, and this isn't something everyone's used to.
On the other hand, if you love having a bit more light in the interior and want your vehicle to look more personal, you can get that visual appeal by replacing the lights.
You can replace all the lights in just 5 to 10 minutes in your own garage, don't need to bring the car to a professional to get it done.
Would brighter LED lights drain the battery faster?
When owning an electric vehicle, it is essential to pay attention to the energy consumption of every accessory of the car.
With these brands, there is no significant difference in power consumption. Naturally, brighter lights need more energy, but you won't even notice the change. LED's are very efficient light sources.
Interior lights that can be upgraded:
All of these accessories are compatible with all the lights within the Tesla Model 3. You can change the lights:
Under the dashboard on the driver side
Under the dashboard on the passenger side
In the glove box
Under door puddle lights
Inside the trunk
How many upgradeable interior lights does the Model 3 have?
It depends on the model. On average, there are eight replaceable interior lights. In most cases, there are two lights in the trunk. However, some models only have a single one.
LED upgrade vs. factory lights brightness
It depends on which one you choose. From our tests, we noticed that the lights are about twice as bright as the factory lights. We put a factory light and the replacement one next to each other and tested them in different conditions.
Final thoughts
Making your interior well-lit can give your Model 3 a much better look and night and usability. Having trouble finding stuff at night can be pretty frustrating but thankfully there exist plug-and-play upgrades to improve night visibility.
All the products we discussed today are reliable, bright, and easy to install. You'll only need a couple of minutes to replace them, and you're good to go. Rest assured that your vehicle will run almost the same as with factory lights.