The function of a spoiler is, to reduce turbulence, drag, or to improve downforce. There's also the added aesthetic appeal. A spoiler can make your Model 3 look more sporty and unique.
The Tesla Model 3 Performance has a factory carbon-fiber spoiler, but non-performance models, unfortunately, lack one from the factory.
The good news is that you can install an aftermarket spoiler, no matter the trim of your Model 3. There are several options you can choose from with varied colors, textures, and sizes. Let's take a look at some of the best Tesla Model 3 Spoilers:
Tesla Model 3 Spoilers – Top Picks
Related: Best Tesla Model 3 Accessories
For a more in-depth analysis of aftermarket performance spoilers for the Model 3, keep reading below. No matter which spoiler you end up choosing, they're all a great way to give your car a fresh appearance and the sportier look that the Model 3 deserves.
Model 3 Aftermarket Spoilers – Review
Tesla Model 3 Carbon Fiber Spoiler (Matte)
An aftermarket spoiler for the Model 3 is the WJM Matte Carbon fiber spoiler. If you prefer matte carbon fiber texture over glossy carbon fiber, this is an excellent addition to your vehicle. The matte surface is usually easier to keep clean than the glossy counterpart and contrasts nicely with your paint.
This carbon fiber spoiler kit fits Tesla Model 3 of all model years. The material that goes into manufacturing is of exceptionally high quality and durable. Due to its small size and low profile, this is mostly an aesthetic spoiler. The additional downforce is not significant but it will be noticed at high speeds or if you track your vehicle.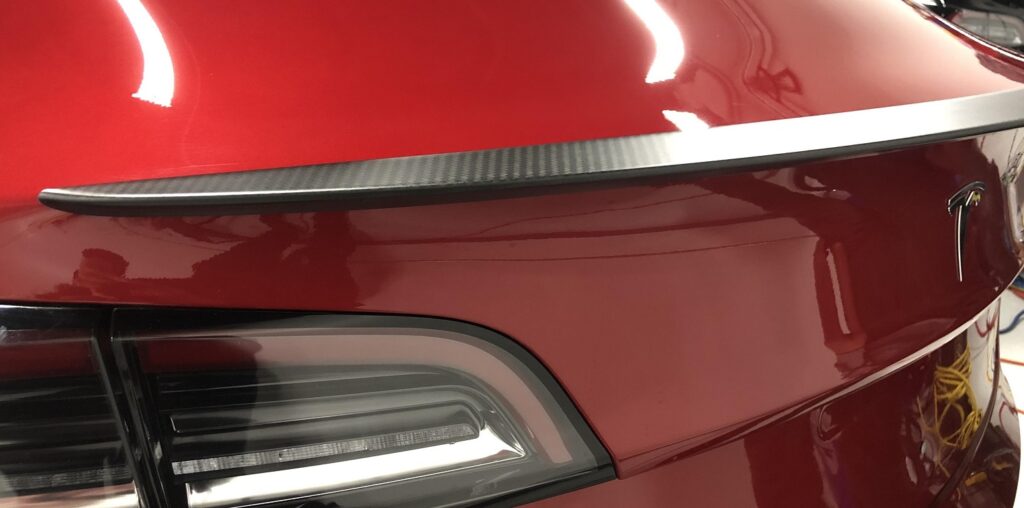 Overall, we consider it the best spoiler for the Model 3 if you prefer the matter finish over the glossy look. It will add a sporty and personal touch to your car but it won't drastically change the looks of it, which looks ideal on this car.
Tesla Model 3 Carbon Fiber Spoiler (Glossy)
Among the range of spoilers that available for the Tesla Model 3, this WJM rear spoiler is what may suit best the preference of most users. The glossy carbon fiber finish adds a great visual touch to the vehicle. It adds a sportier look and a more personal touch while still maintaining the refined look of the car.
This particular spoiler is suitable for all variants of the Tesla Model 3 without a factory spoiler. The carbon fiber material that goes into the manufacturing is exceptionally high quality, lightweight and durable. All in all, this spoiler will not disappoint you in terms of craftsmanship and looks.
Apart from the obvious aesthetic appeal, this accessory can give your Model 3 a slight additional downforce on the rear, something important on spirited drives if you own the rear-wheel drive model.
BASENOR Tesla Model 3 Extended Performance Spoiler
Tesla itself approves that the carbon fiber spoilers bring high-speed stability to your drive and give you a higher degree of control over your vehicle. Therefore, this BASENOR Tesla Model 3 ABS Sport Trunk Wing Performance Spoiler is not resisted.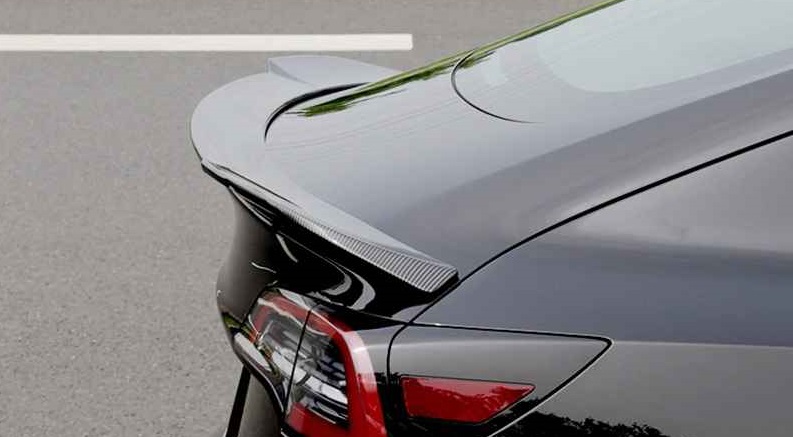 Made from high quality, reliable ABS carbon fiber, this item weighs 4.39 pounds and is manufactured by BASENOR- a reliable name in manufacturing car accessories and parts. Its dimensions are 56 x 16 inches, this makes it well suited to accentuate the rear side of your Tesla Model 3. The custom cut shape makes it one of the most stylish options currently available.
The rear spoiler is quite large and will extend off the trunk to pick up some clean air; this will also result in a downward force with limited drag, which will make you feel more at ease as you pick up speed, especially if your Model 3 is RWD-only.
With the extended design, this particular spoiler has the ability to pick some cleaner air and let it exert a downward force on the vehicle to increase road stability. It comes with a double side tape that enables easy self-installation. The color lasts long and does not fade. So what more can you ask for in a spoiler?
You do not need any screws or special tools for the installation process. All you need to do is attack the trunk surface with the help of the included adhesive.
BMZX Carbon Fiber Spoiler for Model 3
The BMZX spoiler has been customized specifically for Tesla Model 3. The product is made of top-grade carbon fiber material with a matte finish. This makes it quite lightweight and gives your vehicle a more luxurious look.
This rear trunk spoiler will make your car look more like a high-speed performance car since it will help in thermodynamics and add more force-down for the best stability. In turn, this will also keep you safe at high speeds, reduce the resistance by the winds, and save you a substantial amount of fuel.
Apart from improving the aerodynamics, the spoiler will also improve appearance and styling. The matte spoiler looks quite nice and will capture the attention of the people around you.
The spoiler is quite easy to install as well. All you need to do is remove the self-adhesive tap and stick it on the lid of your trunk. Once this procedure is completed, you need to keep the area dry for another 24 hours. Alternatively, you can also make use of a hair dryer to hasten the process. Once secure, the spoiler can be cleaned easily.
Tesla Model 3 Spoiler Installation FAQ
What tools are required for the spoiler installation?
The installation of the spoiler is completely tool-free. All you need to have are a few cleaning supplies and a microfiber cloth for car cleaning. You do not need any specialized tools as the spoiler attaches to the vehicle with the included double-sided tape.
No need to drill holes into the trunk, all you need is a clean installation surface, patience, and some free time.
Spoiler installation process
The Spoiler installation process is pretty straightforward. The first step is to thoroughly clean the rear portion of the trunk lid that the spoiler will attach to. The installation surface must be completely clear of any dust, dirt, or debris as a grimy surface will affect the effectiveness of the adhesive.
Then make sure the lower portion of the spoiler is free of any dust as well. Your new spoiler is probably going to be completely clean, but it is a good idea to wipe it down before installing it.
The last step depends on your choice of aftermarket spoiler. Some come with the double-sided tape already attached to it. For others, you have to stick the tape to the spoiler and then stick it to the Model 3. Either way, make sure that you get the spoiler on the dead-center on your first attempt. Double-sided tape is really strong and loses some adhesive strength if you unstick it to reattach it then again.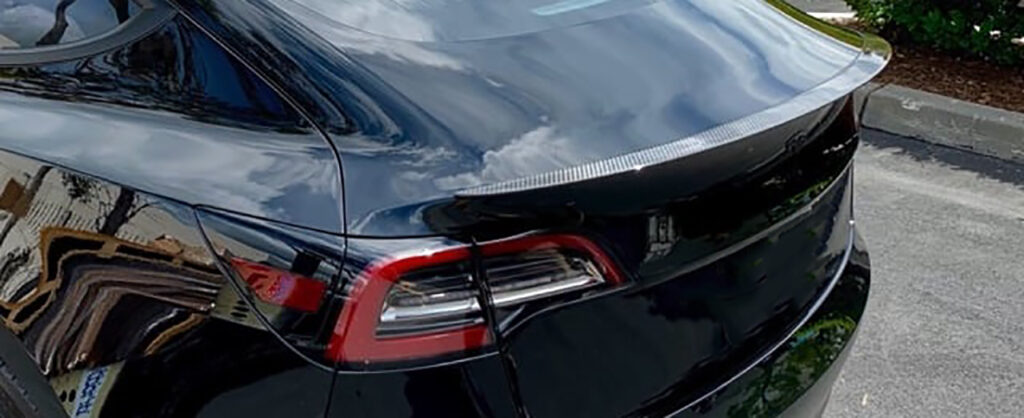 Can the spoiler be removed?
Yes, the spoiler can be completely removed. If you are unhappy with the spoiler for any reason or want the clean, no-frills, no-spoiler look of your Tesla Model 3 back, the spoiler can be removed with some work. The adhesive strengthens over time up to a certain point, and it can be hard to pull out without some serious force.
The best way to make it easier to remove is with some heat. You can use a blow dryer in medium heat to soften the adhesive and slowly detach it from the vehicle. There might be some residue left, try not to use harsh cleaning supplies, and also not wipe it harshly as this may damage the car's clearcoat.
Model 3 Spoiler – impact on range
Regardless of the spoiler you choose, the impact on the range will be insignificant and most likely unnoticeable. According to an aerodynamic study, a front lip, rear wing, and lowering springs can increase the range of an electric vehicle by around 10% at a speed of 70 miles per hour.
Read more: Tesla Highway Range
A Tesla Model 3 without the front lip or the lowering kit may still have a minor range increase, but it's unlikely that you'll notice it unless your driving consists mostly of high-speed highway cruising.
Final thoughts
There is a wide range of options you can choose from when looking for an aftermarket spoiler for the Tesla Model 3. Whether you prefer a matte, a carbon fiber spoiler, a wide or a narrow one, a spoiler can be an excellent addition to improve your Model 3's looks and give it a more personal touch. They might even slightly improve range depending on the spoiler you choose and your driving habits.
In case you are still unsure about which one would look best on your car, our recommendation is the WJM Glossy Carbon Fiber Spoiler, its carbon fiber texture, and streamlined design can give the rear of any Model 3 a fresh new appearance.
Happy driving!