While wireless charging has been around for a few years, the adoption of this technology has increased substantially since Apple's iPhone X and iPhone 8 were released. Most high-end smartphones that are being released today have support for Qi Wireless Charging.
Now that wireless charging technology is mainstream, consumers should prepare for a new era with fewer cables. Wireless charging alleviates some headaches that wired charging has.
In contrast to regular cable chargers, wireless chargers allow you to just set your phone in the charging area and it will immediately start charging.
This is especially useful when you are in a car as it is not only dangerous but can be illegal to drive while looking for the charging cable for your phone, and then looking for the right way to plug it.
Best Wireless Phone Chargers for Tesla – Top Picks
TapTes Model 3 Dual Wireless Charger
Dual charging
Also available in white
Model 3 only
Tesla Wireless Chargers Reviewed
We will take a look at the best wireless phone chargers for Tesla owners. Whether you own a Model S, a Model X, or a Model 3, there is an accessory for your vehicle. Let's dive in.
TapTes Tesla Model 3 Wireless Charger (Gen 2)
Pros
Dual charging. Charge two smartphones simultaneously
Your smartphone can be placed horizontally or vertically
Blends in seamlessly with the interior
Cons
Only for the Model 3
Needs both USB ports for power
TapTes released an updated Dual Wireless Charger for the Model 3 with a few improvements over the first iteration.
The Gen-2 Model 3 Wireless Charger supports horizontal wireless charging for users who prefer placing their smartphones in landscape mode while it will charge. This gives you more flexibility when using navigation apps or it can also give a more adequate fit for bigger phones.
Read more: Best Accessories for the Model 3
The accessory is designed to blend in as much as possible with the rest of the vehicle's interior. It won't look out of place as it is made with similar materials and design as any Tesla center console. To unsuspecting eyes, it looks like the car came with it from the factory.
A downside of this charger is that it will take up both USB ports of your car to power the dual wireless charger. You can connect it to a single port if you prefer but then only a single device would be able to be charged wirelessly.
Unfortunately, owners of the Model S or the Model X will have to look elsewhere. This Qi Charger can only be installed on the Model 3 as it is incompatible with the center console of any other vehicle.
TapTes Tesla Model 3 Dual Wireless Charger
Pros
Dual charging. Charge two smartphones simultaneously
Easy to install
Blends in seamlessly with the interior
Cons
Cannot be used on the Model S or Model X
Uses up both of your USB ports
One of our favorite accessories for the Model 3 is the TapTes Dual Wireless Charger. Available in black, light black, and white variations, it connects to your vehicle's USB ports to wirelessly provide power up to two smartphones simultaneously.
This wireless charger accommodates in the Model 3's Center Console and blends in perfectly with the vehicle's interior. It feels like the missing center console accessory that should be in the center console of every Model 3.
To install, simply remove any accessories you might have on the center console, plug both USB cables into the ports and then place the charging mat covering the USB cables. Why even bother with cables if we can completely forget about them with this accessory.
The only downside of this accessory is it only fits the center console of the Model 3. Model S/X owners will have to consider another alternative.
Wireless Qi Charging Mat – Best Wireless Charging Pad for Model S and Model X
Pros
Integrates seamlessly with the Model S and the Model X interior
Fast charging adapter included for back-up wired charging
Easy installation and removal
Cons
Cannot be used on the Model 3
Only for Model S and Model X
The BMZX Qi Wireless charger for the Model S and the Model X integrates a wireless charging area, and two storage areas, to give you a two-in-one center console accessory, that serves as a smartphone charger and an organized.
Related: Integrated Center Console Inserts for the Model S
Three Charging Coils in the charging mat lets you place your smartphone in virtually any position, no need to worry about placing it in the perfect position or move it around for it to start charging.
The manufacturer claims that the charging mat is able to fully charge an iPhone XR in around 3 hours and 30 minutes. That is slightly faster than the average charge time of other wireless chargers for this same smartphone, which is around 4 hours.
A minor design flaw we found with this accessory is that the charging area can feel small at times. If you have a bulky case, and your smartphone is on the bigger side such as a Max-sized iPhone, it could be a tight fit in the wireless charging area.
Overall, the BMZX Qi Wireless Charger for Tesla Model S/X blends in seamlessly with the rest of the interior and adds plenty of functionality to the center console, it's especially useful if your smartphone can charge wirelessly.
Read more: Tesla Model X Accessories
Farasla Wireless Charger for Tesla Model 3 – Compatible with Airpods
Pros
Quad-coil wireless charger
Compatible with all Qi-enabled smartphones
Compatible with earbud cases such as Airpods and Galaxy Buds
Three charging modes for extra compatibility
Cons
This is yet another solid alternative if you're looking for Model 3 Wireless Chargers. The Farasla wireless charger features a powerful quad-coil arrangement for faster charging and more coverage in terms of charging spots.
The quad-coil design lets you place even earbuds, such as an Airpods case in the lower section of the charger to charge it rapidly. With this charger you could either have two smartphones charging at once or one smartphone and a earbud charging case.
Overall, this is an advanced wireless charger that also has an attractive design and blends well with the interior of the Model 3. Unfortunately, it is available in only one color.
Mpow Qi Wireless Car Charger
Pros
Easy installation and removal
Works as a phone holder
Universal, fits on any vehicle
2-in-1. Phone mount functionality.
Cons
Cannot be placed on the center of the dash due to the Model 3's screen
Mpow's Qi Wireless Charger takes the form of a smartphone mount so you can enjoy a wireless charger that doubles as a phone mount. While a phone mount is not as useful in a Tesla as it is in other vehicles due to the integrated screen, it is still good to have this feature if you prefer smartphone navigation apps.
To lock your phone tightly, it has an automatic mechanism that grips your phone in place. The quick-release button ensures a hassle-free opening.
This Wireless Charger supports fast-charging and another additional standard charging mode for additional compatibility.
Although the Mpow Wireless Charger is not designed for any Tesla specifically, it deserves a mention here due to its versatility. The suction cups let you place it either on the dashboard, the windshield, and even an air vent.
Andobil Wireless Charging Mount
Pros
Fast charge compatible
Can be placed on a vent or with the suction cup
Perfect for plus-sized phones
Cons
Does not blend in seamlessly with the interior
The Andobil Wireless Charging Clamping mount takes a more traditional approach as it acts as a traditional smartphone mount with Qi Charging capabilities.
This is extremely useful as you could set use your smartphone as GPS and charge it at the same time without the need to plug any cables in.
It also supports fast wireless charging and has a mechanism that automatically grips your phone according to its size when you place it there.
Tesla Wireless Phone Charger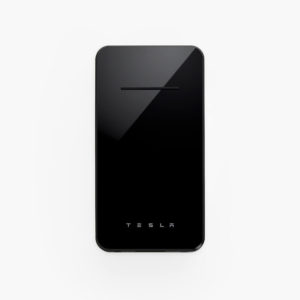 Pros
OEM look and feel
Available in two colors
Double functionality
Cons
Can be slow to ship
More expensive than the other offerings
Tesla also offers an official wireless charger for Tesla vehicles. This accessory is a Qi Wireless Charger discreetly dressed in the Tesla style.
It is a very good looking, minimalistic flat piece that can your charge phone wirelessly and also doubles as a standard wired power bank using the USB.
This accessory is available in both Black and White variants. We prefer the Black one as it perfectly matches the interior.
What is Qi Wireless Charging?
Just as the name says, this technology charges your device without plugging and unplugging cables. It is very convenient as it avoids the hassle of having to carry around cords.
Qi Wireless Charging is being adopted by an increasing number of smartphone manufacturers. As a leading manufacturer, Apple adopting the Qi wireless charging standard has been a big boost in terms of the adoption and proof of adoption of the technology. Qi chargers will be built into furniture, vehicles in the coming years.
Benefits of Qi Wireless Chargers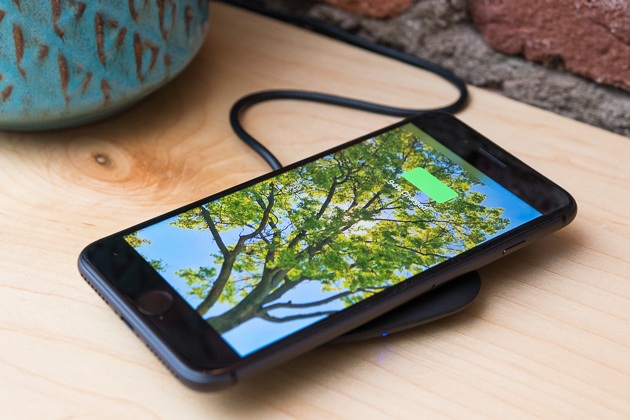 Safer while driving
It is a dangerous practice to get our cable out, plug it into the USB ports of our Tesla, and then find our phone to finally find the right way to plug it into the charger.
Reduced cable burden
Fewer cables to carry around means fewer things to worry about when leaving our house.
Having a Qi Charger in your vehicle means being able to charge your phone without any adapters, additional accessories or wires. Simply place your phone in the charger and let Qi Charging technology do the rest of the job.
Standard across phones
Qi Wireless charging is an open standard. Being an open standard means that any smartphone manufacturer can adopt it on their phone. Not only that but anyone can also implement Qi Wireless chargers into their product.
This means that no matter the model of the phone, whether it is an iPhone or an Android, it can be charged with the same wireless charging pad. It can be considered a universal charger for smartphones.
If you are planning on gifting somebody a wireless charger, you won't even need to know what type of smartphone they use. You can be assured that it will be compatible as long as their smartphone is relatively new.
Phones supported by Qi Wireless Charging
Flagship smartphones released by major manufacturers over the last couple of years usually include support for Qi Wireless Charging. This technology is becoming more and more common but it doesn't mean that every smartphone supports it.
Please be aware that this list isn't comprehensive and only includes some of the most popular and recent smartphones released recently. Please check your smartphone specifications to make sure it supports Qi Wireless charging.
Here are some popular devices that support Qi charging as of now:
Apple iPhone: 8, 8+, X, Xs, Xs Max, Xr, 11, 11 Pro
Samsung Galaxy: S10, S10+, S10e, S9, S9+, S8, S8+, Note 8
Google Pixel: 3, 3 XL, 4, 4 XL
Our final thoughts
Qi Wireless Charging is a revolutionary technology that brings completely wireless charging to our phones. Most smartphones currently support wireless charging. Unfortunately, most people aren't taking advantage of it.
Having a Wireless Charger on your Tesla enables us to conveniently charge our phone in our vehicle without carrying any cables around. Might as well take full advantage of all the features available in modern smartphones.
Know any more options in terms of wireless chargers for the Teslas, or any model in general? Let us know below!