Dead pedal or footrest covers may seem like a minor aesthetic upgrade. However, this seemingly small upgrade will be very noticeable every time you step into the Model 3. The brushed aluminum finish is a welcome sight.
Functionally, a rubberized dead pedal can help increase grip and keep your lower body firm even if your footwear is wet or icy. Installing the cover improves your grip while driving and keeps your foot in a comfortable position.
To help you find just the right cover for your Model 3, this article features some of the best options on the market.
Dead Pedal Covers for Tesla Model 3 – Review
1. Tesla Model 3 Topfit Dead Pedal Cover
Quick Overview
Stainless steel material provides a firm structure for the accessory
Rubber inserts increase grip and give a great black/silver contrast resembling performance pedal covers
Polished edges for looks and safety
Easy installation with integrated adhesive strip
The Topfit dead pedal cover is made from stainless steel with slits that reveal the non-slip rubber. Excellent craftsmanship and attention to detail make the cover look awesome and match the interior, and the stainless steel is durable against corrosion and wear-and-tear.
This dead pedal cover is comfortable due to the soft protruding rubber bits, and the stainless steel making for a strong frame.
The edges are machined and smooth, so there's no risk of scratching your Tesla or hands during installation.
Installation is straightforward due to the integrated adhesive strip. You only need to peel the adhesive protective tape, align the cover so that it covers the footrest, and maintain constant pressure.
When paired with a set of Aluminum Performance Pedal Covers, the dead pedal cover can give your Model 3's footwell a sporty appeal.
2. Foot Rest Pedal Cover for Tesla Model 3
Quick Overview
Constructed of Aluminum alloy with a non-slip rubber insert
Firm and secure place to secure your left foot while driving
Improved looks when compared to factory foot rest area
With a sleek, low-profile design, the cover offers great comfort and ease of use. It's made of aluminum alloy, so it's lightweight and resistant to oxidation, corrosion, and rust.
The rubber slits in the middle extend from the aluminum section quite a bit. Therefore, your foot doesn't come in contact with the metallic cover, allowing for a more secure position while driving without any fatigue in your left foot.
As for the installation, you don't need to drill, or cut anything. This is a stick-on pedal cover, and you can start using it in a matter of minutes.
Overall, this is one of the most economical dead pedal covers in the market due to the small aluminum area
3. EVANNEX Foot Rest Dead Pedal Cover for Model 3
Quick Overview
Can only be installed in Model 3 trims with a ribbed rubber surface in the foot rest area.
Brushed metal finish for a premium look and feel
Pre-installed adhesive strips for a straightforward installation
Unfortunately, not all Teslas have the ribber rubber on the footrest that is needed for this cover to be compatible
Arguably one of the best-looking dead pedal covers in this review, the EVANNEX is made of brushed metal and has a satin finish.
As such, it complements the brake and gas pedals, especially if you have those in brushed aluminum.
Note that the EVANNEX cover doesn't feature rubberized slits. Therefore, it only fits Model 3s with ribbed rubber footrest.
The installation is simple, but there's one thing to keep in mind: Instead of having a large protective tape over the entire adhesive area, this cover has a few small ones, which you need to peel off one by one.
Also, this cover comes with a premium price tag. But when you factor in its design and high-quality materials, this EVANNEX provides excellent value for money.
Compatibility/Fitment
Dead pedal covers featured above are compatible with Tesla Model 3 models from 2016-2021.
Verify with product pictures to make sure your Model 3 has either a ribbed or flat footrest surface. The dead pedal cover is not compatible with Model 3 with floor mats covering the area.
Dead Pedal Cover Installation Instructions:
Here are the general installation steps:
Remove the floor mat and clean the factory dead pedal area. You can use water-alcohol solution, then wipe the area with lint-free fabric.
Afterwards, place the pedal cover without removing the protective tape from the adhesive. This helps you get the feel of how to align it properly
Peel off the protective layer of the back area to expose the adhesive. Using an exacto knife can help you with that.
Place the cover onto the foot rest area, press it firmly throughout the entire surface
Note: If the pedal cover doesn't come with rubberized slits, make sure the factory footrest ribs line up perfectly with the factory slits on the cover. Otherwise, the cover won't bond well.
Benefits of Dead Pedal Covers
Improved interior looks
You may have a beautiful aluminum accelerator and brake pedals, but then there's a bland plain black footrest on the left. Not a pretty sight, right?

A footrest aluminum cover is a simple inexpensive upgrade that can change the looks of the driver foot area. It's not something we'll look at while driving, but it's something you'll notice every time you step into the Model 3.
Increased grip
Getting into the car with wet shoes or boots full of snow can make for an unsafe driving experience. Having our foot slip all around the pedals it's not a pleasant experience and if it's slippery outside, a bad or missed brake or throttle input could cause an accident.
The non-slip rubber of the dead pedal cover can help us keep our left foot secured and have a firm base to support our lower body.
FAQs
1. What is the purpose of the dead pedal?
The purpose of a dead pedal (also called footrest) is to provide a resting area for a driver's left foot and help support the driver's lower body while braking.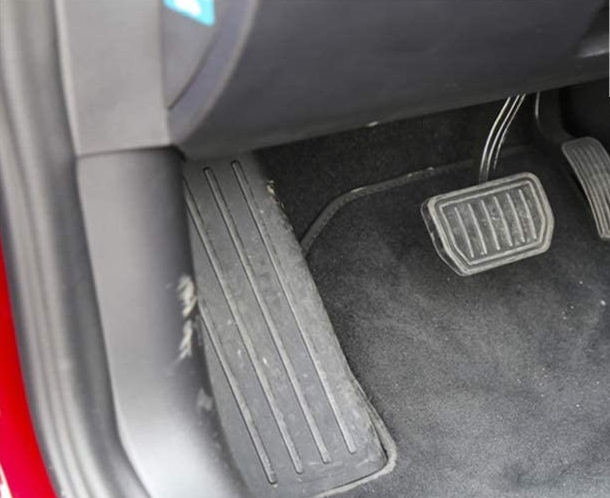 In cars with two pedals like any Tesla, the dead pedal minimizes fatigue since there's a comfortable inclined surface to rest your left foot.
2. Are they compatible with right-hand drive cars?
No, they aren't. Right-hand drive Teslas need different dead pedal covers. All pedal covers above are only compatible with left-hand drive Model 3's
3. Are these compatible with floor mats?
The dead pedal covers listed above are compatible with the factory floor mats of most Model 3's. Aftermarket floor mats already cover the dead pedal area so there is no need to have one.
Factory Tesla floor mats don't cover the area, so you can install your own footrest cover.
Conclusion
At the end of the day, a quality dead pedal cover improves your driving experience and enhances the looks of your Tesla. If you already have an aluminum accelerator and brake pedals, this is a nice match
Keep in mind that not all