If you have small children or toddlers, kick mats become an essential accessory to prevent scratching and any long-term damage to the back of your front seats.
Kick mats not only protect from dirty shoes and other objects that can rip and scratch the back of the seats, but also make the rear seat area much easier to keep clean.
We all know about the rear of the front seats getting constant kicks when kids are anxious or upset, but other problem areas are the rear air vent console and the lower portion of the doors, and there are also protectors for those individual sections. Here are the top choices for Model 3 kick mats:
Kick Mats for Tesla Model 3 – Top Picks
Let's take a look at the most popular kick mats and seat protectors for the Model 3 so you can make an informed decision based on your needs. We'll also review some frequently asked questions and give you tips to keep your interior clean.
Tesla Model 3 Kick Mat & Seat Back Protectors Reviewed
1. BASENOR Tesla Model 3 Anti-Kick Mat Leather Protector
Quick Overview
Made with matte black leather as opposed to some vinyl alternatives
Designed specifically for the Tesla Model 3 door panels
Anti-scratch material keeps your interior looking like new
Easy to clean
This is the third generation of BASENOR door kick mats. They've been re-engineered to provide the best adhesion and are custom-made to fit all Tesla Model 3s.
The material is black matte leather to offer the best protection and looks for the inside of your door. You won't scratch or scrape these kick mats easily, unlike similar accessories that are made out of vinyl.
When installed, the mats won't go over the speaker grill due to the custom design. The edges are also smoothened out, allowing for a very clean look. There's no white line when the mats are fitted, allowing for a refined OEM look that looks completely factory to the unsuspecting eyes.
The mats have an improved adhesive area, so you don't need to worry about the protective layer falling off the doors due to insufficient adhesive.
2. Tesla Model 3 Rear Air Outlet Kick Pad
Quick Overview
Protects the rear center console where the back seat air ducts are located
Durable film guards the vehicle's center console against scratches
Color and texture resembles almost perfectly the original material
Understated protection is one of the main selling points of this kick mat. It matches the look and texture of the factory Tesla interior, blending well with the factory finish of the vehicle.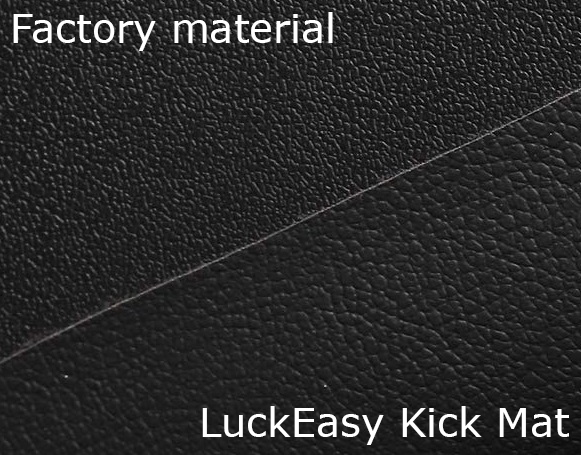 The mat is made of super-dimensional durable leather. This means it provides better resistance to wear and tear, and you can clean it with a single rub with a damp cloth.
Additionally, the mat doesn't fade quickly, it's made for long-lasting protection. You can use it purely for decoration/protection or cover damages to the factory mat or paint.
There are two parts for the lower and upper sections of the ventilation center console. These have adhesive tape, so the mat is easy to align and install.
But since the space is pretty tight, you should align it properly before removing the adhesive protective tape and pressing it onto the ventilation port.
3. BASENOR Tesla Model 3 Seat Back Cover
Quick Overview
Available in black and white colors
Designed for the Model 3 and Model Y
Premium PU leather ensures a high-quality finish
Straightforward installation
Has a storage compartment
Looks OEM to unsuspecting eyes
The great thing about this set is that it's designed to fit Model 3 and Model Y. You get two protectors that cover the rear side of the front seats, top to bottom.
Fashioned from top-notch PU leather, the material has three layers:
Soft leather
Flexible sponge
Anti-slip mesh
These offer better durability and make the protectors resistant to stains. Cleaning is straightforward, you only need a moist cloth, and the protectors are water-resistant.
Another thing you'll love is the installation. Position the cover into the back of the seats and hook it on at the bottom. The anti-slip mesh and the hook keep them in place, and they won't slide off.
Finally, the protectors feature a storage pocket. It's a bit tight, but it can house magazines, books, your iPad, or a bottle of water.
Check out also our Model 3 Seat Covers guide if you instead prefer full seat covers that protect not only the back but also entire seats.
4. Kick Mat Back Seat Protector for Tesla Model 3
Quick Overview
Lower kick mat for the Model 3 front seats
PU leather ensures a long-lasting service life
Prevents back passengers from soiling or scratching the lower portion of the seat
Simple installation and removal with straps
Small pocket adds a practical storage space
If you want a set of seat protectors and kick mats at an excellent price point, the KFZMAN protectors could be just what you are looking for. Despite the relatively low price, you won't be compromising on durability and build quality.
The protectors are made of artificial leather, and they have relatively large pockets. They fit the Model 3 precisely, but the protectors don't cover the entire seat, just the lower half.
Regardless, they're great at preventing the passengers from soiling or scratching the back of the seats.
The installation and removal for cleaning are easy. There's a strap hook and a clip, and you only need to adjust those for a snug fit.
Cleaning-wise, you need a wet cloth with a light detergent, and the protectors will look as good as new.
If you're not happy with these protectors, the manufacturer offers a three-month money-back guarantee.
5. Munchkin Brica Deluxe Kick Mats Car Seat Protector – 2 pack
Quick Overview
Premium front seat kick mat protectors
Machine-washable
Fits most sedans and SUV seats, including the Model 3
Elastic straps fastens kick mats to seat back
Protection against moisture and dirt with special grime guard fabric
Recommeded by Tesla owners
Designed for families with children, Munchkin Brica protectors are hard to rival. Why? They fit most sedans, SUVs, and minivans (Tesla Model 3 included), so you get a universal kick mat with awesome quality that you can use in any of your cars.
The main highlight of this protector is the Grime Guard fabric. It keeps away grime, stains, and scuff marks. Plus, you can wash it in the washing machine.
According to the manufacturer, the protectors are 10% bigger than the competition, covering 18" x 23".
As one of the least expensive options on this list, Munchkin Brica kick mats offer excellent value for the money.
This set of kick mats has also been recommended by Tesla owners as one of the top choices when looking for this accessory.
Compatibility/Fitment
All the seat kick mats and seat protectors in this article are compatible with all the year models of the Tesla Model 3.
Importance of Kick Mats & Seat Protectors
As you've probably experienced, toddlers and even children enjoy kicking and putting their shoes on the backside of the front seats. This not only makes a mess on this area but can also scratch this area permanently, affecting the aesthetics and resale value of your Tesla.
Kick mats are crucial if you want to protect the original upholstery and practically a necessity for families with small kids.
Protective kick mat is much easier to clean than the seats themselves, as some can be removed as wish and cleaned more liberally and stronger detergents than the factory leather or trim pieces.
How to wash kick mats and back seat protectors:
Cloth kick mats:
Cloth kick mats are usually machine-washable. You just have to select the right temperature. If not, a soft-bristle brush and non-abrasive detergent should do the trick, even with stubborn smudges.
Synthetic and leather kick mats:
With synthetic materials, you should be fine with an occasional wipe with a moist cloth. But there are also some specialized cleaning agents that may help you clean the protectors more thoroughly.
And if you get leather protectors, the same principle applies. Only make sure to get a leather cleaning agent or use very light detergents.
Closing thoughts
All the protectors in this review are great in their own respect, and they all offer varying but two stand out from the bunch.
The first are the BASENOR seat protectors. They cover the largest area and offer exceptional build quality and durability.
But Munchkin Brica is also an excellent choice for families. They're machine-washable, adjustable, long-lasting, and can be used in any Tesla.