We praise Tesla's attention to detail and refinement in almost every area of the Model 3 and Model Y interior. However, when you look at the factory accelerator and brake pedal covers they seem like a bland piece of rubber that doesn't really match the refinement levels of the rest of the interior cabin.
Fortunately, the factory pedal covers can be removed and replaced with aluminum pedals that closely resemble the Tesla Model 3 Performance pedals.
A set of pedal covers for the Tesla Model 3 & Y will give your footwell area a sporty look. While it might seem like a minimal upgrade, the footwell compartment and pedals are visible every time we get into the car, making it a worthy upgrade.
Let's take a look at some of the best Tesla Model 3 & Y pedal covers:
Pedal Covers for Tesla Model 3 & Model Y – Top Picks
Although a simple aftermarket accessory, pedal covers, and footrest covers can give your vehicle a more personal look and feel. There are distinct colors to choose from, from the basic aluminum silver to a more flashy racing red.
Here's a complete list of the best aluminum pedal covers and footrest cover for the Tesla Model 3 & Model Y:
Tesla Model 3 & Model Y Pedal Covers:
Performance Pedal Covers for Tesla Model 3 & Y
Pros
PPE rubber for excellent durability
Includes brake and accelerator pedal covers
Excellent fit
Non-slip material
Cons
Brake pedal installation can be tedious
This set of pedal covers combine excellent quality and great looks. The material of construction is aluminum, which makes it durable as well as firm, something essential when looking for a good throttle feel. Installing these pedals is a great way to improve the friction coefficient of the pedals and improve safety when your shoes are wet.
Another great feature of these pedals is the fit. They are exclusively made for Tesla Models 3 and Y. This set of pedal covers includes two pieces – one for the accelerator and the other for the brake pedal. If you're looking to revamp the looks of the footwell area, the performance pedal covers and a dead pedal cover can help you achieve so.
In addition, these pedal covers can be installed in your own driveway or garage, which is fantastic. There are no special tools required to install it, although you might want to have a screwdriver handy to aid with the pedal cover removal. The accelerator cover takes some effort to install but with some patience, you'll be enjoying this new interior upgrade.
Aluminum Footrest Pedal Covers for Model 3, Model Y (Red)
Pros
Made of aluminum alloy
Corrosion and wear-resistant
Easy to install and clean
Comes in two different colors
Cons
Some components have fit issues
The paint may not be very durable
This pair of red aluminum pedal covers are another great choice for the Model 3 and Y. The bright red tone of this set makes them ideal for owners trying to give their Tesla an undistinguishable sporty look.
The covers are made of aluminum alloy and a durable anti-slip rubber blend. In addition, these pedal covers are also corrosion-resistant. A downside of these pedals is that
Model 3 Anti-Slip Performance Pedal Pads & Foot Rest Cover
Pros
Made of aluminum alloy
Easy to install
Comes in a set of three covers
Cons
Not suitable for Tesla Model Y
Does not fit right-hand drive and 2020 car models
This set of pedal covers is another fantastic choice for Tesla Model 3. Unlike the other recommendations on our list, this one comes with three covers. These are for the accelerator, brake, and footrest.
The covers are made from aluminum alloy, which makes this set long-lasting, corrosion-resistant, and of course, anti-slip. The covers are designed for the Tesla Models 3 only. Unfortunately, they can't be used in the Model Y. Moreover, these covers are specifically for left-hand drive vehicles.
Overall, if you're looking for a complete set
Aluminum Pedal Covers for Model 3, Model Y (Blue)
Pros
Made of aluminum alloy
Corrosion and wear-resistant
Easy to install and clean
Cons
The paint is may not be very durable
The non-slip surface provides exceptional grip and buffer. Therefore, it makes your driving effortless and minimizes the strain on your limbs too. Similar to the other pedals, this one does not require a lot of effort to install. In fact, it does not require any punching or manipulation, so you can perform it as a DIY.
You will get two pedal covers in the package – one for the accelerator and the other for the brake. It comes in two colors – blue and red to suit your Tesla Models 3 or Y paint.
Before & After:
Here is a look at the before and after installing the aluminum pedal covers. For an accessory that seems minimal, it is indeed a big difference in terms of looks.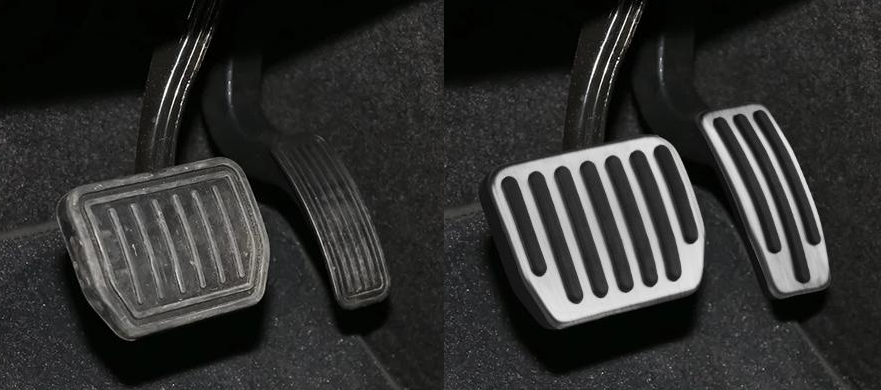 This type of pedal covers are standard in the performance version of the Tesla Model 3 but you can add that same sporty touch to any version of the Tesla Model 3 and the Tesla Model Y.
Advantages of Aluminum Pedal Covers
Here are a few advantages of using pedal covers in your Tesla Model 3 & Tesla Model Y.
Increased safety: Enhanced safety is the primary reason why many car owners install pedal covers. Pedal covers have anti-slip properties in them, which increases friction and reduces slippage.
It makes pedals easier to clean: Aluminum is a lot easier to clean than rubber. The aluminum and rubber combination of the aftermarket pedal covers will make them easier to clean than the factory rubber.
Great fit: Specifically made for Tesla Model 3 & Y. This gives the pedal covers an exact fit without any play.
Enhances the style of your car: It is indeed a nice sight every time you open the car doors and glimpse at the sporty performance pedals.
Tesla Pedal Covers Installation:
Installing the cover pedals on the Tesla Model 3 and Y is not difficult. Nevertheless, it can be a little tricky if you are not familiar with installing aftermarket vehicle accessories. Here is the step-by-step process:
1. Soak the new pedals in warm water.
To ease install, you can soak your new rubber pedals in warm water to loosen up the rubber and make installation easier.
Let the pedals soak in warm to hot water for around 10 minutes to make the rubber more easily stretched, that should give you enough time for the next steps.
2. Remove the factory pedal covers.
Removing the factory rubber pedal covers isn't very easy but with some patience and a little force, they will come off and leave you with the exposed pedal.
Start with the brake pedal, from top to bottom running your fingers beneath the sides of the rubber covers. Try to force the factory rubber pedal covers out first from the right, to
3. Install the pedal covers.
After the rubber components are soft, stretch it and start covering the pedal from the top. Some covers might require more nudging and pushing than others. Make sure the rubber is warm and stretchy to make installation easier.
Reading the installation instructions on the product page will also give you tips for a hassle free install.
Important: Make sure that you activate the emergency brake in your Tesla before you install the pedal covers.
FAQ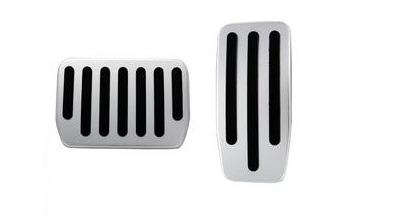 What are the pedal covers made of?
Most pedal covers of Tesla Model 3 and Y are made of aluminum or aluminum alloy and non-slip PPE rubber. The aluminum in these covers is corrosion resistant and, in some cases, wear-resistant. The aluminum in the pedal covers also adds durability to it.
Are tools required for installation?
No, there are no tools required for this installation.
Do these pedal covers fit both the Model 3 and the Model Y?
Yes. Unless specified otherwise, the covers listed in this article fit both the Tesla Model 3 and Tesla Model Y.
This is because the Model 3 and Y share a common platform and a lot of drivetrain and interior components. Almost all interior parts are shared between both vehicles, including the accelerator and brake pedals.
Final thoughts
For Model 3 & Y owners, pedal covers are a simple accessory that adds a lot of personal touch to the footwell of the vehicle. We recommend the Topfit Tesla Model 3 / Y Pedal Covers due to their excellent build quality and trusted manufacturer.
Know of any other pedal covers for the Model 3 or Model Y? Let us know below. Happy driving!