Have you noticed the bolt protruding from the upper right section of your Model 3 rear trunk? This bolt can be conveniently used as an attaching point for a trunk grocery bag hook.
Okay, it may seem like an unnecessary accessory, but think again. You've probably had to deal with spillages and groceries flying all around the trunk when doing any slightly aggressive maneuver when driving back home.
With a Model 3 grocery bag hook, you can add tons of utility to the rear trunk of your car while also helping secure any items that could potentially break if left unsecured. Not to mention the added safety
Let's take a look at the best trunk bag hooks for the Model 3:
Trunk Grocery Bag Hook for Model 3
OzniumX Aluminum Trunk Grocery Bag Hook for Tesla Model 3
Quick Overview
Available in both black and silver
Full aluminum construction for excellent durability
Longer arms, and taller body for easy usage
Rounded edges to reduce likelyhood of scratches
Straightforward installation
Manufacturer lifetime warranty
OziniumX recently redesigned its Model 3 trunk hook entirely and made it taller with longer arms. The hook is now easy to access and further away from the trunk ceiling, holding your bags securely in place. Made from anodized aluminum, it provides exceptional durability and longevity.
The hook also underwent deformation simulation to ensure that nothing happens to the arms or the central column, even when the arms are overloaded. The deformation is marginal; the arms bend down only at a 5° angle, according to the manufacturer.
Despite its strong structure, we do not recommend overloading the hook, as the bolt it attaches to could suffer damage.
In terms of colors, the hook is offered in black and silver, which is another
See also: Trunk cargo mats for Model 3
2. BASENOR Tesla Model 3 Trunk Grocery Bag Hook
Quick Overview
Durable ABS plastic build with metal threads
Attaches to factory trunk screw in mere seconds
Convenient way to hang shopping bags and other items
Added safety to protect your head while in the trunk
Arm "fingers" help keep the bags securely attached to the hook
The Basenor hook is an inexpensive solution that still offers excellent build quality and load capacity.
It's made of high-grade ABS plastic, which tends to be stronger and more durable than 3D-printed hooks. The hook's finish is gloss black, and it looks just like a factory part as it blends seamlessly with the trunk interior.
This accessory has a threaded metallic insert in the middle, custom-fit for the Model 3 trunk bolt. This metallic thread not only ensures the accessory stays firmly put but also adds strength to the overall structure of the accessory.
It could be a bit tricky to reach the arm facing the back of the car, but this is hardly a downside. Each arm has two fingers at the top to keep the bags in place and limit their movement. Note that if you have a soundproof mat for noise reduction, you can't install this hook.
3. Model 3 Trunk Hook for Grocery Bag
This model is made of top-notch PETG material, and it's not 3D-printed. Due to that, the hook is resistant to wear and tear and can provide years of heavy-duty service.
The Depanet grocery bag hook is compact and doesn't stick out too much, but this doesn't sacrifice usability in any way. Hanging and reaching your bags is still very accessible and this simple accessory can change the way you use your trunk.
This Model 3 grocery bag hook can withstand high temperatures and heavy load without cracking or deforming, second only to the aluminum hook mentioned earlier in the article in this regard.
Additionally, the hook has a special threaded insert (M6x1 nut) to secure it more tightly. That means the hook won't loosen easily even after prolonged use with heavy loads.
Compatibility
All of the above trunk hooks are compatible with the 2016-2021 Tesla Model 3.
Trunk Hook Maximum Load
The recommended maximum load is 6lbs or around three bags of groceries.
How to install the rear trunk hook in the Model 3
Open rear trunk
Locate bolt protruding down on right side of trunk
Screw the hook onto the bolt, until snug and firm
Test by putting light downhards pressure on the hook evenly on all three arms
Use and enjoy!
Installation should take less than a minute.
FAQs
1. What is the purpose of a trunk hook?
Its main purpose is to hook grocery bags and prevent them from sliding or toppling around the trunk while you're driving. If you permanently attach a bag to it, it can change the way you use your trunk.
While the bags are hanging from the hook, there's going to be some movement. But there's no risk of spilling your groceries all over your trunk unless you're doing some really hard driving.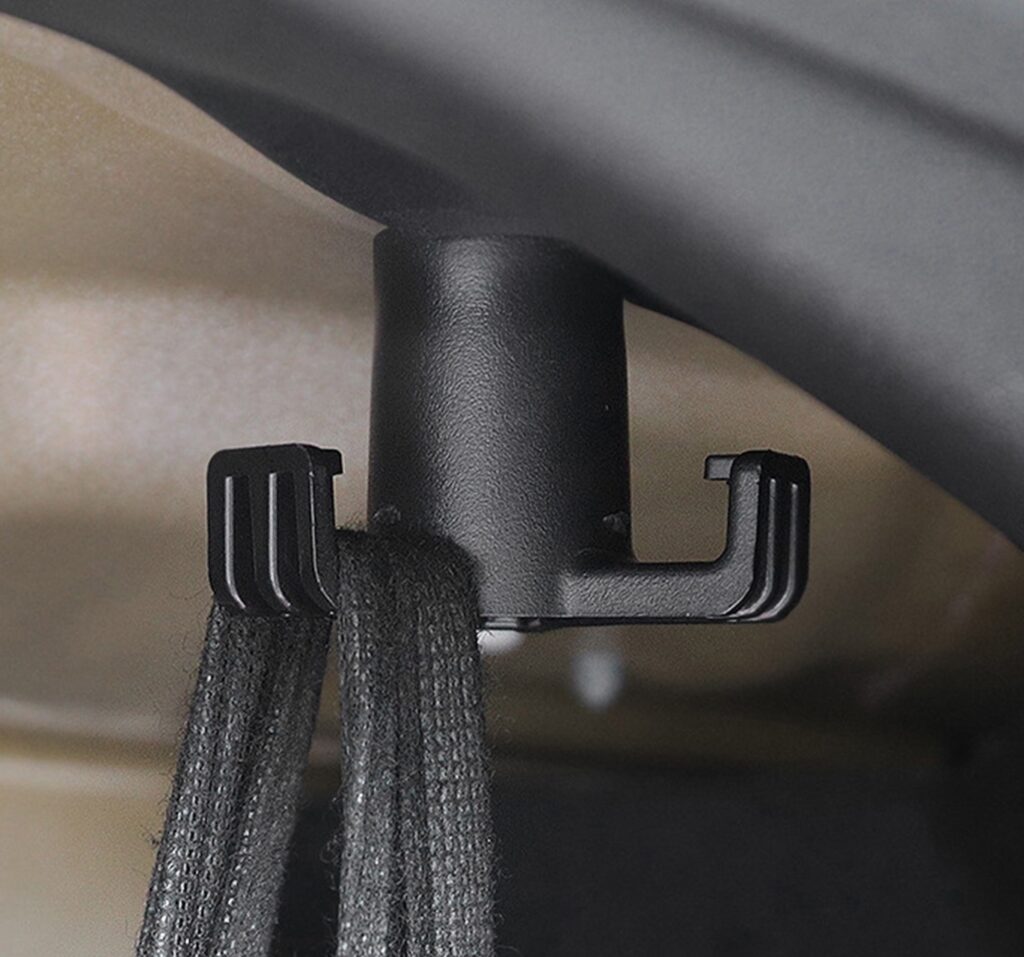 Another benefit of the trunk hook is added safety. The trunk hook covers the exposed bolt and prevents you from injuring the back of your head when getting items deep from the trunk.
We consider the hook a must-have accessory for any Model 3 owner due to its low cost, and straightforward installation.
2. Does the Model 3 come with any trunk hooks from the factory?
No, Tesla didn't include any trunk bag hooks from the factory. This is the only way to easily equip your rear trunk with a hook.
3. Do these hooks work with the Model Y?
No, the hooks featured in this article are entirely incompatible with the Model Y. Although the Model 3 and the Model Y are very similar vehicles, the latter features a bigger trunk with a different design.
Closing thoughts
Being able to hang grocery bags onto hooks is very convenient. You don't need to stick them in the corner of the trunk, then find something that might support the bags on your way home and avoid potential breakage or spillage.
Having a bag dedicated to the hook can change the way you utilize your trunk, and reduce annoyances such as hearing items rolling around in the trunk. No need to chase the bag contents all over the trunk.
This is an accessory you'll love as soon as you install it, rest assured. We recommend the OzniumX Aluminum Hook due to its strong structure long arms.