Rear diffusers look fantastic on sportier-looking vehicles, especially on Tesla Model 3 sedans. This is why many Model 3 owners decide to install these aftermarket upgrades. However, not every diffuser boasts the same amount of quality.
You've probably googled "rear diffuser for tesla model 3" and come up with an extensive list of options. In case you find the choice overwhelming and don't know where to begin, you can find some great recommendations and tips right here.
Rear Carbon Fiber Diffusers for the Model 3 – Top Picks
How does a diffuser work?
Before moving on to talk about aftermarket diffusers, let's look at how built-in, factory-made diffusers work on sports vehicles.
As you drive a vehicle, air passes underneath it at very low pressure. On cars with rear diffusers, the air hits the diffuser's expansion chamber and expands. Thanks to this, the airspeed is reduced while the pressure is increased. Essentially, a vacuum is created, which sucks the air out from below the vehicle.
Given that the above-car air pressure is high, but the pressure below is lowered, "downforce" is created, which reduces the vehicle's drag, bettering its handling. Essentially, the bigger the downforce, the better a car will "stick" to the surface. This means a great deal for turns and overall handling at higher speeds.
Can aftermarket diffusers improve performance?
But aftermarket diffusers don't feature this vacuum technology, thus they don't increase a car's performance.
They are mostly aesthetic, and if they make some difference in boosting your vehicle's handling, it's barely noticeable. Despite this, note that the aftermarket diffusers won't negatively impact your car's performance, either. Whether a rear diffuser is factory-built or aftermarket, lightweight material is used in its construction. Aftermarket diffusers are usually made out of carbon fiber, which is strong and doesn't weigh a lot.
Even though we're going to talk about aftermarket diffusers here, it's important that you understand why these upgrades are purely aesthetic and what you don't get from them.
Ultimately, aftermarket rear diffusers, although visually appealing, don't impact a car's performance.
Tesla Model 3 Carbon Fiber Rear Diffusers
Tesla cars have been popular for a long time now. Overall, they are highly efficient vehicles. Model 3 is one of the most popular choices on the market and, as such, it comes with a variety of aftermarket upgrade options, including rear diffusers.
Below, check out these four rear diffuser options for Tesla Mode
1. JC SPORTLINE BUMPER COVER LOWER LIP
Quick Overview
Real carbon fiber makes it lightweight and durable
Simple lines give the Model 3 a distinct rear look
Excellent color contrast between the diffuser and the rear bumper
Installation screws and mounting tabs are included
Before you read more about this rear diffuser model, you should know that the JC Sportline bumper cover is a fit for 2016, 2017, 2018, and 2019 Model 3 vehicles. If your car falls under these four series, read on.
JC Sportline is a well-known manufacturer specializing in making top-level carbon fiber products for a wide range of vehicles. Their lower lip bumper cover doesn't disappoint.
First of all, you can expect years of efficient service from this product. Most likely, you'll be selling your Model 3 before you decide that you need a new rear diffuser.
The installation process is fairly straightforward. Take your car and the diffuser to the shop, and your mechanic will fix it up for you quickly.
If you know your way around cars, though, you can install this aftermarket feature yourself. Bear in mind, however, that you should remove the rear bumper for best results. Still, it's recommended that you take your car to the shop for installation, to be safe.
If your Model 3 was manufactured in 2020, this diffuser won't fit naturally. Thankfully, there's a similar-styled rear diffuser option from JC Sportline that perfectly fits 2020 Model 3 sedans.
2. MCARCAR BUMPER COVER LOWER LIP
Quick Overview
Made with authentic carbon fiber for outstanding looks and lightweight construction
Aggressive diffuser fins for a sportier look
The rear diffuser from MCARCAR fits all Model 3 Tesla car editions from 2016-2020, so you don't have to worry about compatibility. The premium material used with this rear diffuser model has double-layer coating with anti-UV properties. This doesn't come at a price– the MCARCAR diffuser is still a lightweight product that will boost your Tesla Model 3's aesthetics without adding to its weight.
Although every diffuser will make a vehicle look "sportier," this aftermarket enhancement excels in this department. It has four protruded ribs that enhance the overall look of the Model 3.
Inside the package, you get everything that you need to install the diffuser. It's also very easy to set up – screws and glue tape (all provided inside the package) are all you'll need. So, again, if you have the experience and know your way around cars, you can install it by yourself. With that said, it's always advised that you have your mechanic perform this aftermarket upgrade for you.
3. JC SPORTLINE SPLITTERS
Quick Overview
Carbon fiber splitters help compliment a rear bumper diffuser
Straightforward installation process
Protects the rear bumper from tire road debris
JC Sportline Splitters are rear corner covers, attached to the area between the lower back part of Model 3 back doors and the rear wheel. This upgrade will also make your Tesla look sportier, even without a rear bumper diffuser aftermarket upgrade. However, the JC Sportline Splitters go brilliantly with the matching rear bumper cover.
Like the rear bumper cover option, these splitters match the Tesla Model 3 sedan options from 2016-2019. But they aren't a good fit for the 2020 model.
These splitters boast straightforward bolt-on installation. Still, if you aren't 100% sure that you know what you're doing, pay a visit to your preferred mechanic and have them perform the installation for you.
4. MCARCAR KIT – REAR DIFFUSER + SPILTTERS
If you're looking to add a set of rear diffuser upgrades to your Tesla Model 3, the MCARCAR Kit is a great option. With this upgrade, you get a rear bumper diffuser upgrade, plus the rear splitters. These are actually two separate aftermarket upgrades that are a part of a single rear diffuser kit.
Unfortunately, the Tesla Model 3 2020 isn't supported. If you are an owner of models 2016-2019, this MCARCAR combo upgrade will fit your Model 3 quite nicely.
The MCARCAR set is visually appealing, especially on Tesla Model 3 vehicles. The rear diffuser isn't at all over the top, with its four ribs discreetly protruding to match the complementary side splitters' look and vibe.
Both the splitters and the diffuser are made out of carbon fiber and feature anti-UV coating, ensuring resilience and long-lasting aesthetic appeal.
Rear Bumper Diffuser Installation
Simple though it is, you should familiarize yourself with the basics of rear bumper diffuser aftermarket upgrades. Keeping the next few points in mind can go a long way to helping you make a better purchase/installation decision.
It Varies from Model to Model
Rear bumper installation varies from product to product. For that reason, following the exact guidelines in each rear diffuser's manual is essential.
For example, some rear diffusers are bolt-on, meaning that they rely on bolts to hold them, while others use a combination of an adhesive and a bolt-on mechanism.
Bumper Removal?
Some rear diffuser models are a bit more complex than others. Some can't be installed without removing your bumper first, while others don't require bumper removal at all. Every aftermarket rear diffuser, though, is installed onto your car's bumper. So, it's generally recommended that you remove your bumper, install the diffuser, and put the bumper back in place. It's the safer and more efficient way to go.
Raising the Vehicle?
As mentioned, bumper removal for rear diffuser installation is recommended. Recommended, but not obligatory. Raising your vehicle should go without saying, though. Rear diffuser installation involves awkward angles, so raising your Tesla Model 3 will make all the difference.
FAQ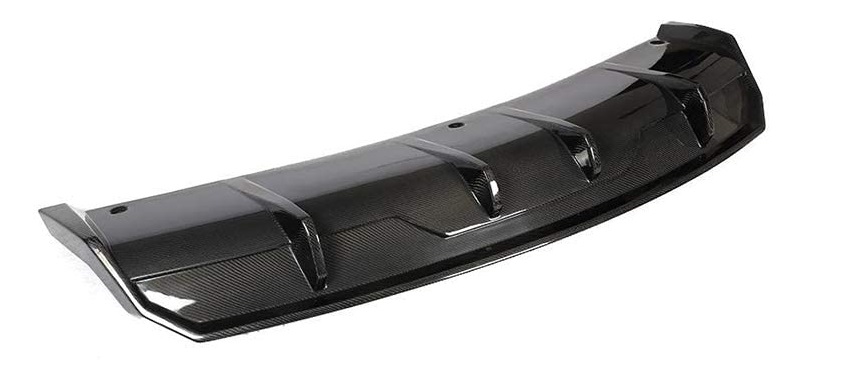 1. What is the purpose of a rear diffuser?
Every rear diffuser brings improved aesthetics to the table. They make a vehicle look sportier and much cooler. But rear diffusers aren't all about the aesthetics.
For one, these components increase the downforce of a vehicle using its aerodynamic properties, which boosts the vehicle's rear-end grip.
2. Can a rear bumper diffuser improve performance on the Model 3?
Built-in diffusers have clear performance-boosting qualities. But what about the aftermarket upgrades? Unfortunately, aftermarket diffuser upgrades won't increase your vehicle's downforce or boost its aerodynamics. They do look particularly neat on a vehicle and don't add up too much in the weight department, though.
3. Is ground clearance affected?
Ground clearance refers to the minimal distance between the bottom of your car and the ground. Rear diffusers and splitters are installed on the side and the bottom of Tesla Model 3 vehicles. So, yes, the ground clearance is slightly affected by rear diffusers – it is reduced. This means that you'll have to be more careful with sharp inclines and curbs. Still, you shouldn't notice this issue with the above-listed products.
4. Are these bumper diffusers made of real carbon fiber?
Yes, it is absolutely essential for a rear diffuser to be made out of lightweight, yet resilient material. 3K carbon fiber with double-layer coating is pretty much the industry standard for rear diffusers. All models on the list feature a 3K carbon fiber build with double-layer coating.
5. Do I need to lift the car to install the diffuser?
No, you don't. Where some diffusers will require you to remove your rear bumper to install them, none of them require you to lift your vehicle. Bumper removal is always an alternative, and some diffusers can be installed with the vehicle sitting completely level. With that said, raising your vehicle will allow you better access to the installation location to smooth out the awkward angles. In that respect, lifting your vehicle for rear diffuser installation allows for a more comfortable, more precise installation.
6. Would these diffusers fit the Model Y?
The above-mentioned diffuser models are specific to Tesla Model 3 vehicles. They won't fit a Model Y vehicle without considerable tweaking, which can easily turn problematic. Also, some of these diffusers are only compatible with Tesla Model 3 series 2016 through 2019.
Aftermarket Rear Diffusers
Although they look like performance upgrades, aftermarket rear diffusers won't boost your vehicle's performance. But they are a popular aesthetic option that can work wonders for your Tesla Model 3's look. The carbon fiber build ensures a sleek appearance, in addition to being lightweight, which is always good news.
Whichever aftermarket rear diffuser you decide to go with (whether it's on our list or not), make sure that you have an expert mechanic install it for you, just to be safe.