Tesla vehicles are renowned for their performance, efficiency, and self-driving capabilities. The Model S also boasts an appealing appearance with breathtaking acceleration on the higher trim levels. The P100D comes with an integrated trunk spoiler but most variants do not have that.
Fortunately, there are many aftermarket Model S carbon fiber spoilers that you can easily install in your own driveway with no drilling needed. Here are some of the best aftermarket and OEM spoilers for the Tesla Model S:
Carbon Fiber Spoilers for Tesla Model S – Top Picks
The world might've moved on from oversized spoilers on sports vehicles, but a discreet spoiler is what your vehicle needs to boost its appearance and spice up its performance a notch.
Most Tesla Model S vehicles don't come with spoilers. But many owners find the addition of a spoiler visually appealing, it is a simple way to add a personal and sporty look to your vehicle; these aftermarket additions go great with the Model S.
With this in mind, we've rounded up a complete list of the best spoiler upgrade options for your car, have a look:
1. GEARLIV MODEL S CARBON FIBER SPOILER
Quick Overview
Glossy carbon fiber texture
Made out of authentic 3K carbon fiber
3M double-sided tape for long-lasting adhesion
Fits 2012-2020 Tesla Model S's
Whether your Model S dates back to 2012 or whether it's a brand new model, this spoiler from GearLiv will fit your car perfectly.
No need to go to a body shop to have this spoiler installed – it features 3M double-sided tape, which is easily peeled and installed. It does a great job of holding the spoiler on the tip of your trunk.
The GearLiv spoiler is made out of real 3K carbon fiber, which ensures top-notch resilience at an incredibly low weight. The spoiler has UV coating, which helps it retain its glossy finish and keeps yellowing at bay.
Although this model has a bit of an aggressive and sharp look, it can't be considered "edgy" or "over the top."
It comes in a single color option – black carbon fiber. However, it will fit the appearance of your Model S, regardless of its finish.
See also: Best Tesla Model S Accessories
2. CUZTOM TUNING MODEL S SPOILER (MATTE)
Quick Overview
Matte carbon fiber texture
Subtle trunk lip type spoiler
High UV resistance to extend durability
3M double-sided tape pre-installed in the spoiler
This model is the most carbon fiber-looking spoiler on the list. Naturally, it's made out of real 3K carbon fiber material that's both resilient and lightweight. The matt, non-glossy clear coating is resistant to UV rays, ensuring maximum protection from sunlight and preventing the spoiler color from fading.
The provided 3M tape is used to install this spoiler on Model S trunks. One side of the tape comes applied to the spoiler itself; all you need to do is peel off the layer that protects the tape and stick it onto a freshly-cleaned Model S trunk (we'll explain the installation process in more detail below).
At less than 2lbs in weight, you can rest assured that this product will stick to the back of your vehicle without adding to its overall weight.
If you're looking for a non-glossy type of spoiler for your Tesla Model S vehicle, this Cuztom Tuning product is a great option.
3. JC SPORTLINE MODEL S SPOILER
Quick Overview
Matte dark carbon fiber
Performance aftermarket spoiler
Extended length compared to other trunk spoilers
3M adhesive tape included
This model from JC Sportline is a bit aesthetically different than the rest.
Although car spoilers, in themselves, bring out a "sportier" look in a vehicle, you could say that the JC Sportline is the "sportiest" of them all. It features pointy edges at the backside while boasting that carbon fiber look.
But the carbon fiber here isn't only about the appearance. We're talking about the genuine 3K weave carbon fiber material. At 3.3lbs, it's not the lightest Model S spoiler on the market, but this doesn't mean that it's heavy. It's still very much a lightweight model.
This is the matte version, but a glossy version exists, if you're into a "flashier" look.
It's installed via self-adhesive tape.
4. MODEL S REAR SPOILER (GLOSSY)
Quick Overview
Glossy carbon fiber texture
High quality, lightweight carbon fiber
Double-sided adhesive tape included
This Cuztom Tuning model has a 3K carbon fiber build, along with UV-resistant coating (clear), which prevents the material from fading.
Downforce and increased aerodynamics are the name of the game with this model. However, for maximum performance capabilities, opt for professional installation. Unlike many other Model S aftermarket spoiler products, this one doesn't come with 3M tape.
If installed professionally, this spoiler will securely adhere to your car's trunk, even though it's incredibly lightweight.
The Cuztom Tuning model gets bonus points in the luxury column as one of the sleekest yet coolest-looking additions to the backside of Tesla Model S vehicles.
5. TESLA MODEL S CARBON FIBER SPOILER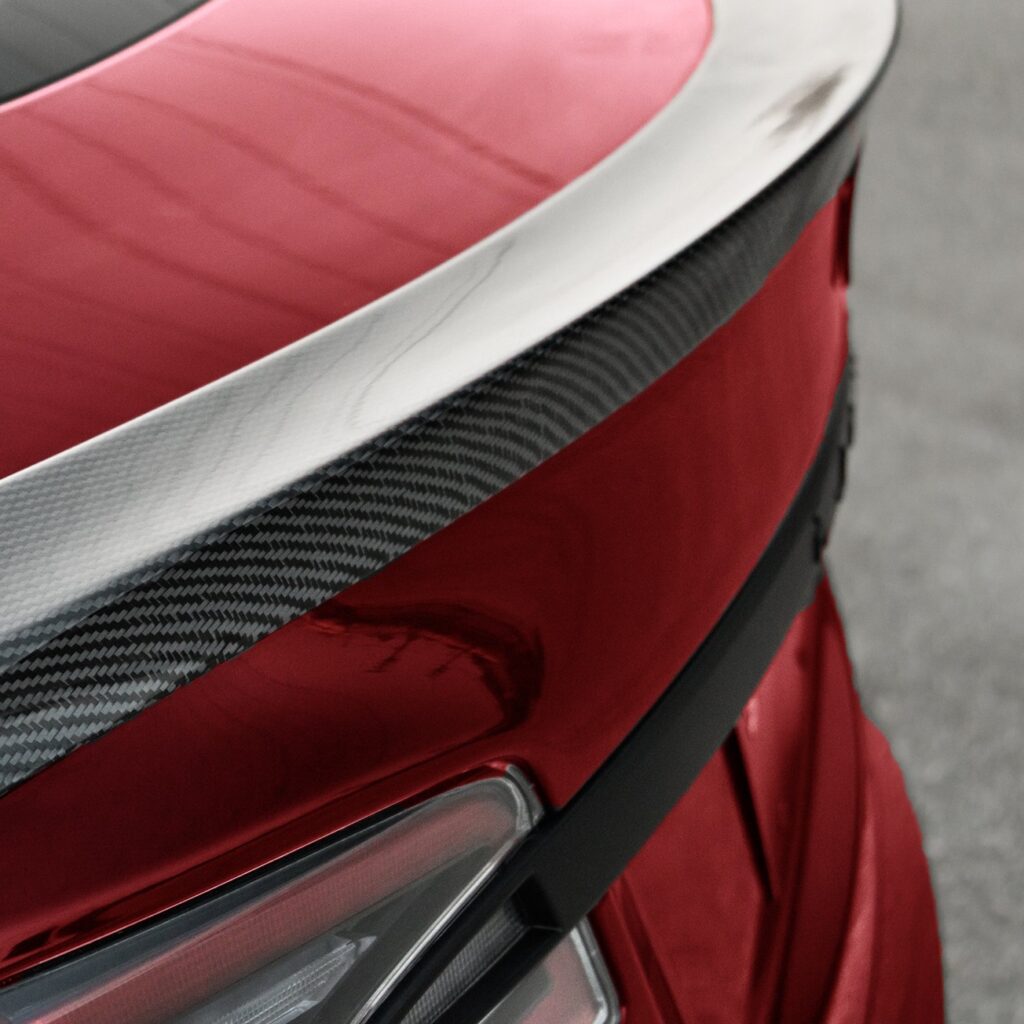 Quick Overview
OEM aftermarket spoiler from Tesla
Made from real carbon fiber with a matte epoxy finish
This is the official Tesla Model S spoiler (OEM – Original Equipment Manufacturer). It fits all Model S iterations, and is guaranteed to work great with your Tesla. Like most OEM equipment, though, there's a hefty price tag involved.
It's made out of cross-woven carbon fiber and features a matte epoxy finish. Naturally, the model is incredibly lightweight.
It is ordered from the official Tesla shop webpage and shipped to your Service Center of choice. Refunds are available, but once the Tesla Model S Spoiler is installed, it becomes non-refundable, so keep this in mind.
If you're looking for absolute perfection for your Tesla Model S vehicle and don't mind paying up for it, this is the spoiler you should go with.
Read more: Tesla Model 3 Rear Spoilers
Tesla Model S Spoiler Installation
Although they don't share the same aesthetics, spoilers for the Tesla Model S work pretty much the same across the board. We've already talked about the adhesive tape installation principle, but let's dive into it a bit deeper. Here's a step-by-step guide:
1. Clean everything up
Every installation process that involves adhesive materials requires clean parts and dust-free environments. Before you start your Model S spoiler installation, therefore, make sure you're working in a clean environment.
Using an automotive detailing product that doesn't contain waxes or protectants, remove any dust or dirt from the Model S trunk. Washing it using a gentle cloth and water is also an option, but a detailing product is more effective.
2. Check for an adhesive
Every Model S spoiler is installed using an adhesive. The majority of these products will come with 3M tape already taped onto the spoiler's surface. But other products might not come with said adhesive, meaning that using a third-party tape product is required.
If you're certain that you want to install the spoiler by yourself (instead of taking your car and the spoiler to the body shop), make sure that you get quality 3M tape for the spoiler application. Improperly adhered spoilers present both an on-road and roadside danger.
Then, peel off the protective film from one side of the protective tape and carefully glue it to the spoiler's bottom side, along the edges. Ensure that the adhesive doesn't protrude and that it isn't visible from the top of the spoiler.
3. Align everything properly
You might be inclined to peel off the protective film from the other side of the protective tape, but don't. Once you've put the spoiler in place, removing it becomes complicated. You can detach the spoiler (more on this later), clean things up, buy some new double-sided 3M tape and fix everything in place, but this is a tedious process.
Position the spoiler (with the protective film still on) on the lid of the trunk. Using some gentle masking tape, mark three points of the spoiler's future location: the left, the right, and the front edge of where you want it to sit.
4. Extra surface cleaning
Once you've added the reference marks, use a glass cleaner to remove any remaining grease from the spoiler's target location. Most spoilers come with a 3M automotive adhesive promoter, ensuring better adhesion of the spoiler to the trunk lid. Open the promoter's packet and use the contents to thoroughly wipe the location area. Once you're done, allow the promoter to dry, which shouldn't take more than a few minutes.
5. Put the spoiler into place
Peel off the film from the adhesive tape on the spoiler. Now, referencing the tape markers, align the spoiler. Firmly and evenly, press it down to secure it to the trunk lid. The adhesive might take around six hours to fully set. Don't drive or use your vehicle in the meantime.
Park your vehicle in the garage and place a gentle material over the spoiler. Be sure to cover the spoiler with a plastic bag if you don't have a garage. Either way, avoid completely cutting off the air supply to the adhesive – air promotes drying.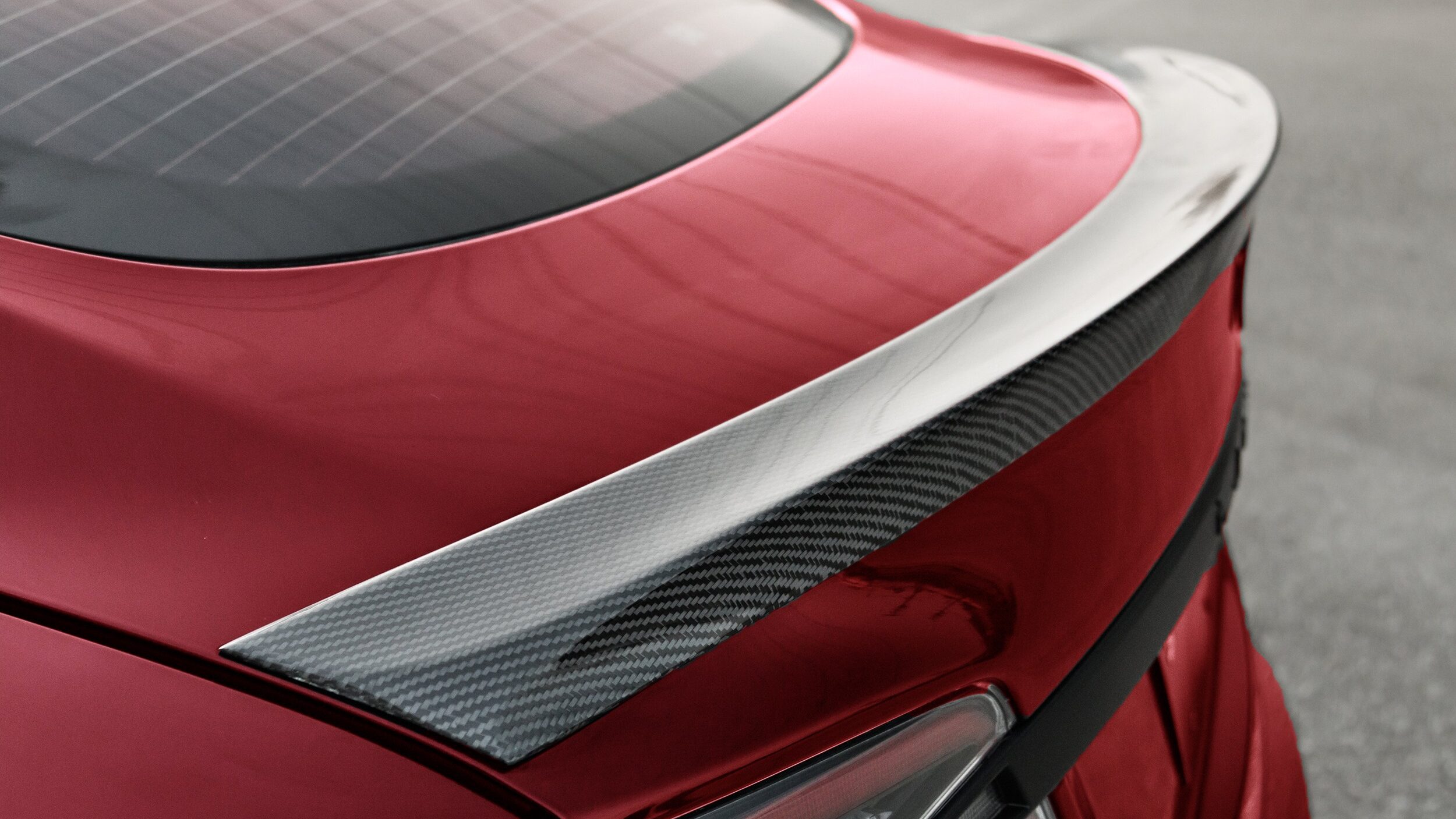 FAQ
1. Are carbon fiber aftermarket spoilers different than the Tesla OEM spoiler?
Whatever product you're using, the best way to go is always the OEM. Of course, like with any other product, the Tesla OEM spoiler is a much more expensive option than the other four on the list above.
Aftermarket spoilers for the Tesla Model S are made using similar materials and boast similar quality. Where the Tesla Model S OEM spoiler is available only in a glossy finish, many aftermarket alternatives come in matte black, as well.
2. Can a spoiler affect the aerodynamic profile of the Model S?
Spoilers are mostly used for the sake of appearances. Still, you've probably noticed that most racing cars are equipped with spoilers, and this is not just for show. At high speeds, spoilers offer more stability, and the Model S spoilers work pretty much the same. However, given their discreet size, this is a very slight enhancement. The aerodynamic profile of the Tesla Model S is completely unaffected by spoilers at lower speeds, and at higher speeds, it might give the vehicle a slight rear downforce.
3. Are the spoilers made of real carbon fiber?
Yes, all spoilers from the above list are made of real, 3K carbon fiber. Where fake carbon fiber products are lightweight, real 3K carbon fiber is lightweight and highly resilient.
4. How difficult is it to install the Model S spoiler?
Although it's always recommended that you have the Model S spoiler installed by an experienced professional, you can probably do a great job on your own. Installing the spoiler on your vehicle is straightforward, as you can see in the tutorial above. Be careful, take things slow, and don't multitask while installing the spoiler.
5. Is drilling needed to install the spoiler?
No drilling is involved during the installation of any of the spoilers from this list. They are all installed using adhesive tape.
6. Can the spoiler be removed after installation?
Yes, all of the spoilers featured here are removable after installation and won't leave a mark on your car's finish. Whether you've installed a spoiler previously or your car came with a factory-installed spoiler, you can remove it by carefully working a line of dental floss between the spoiler and the trunk lid. Some adhesive residue will likely remain on your finish. Soften it up using a heat gun for easier removal.
7. Are the spoilers compatible with all years of the Model S?
Yes, the spoilers from the above list are compatible with all Tesla Model S vehicles, even with the refreshed models.
Spoilers for Your Tesla Model S
All of the spoilers on our list, OEM or aftermarket, are completely compatible with all Tesla Model S vehicles. The biggest difference from product to product here is the aesthetics. They're all built out of 3K carbon fiber and are easy-to-install.
Choose your perfect model and be careful when installing it.