The factory speaker system in the Model 3 is great and might please most owners, but they lack the bass and clarity of other high-end cars.
If you are looking for an improved listening experience with richer sound, deeper bass, and greater pitch accuracy a Model 3 speaker upgrade is an excellent aftermarket upgrade for your car.
If you're looking to upgrade the speakers on your Model 3, here is everything you need to know about the Light Harmonic sound system:
Tesla Model 3 Premium Sound System Speaker Upgrade by Light Harmonic
Quick Overview
Improved sound quality and bass with eight upgraded speakers
No cutting or additional wiring required
Rich, clear audio due to High-End LMF drivers
Low distortion and low signal-to-noise ratio
Compatible with Tesla Model 3
The Light Harmonic Tesla Model 3 Speaker upgrade set includes eight drivers in total with 450W of peak power handling (rms), .Developed with bass-lovers in mind, this set comes with eight speakers that combine to create a deep, airy, and clear sound.
This speaker set is completely plug-and-play and direct bolt-on replacements for the factory Model 3 speakers. There is no cutting, additional wiring, or modified need to modify door panels to make these speakers work in your car.
The speakers combine ultra-strong magnets with Light Harmonic's MTFE technology to eliminate the tinniness you may hear in other speakers. The Da Vinci DAC precisely reproduces details that are lost on other audio systems. The result is a sound that remains clear at high volumes, with minimal distortion and an impressive punchy bass.
The eight speakers are situated as follows:
Two front door speakers
One trunk subwoofer
Five mid speakers for your dash, three for the front, and two for the rear.
If you don't wish to purchase the entire set, these speakers are available in various configurations at lower price points. Currently, you can buy sets of the following:
Two front door speakers and a subwoofer
Two front door speakers and three mid speakers
A set of three mid speakers
Specifications:
| | Subwoofer | Front Door Speakers | Front Dash Mids | Rear Dash Mids |
| --- | --- | --- | --- | --- |
| TD4 Speakers Set | One per set | Two per set | Three per set | Two per set |
| Diameter | 203mm / 8″ | 203mm / 8″ | 102mm / 4″ | 102mm / 4″ |
| Rated Impedance | 3.2 Ω | 3.5 Ω | 3 Ω | 3 Ω |
| Continuous Power Handling (rms) | 450W | 80W | 25W | 25W |
| Peak Power Handling (rms) | 800W | 150W | 45W | 45W |
| Sensitivity (1W, 1m) | 86.5dB | 90dB | 92dB | 92dB |
| Frequency Response | 30Hz – 800Hz | 250Hz – 5kHz | 3kHz – 20kHz | 3kHz – 20kHz |
| Weight | 800g / 28.3oz | 400g / 14.1oz | 166g / 5.9oz | 166g / 5.9oz |
Sound system upgrade step-by-step installation
The Light Harmonic Speaker upgrade set for the Model 3 is a plug-and-play speaker set, they fit directly into the Tesla Model 3's existing speaker spaces and use the same type of wiring. You might to remove screws, unclip tabs
Here is the installation process for each speaker:
1. Installing the Front Door Speakers
You will need a screwdriver and, if possible, a cordless drill for this process.
First, use your screwdriver to remove the screw located underneath the peak of the inner door handle. From there, you must remove the screws located at the far end of the door, and underneath both ends of the internal handle.
This should loosen the inner door panel enough for you to remove it and gain access to the speaker slot.
Unscrew the existing speaker, remove it, and replace it with your upgrade. From there, a simple process of returning all of the screws to their rightful places is all it takes to complete the installation of these speakers.
2. Installing the Front Dash Speakers
You should find a black strip on your front dash that has a shine to it. Carefully use a flathead screwdriver to lever this strip away from the dash to expose the original speakers.
Unscrew the speakers and replace them with the mid speakers that come with your set. There should be three speakers in total. Pop the strip back into place after screwing the new speakers in and installation is complete.
3. Subwoofer Installation
The Model 3's subwoofer is located in the car's trunk. Pop the trunk and remove the plastic cover, which should pop off easily. Then, pry away the carpet cover on the right. Again, this is held in by a single clip.
Using a screwdriver, remove the two clips that hold the carpet extending up the right-hand side of the trunk in place. Peel this away to get access to the original subwoofer. Remove the two clips from the amp before carefully removing the three connectors that bind the amp and sub.
From here, it's just a case of unscrewing the existing subwoofer, replacing it with your upgrade, connecting it back to the amp, and clipping both the carpet and plastic cover back in place.
Considerations when upgrading the Model 3 speakers: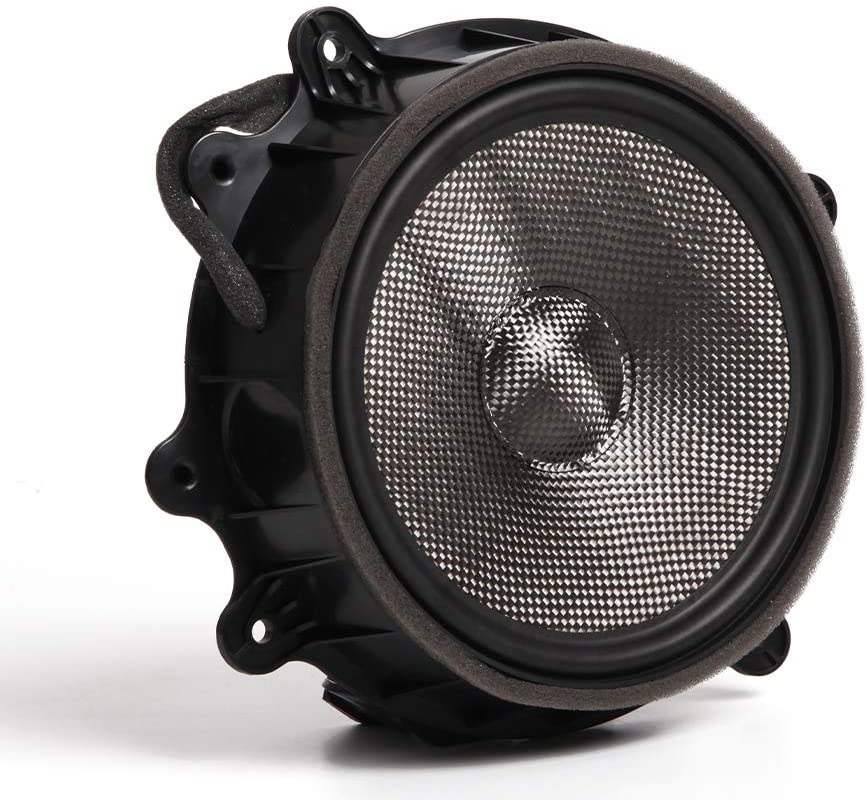 Energy efficiency and power draw
Energy efficiency is a crucial consideration when buying speakers for an electric car. Unlike gasoline-powered cars with an alternator, speakers and the sound system of a Tesla will draw energy directly from the main battery of the car and affect the maximum range you can drive.
You want every piece of electronic equipment in the Model 3 to be as efficient as possible to get the best range with your car. Fortunately, the Light Harmonic speaker set is highly efficient, and it won't cause any additional power draw as long as you keep the volume at a reasonable level.
Signal-to-Noise Ratio
A high SNR means that the level of accurate sound from audio vastly exceeds any background or static noise. This is essential in an electric vehicle as there no combustion engine constantly running and drowning out unwanted background noise.
The Light Harmonic speakers have a high signal-to-noise ratio (SNR), which means you'll hear very little background static and unwanted noise when playing music.
Can upgrading the speakers affect warranty?
No, a speaker upgrade should not affect your warranty. The Light Harmonic speaker upgrade features the exact same dimensions and connector as the factory audio system.
We do recommend you install the original speakers if taking your Tesla for a warranty claim.
Final verdict
Upgrading the speakers of the Model 3 is an excellent modification for an audiophile or if you're looking for clearer and richer sound.
The Light Harmonic Tesla Model 3 Premium Speaker set offers a deep and airy bass sound with a depth and clear audio that you can't get from the Model 3's default speakers.