A Tesla Model X Cargo Liner can help keep the cargo and trunk areas of your Model X clean and the original upholstery of the vehicle in excellent shape.
Perhaps you'd taken the dogs out for a run along the beach, only to find your car covered in sand by the time you got home. Or, you've been on a camping trip and your muddy gear ends up dirtying the car's interior. Either way, you have to spend hours cleaning the car.
A good cargo liner solves these problems because it offers protection to your car's interior. In this article, we look at some of the leading liners for the Tesla Model X so you can decide which is the best investment for your car.
Cargo liners for the front and rear trunk are essential accessories if you use your Model X as it's meant to be used: a big spacious comfortable sports utility vehicle with plenty of room for gear.
Top Three Cargo Liner Picks:
Let's take a look at some of the best front trunk & rear trunk cargo liners and mats for all seating configurations of the Tesla Model X. There are rear trunk mats available for all 5-seater, 6-seater, or 7-seater Model X's. Keep in mind the front trunk or frunk is the same on all configurations.
Cargo Liners & Trunk Mats for the Tesla Model X
3D MAXpider All-Weather Behind 2nd Row Cargo Liner (6 & 7 Seats)
Quick Overview
Available for front and rear cargo areas
Deep grooves trap water, grime and dust effectively
Raised edge walls protect from spills and trap liquids
High-precision laser scan for exact fit
Easy to remove and clean
Fits 6 and 7-seater Model X
Using precision laser technology, 3D MAXpider has created a cargo liner that perfectly fits the contours of the Model X. You won't have to deal with unsightly folds or any missed spots, as these mats slot perfectly into your trunk.
The liners have deep grooves, which serve two purposes. First, they're able to trap mud and water to ensure neither spreads around the car as you're driving. Second, these grooves also create an anti-slip surface, which means you can feel comfortable knowing that your cargo isn't going to slide around the trunk whenever you make a sharp turn.
These liners are also made using SGS-certified materials, which means they're non-toxic and completely odorless. And best of all, the combination of a hose and a clean cloth is all you need to clean these liners after use.
3D MAXpider has created cargo liners for both the front and rear of the Model X. However, you will have to buy each separately.
See also: Floor Mats for Tesla Model X
Tesla Model X Front and Rear Trunk Mat and 3rd Row Seat Back Protector Mats (6 & 7 Seats)
Quick Overview
Leather protector covers for trunk, front trunk and seat back
Hand sewing ensures high quality and durability
PU Cortical material offers waterproofing, reduces road noise, and has a premium refined look
Skid-proof bottom maintains mats in place
Fits 6 and 7-seater Tesla Model X
Designed with the 6 and 7-seat variants of the Model X in mind, these mats come in a 4-piece set that includes mats for the front, rear trunk, and back seats.
The layered design of these covers is their standout feature, as each has several layers that serve different purposes. The fiber leather covering protects against water, while the nonwoven fabric underneath resists heat. At the core of the mats sits a PU foam cushion that absorbs any moisture that manages to get through the leather. Finally, the mats all have skidproof bottoms, which ensures they stay in place during rough drives.
Special mention goes to the foam cushion, as this also reduces noise from the road and reduces vibrations as you're driving.
These covers are suitable for any Model X made between 2016 and 2021.
Cargo Liner Floor Mat for Tesla Model X 5 Seater
Quick Overview
Fits only 5-seater Tesla Model X
TPO material ensures durability
Raised edge traps liquid spills & grime
Can be folded as the material won't crease
A single trunk floor mat, this liner is suitable for all 5-seat Model X's made between 2015 and 2021. It's custom-designed, which means no trimming is required to fit the mat into your trunk. Plus, it's easy to install and remove so cleaning isn't an issue.
The mat features raised sides, which means it provides some protection to the trunk's sidewalls. It's also extremely flexible. This means you can roll it up or fold it for easy storage, with the mat popping back into shape whenever you need it.
This cargo liner is also made using a thermoplastic polyolefins (TPO) blend. This makes it environmentally friendly while offering enhanced durability and temperature resistance.
Tesla Model X Rear Cargo Mat & Front Trunk mat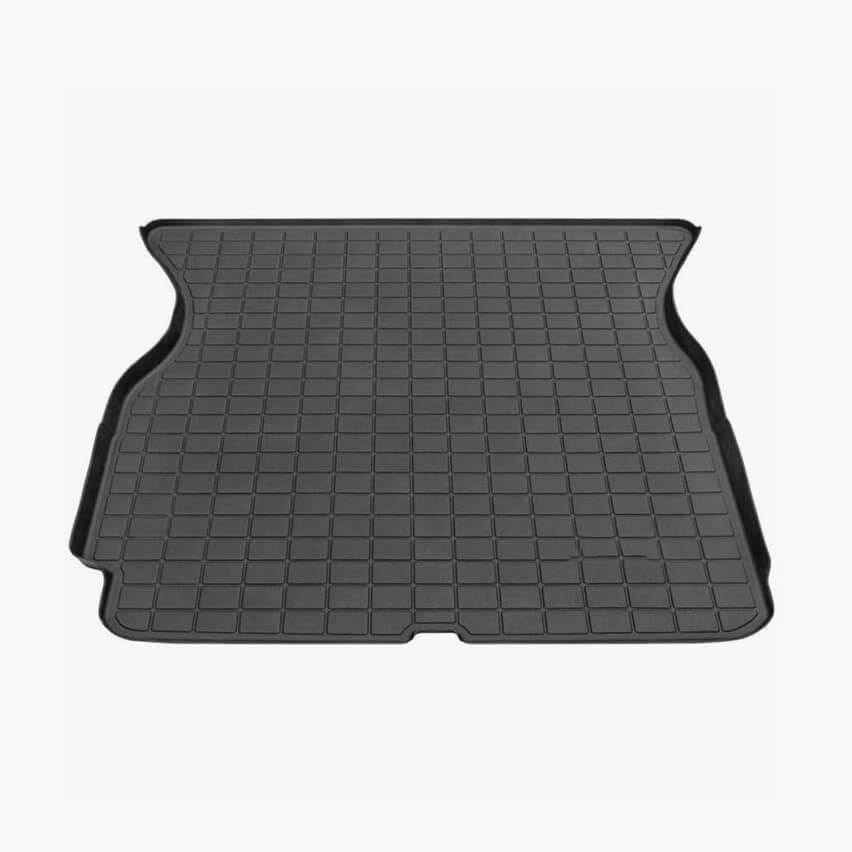 Quick Overview
Accessory made by Tesla
Front Cargo liner and Rear Cargo liner available
For 5 seater, 6 seater & 7 seater Model X
Laser measurements for exact fit
Thermoplastic elastomer material
As Tesla's official brand of cargo mats, you can expect these to offer an extremely high level of quality. The liners are all custom-made, with measurements based on the latest digital laser technology. Made using thermoplastic elastomer, the mats have strong cores and are easy to clean. The groove-based design also means they're capable of trapping water and dirt.
Tesla offers variants of these mats for all Model X's, with custom designs available based on the year your car was made and the number of seats it has. However, these are also the costliest mats available for the Model X, though their quality makes up for the additional outlay.
Additional considerations when looking for Model X Cargo Mats
1. Tesla Model X Seating Configurations
The Model X offers three different seating configurations: 5 seats, 6 seats, and 7 seats. A 5-seater has two rows of seats, with both 6 and 7-seaters having three. While the latter two models can seat more people, they have to sacrifice some trunk space to do so.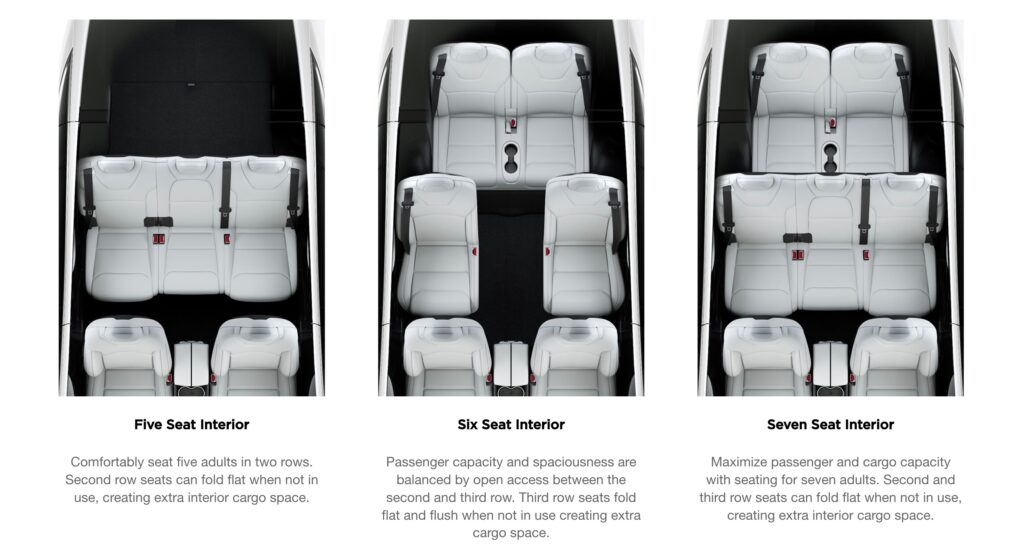 A cargo mat made for the trunk of a 5-seat Model X will usually be too big for a 6 or 7-seater. Similarly, a trunk mat made for the larger cars will likely not fit a 5-seater's trunk.
Keep in mind your Model X seating configuration when selecting cargo mats.
2. How Much Cargo Space Does the Model X Have?
All Tesla Model X's have 88 cubic feet of cargo space, which includes the space in the front trunk. The only difference between the various models is how this space is distributed.
A 5-seater will have more space in the rear trunk, with 6 and 7-seaters having space dedicated to the third row of seats.
3. Do Model X Seats Fold Down?
If you have a 6 or 7-seater Model X, you should find that your rear seats can fold down completely. However, the second row won't fold flat.
Final Thoughts
Each of these cargo liners offers an excellent solution way to keep your trunk and cargo areas protected and clean. They're all strong, designed to catch dirt and water, and custom-made to fit your Model X.
Have into account the seating configuration of your Model X when selecting an appropriate trunk mat.