Outdoor air is full of various particles, some natural, others artificial. Many of which aren't beneficial for us. On the road, you get road dust and industrial fallout, in addition to pollen and other particles. This is why most road vehicles come with air filters.
Teslas use various air filtration options that range from regular to HEPA and activated carbon cabin air filters. In this article, we're going to dig deeper into the world of various air filter options for Tesla Models 3 and Y.
Cabin Air Filter for the Model 3 / Y – Top Picks
The Model 3 and the Model Y come from the factory with a standard cabin air filter, and others such as the Model S and X feature more advanced HEPA filters. The company recommends that you replace these filters every few years (more on this later). But what do you replace the filters with? Well, there are replacement models available that are specific to the Tesla Models 3 and Y.
Factory or OEM (Original Equipment Manufacturer) replacements, however, do tend to cost a fair bit. Below, you'll find a rundown of five of the best alternatives to Tesla's factory solution and the Tesla OEM review as well.
1. XTECHNOR HEPA CABIN FILTER
Quick Overview
HEPA filter can absorb harmful particles and gases
Prevents fine particles such as pollution and pollen from entering the cabin
High-density electrostatic electret filter with honeycomb design provides a longer service life
Tesla's HEPA OEM replacement (or upgrade) is pricey. Paying $500 for it every few years is far from an ideal solution for most drivers. But XTechnor offers a solution for Tesla Model 3 and Model Y vehicles that is much cheaper.
This is a HEPA (High-Efficiency Particulate Air) filter (more on this later) that does a particularly good job maintaining your on-road air health needs. The XTechnor HEPA Filter will absorb harmful gases and particles that are larger than 0.3 microns.
Ideally, you should replace this filter every 8-12 months, especially if you drive in wet and desert/dusty areas. Although this filter might require a more frequent replacement than the OEM HEPA option, it's still a much cheaper solution than the original Tesla replacement.
The XTechnor HEPA Filter maximizes the filtration area inside the cabin without impacting the free airflow inside.
2. BASENOR CABIN AIR FILTER
Quick Overview
Standard-grade air filter made for the Model 3 & Y
Dual activated carbon layer adds absorption capacity
Help keep cabin air fresh and free of dust
Reduces unwanted cabin odors.
The Basenor Cabin Air Filter has been specifically designed after Tesla's OEM option. It fits the Model 3 and Model Y vehicles perfectly, and it does an equally good job when it comes to air filtration.
This air filter replacement option is made out of a premium material superior to that of its competitors. The Basenor air filter is also very easy to install – it doesn't take more than 10 minutes.
If you're looking for a cheaper alternative to Tesla's OEM Model 3 and Model Y non-HEPA filter versions, this is the filter you should go with. The benefit of having this filter delivered to your doorstep might not mean much, but it beats having to drive to your local service center, given that the OEM filters are sent to the Tesla service center of your choice for you to pick up.
3. EPAUTO CP681 AIR FILTER
Quick Overview
Activated carbon to filter out most pollutants
PM 2.5
Compatible with Tesla Model 3 and Tesla Model Y
Unlike most filters on this list, the EPAuto CP681 is based on the activated carbon principle. This compound (which also boasts a variety of health benefits) is famous for its capabilities of filtering out pollutants, odors, and VOCs (volatile organic compounds). It works by trapping the gas molecules from the air, thereby removing them from circulation. These filters also eliminate various odors, oil vapors, and hydrocarbons, all commonly found on the road.
The EPAuto CP681 might not work on the same principle as the OEM, but some users prefer it.
The biggest downside with this product, however, is the installation. Although the Model 3/Y design is to blame, it still presents an installation challenge, compared to the OEM and many other filters on the list.
Still, have an expert install it for you, and you won't have to worry about this.
4. TAPTES HEPA AIR FILTER
Quick Overview
HEPA-grade activated carbon air filter
Filtration efficiency of 99.67%
Absorbs the majority of impurities and prevents unwanted particles from entering the cabin
Recommended to replace every year or two depending on usage
The Taptes air filter is another HEPA air filter for your Tesla Model 3 or Model Y car. This filter is based on the combination of the mentioned HEPA and activated carbon technologies. Expect top-notch air filtering of everything from pollen and mold to odor and dust.
Although not everyone agrees, some Taptes users claim that this air filter works better than the OEM version, which is quite a feat.
The Taptes might be cheaper than the OEM, but it's still fairly pricey in comparison to its peers. It's recommended that you swap it out more frequently than the OEM, so it may end up setting you back more than the Tesla's proprietary filter. The best way to go would be to get the filter and give it a go. You might end up liking it and forgetting all about the OEM.
5. TOPLIGHT AIR FILTER
Quick Overview
Effectively removes most contaminants and odors from the air
Help keep the cabin free of dust
Straightforward installation process
If you're looking for an activated carbon-based air filtration system that's easy to install, the TOPlight filter might be the perfect option. This filter is particularly effective against odors and contaminants.
You won't need any tools to install this one. It fits just as easily as the OEM cabin filter.
The tabs on the TOPlight are robust, so you don't have to worry about them breaking before you need to swap the filter out.
Another very specific thing about this model is that it keeps all the debris out of its vent. This means that you won't have to clean the duct while performing your Tesla cleaning rounds.
6. Tesla Model 3 Air Filter (OEM)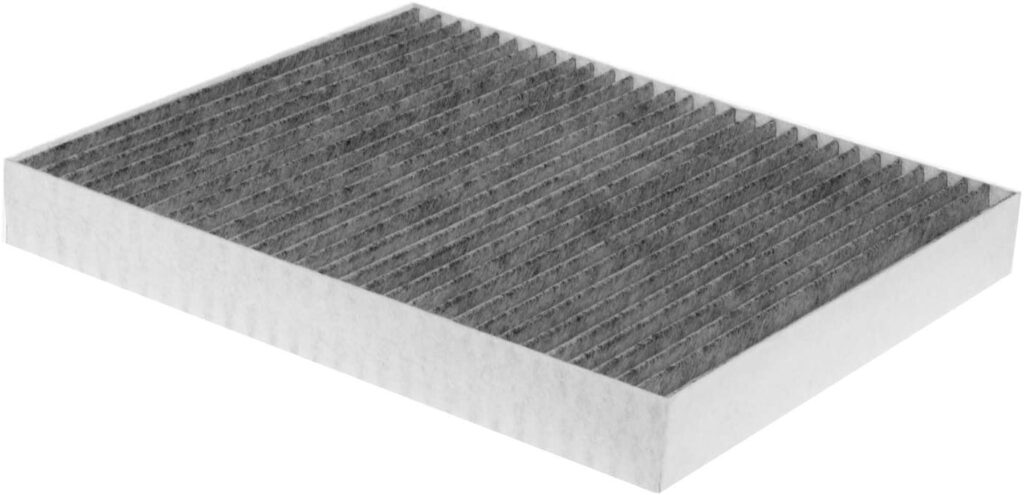 Quick Overview
Sold individually, two required
Original OEM Tesla part
Prevents pollen, dust and pollution from entering the cabin
There isn't much to say about the OEM replacement for your Tesla Model 3/Y vehicle. Mostly because you've probably already had a chance to check it out – when you bought the car. It's an effective model for those who haven't had a chance to see this air filter in action. It prevents everything from pollen to industrial fallout from entering the passenger cabin. Plus, it's particularly effective at high speeds.
Naturally, the price tag will also be somewhat higher than with non-OEM models. Keep in mind that this air filter isn't to be confused with Tesla's HEPA OEM, which is significantly more expensive than this one. That means that underperformance is to be expected here when put against third-party HEPA models.
Why you must replace your Cabin Air Filter regularly
Cabin air filters on vehicles protect everyone inside from various dust and allergens. This includes mold spores, pollen, dust, smoke, soot, smog, and other commonly found on busy roads. Air filters also impact your car's HVAC (Heating Ventilation & Air Conditioning) system and block out bad odors from outside.
After a while, a cabin air filter gets worn out, as a variety of these unwanted particles accumulate over time. This means that replacement is in order; otherwise, the system's efficiency gets diminished to the point where it brings more harm than good to the air inside the cabin.
In addition to protecting against various debris and preventing various odors from entering, cabin air filters are particularly beneficial for people who suffer from allergies.
How to Change the Air Filter on a Model 3 (and Model Y)
Although you can always take your car to the body shop and have an expert replace the air filter for you, this is a task that you can do on your own. Here's a brief tutorial:
First, make sure that the climate control system in your car is turned off
The front passenger seat needs to be moved as far back as possible
Take out the front passenger seat floor mat
Take a trim tool, and release the side panel, located on the center console
Release the push clips using the clip pry tool
Disconnect the electrical connectors (there are two)
Move the footwell cover
The T20 screw needs to be removed
Fold the lower tab on the filter downward
Fold the upper tab on the filter upward
Pull out the filter
Do the same for the lower cabin filter
Take the replacement filter and make sure that the arrows are pointing toward the back of the car
Following the same principle as when removing the filters, insert them into the HVAC module
Reattach the electrical connectors
Secure the cover with push clips
Close the side panels
Put the passenger seat floor mat back in place
Adjust the passenger seat according to preference
Additional Considerations
Can I change the air filter at home?
Yes, the Tesla Model 3 and Model Y air filters can be replaced at home. If you have previous experience with filter replacement, the whole process shouldn't take more than 10 minutes. If this is the first time you're replacing the filters, it may take around 20-30 minutes.
Keep in mind that you're going to need a T20 Torx screwdriver tip to perform the replacement correctly, though.
What is a HEPA filter?
HEPA filters are filters that meet the HEPA standard, meaning that they need to satisfy particular efficiency levels. These standards ensure that a filter can clear at least 99.97% of particles that are 0.3 μm in size or larger. This is according to the ASME US DOE standard; according to the European standard, the required percentage is 99.95%.
Not all Tesla Model 3/Y filters are HEPA, as you can see from the list above. Although the HEPA models boast significantly higher efficiency, the non-HEPA filters still do a fairly good job filtering out the air that enters the passenger cabin of Tesla vehicles.
Does the Model 3 and Model Y use the same air filter?
Yes, the technology and size used for filters in these two Tesla vehicle types is the same. Both can use the same cabin air filters.
How many cabin air filters does the Model 3 / Y have?
There are two filters on Tesla Models 3 and Y, and they are both located in the same (center) compartment. For more details regarding filter replacement, refer to the "How to Change the Air Filter on a Model 3 (and Model Y)" section above.
How often should the Tesla Model 3/Y air cabin filter be replaced?
According to Tesla, you should change the air filters on Tesla Models 3 and Y at least every two years. The replacement should be performed on a more regular basis if the vehicle is often driven in highly polluted areas. This goes for the areas with frequent wildfires, as well.
What kinds of particles are filtered by the air filter?
As already mentioned, air filters are used to clear everything from industrial fallout and road dust, to pollen and other particles found in nature.
Choosing the Right Cabin Filter
If you swap the air filters on your Tesla Model 3 or Model Y vehicle on the recommended basis, every filter on the list should do a good job keeping your in-cabin air clear.
The Tesla OEM HEPA filter (not to be confused with the regular OEM model on the list) might be the Tesla-recommended option, but the XTechnor HEPA filter is an alternative that's capable of performing equally well, at a significantly lower price. Even though this filter might require more frequent replacement than the OEM HEPA one, it remains a budget-friendlier option.