All-Weather Floor Mats are essential in any vehicle. Not only they protect the floor from dirty footwear but are also a way to style your vehicle's interior. During the winter, they help keep your Model X factory mats clean and free from slush and mud that sticks to your footwear. During summer months they make your vehicle easier to clean as they can be easily removed and rinsed with water.
When looking for the best All-Weather Floor Mats for the Tesla Model X, have to keep in mind that there are several variations of this SUV with different seat arrangements, not every set of floormats listed here will suit your vehicle.
Here are our top three choices:
Tesla Model X Interior Mats – Top Picks
See also: Best Tesla Model X Accessories
With its exceptional features, long-range and array of standard equipment, not to mention the famous "Falcon doors," the Model X is an impressive electric SUV with plenty of features to offer.
However, there is always room for improvement. A simple way to make your Model X interior cleaner, and more durable is with a set of All-Weather Floor mats. They protect the original floor mats and make the vehicle much easier to clean overall. Let's take a look at the best floor mats sets for the Tesla Model X:
Tesla Model X All-Weather Interior Mats Reviewed
3D MAXpider All-Weather Floor Mats for Model X
Pros
Outstanding design that matches the rest of the interior
Thermoplastic rubber surface for maximum durability
Unmatched strength and rigidity
Carbon fiber texture
Cons
Does not fit every Tesla Model X
"Maxpider" Logo is noticeable
The All-Weather KAGU Floormats for the Tesla Model X are made by 3D MAXpider, a manufacturer specialized in all-weather floormats that incorporates a multi-layer solid construction with a high-precision fit that will protect your Model X immensely.
It comes in several different versions and also in six different colors (all with carbon-fiber pattern). The product itself is made of thermoplastic rubber on top with XPE foam inner layer, making it comfortable and soft. The bottom incorporates Anti-Skid Backing, which grips the floor firmly, prevents skidding, and keeps the floor mat safely in the place.
Since the Model X comes in several different seating configurations, 3D MAXpider produces floor mats for every version. You can order floor mats for five, six, seven-seater models, and the floor mats for front seats only. Make sure you select the variant appropriate for your SUV.
Overall, this is our top selection for Tesla Model X Floor mats, especially if you are looking for an All-Weather set that not only protects, but also blends in well with the interior design of the vehicle.
TOUGHPRO Floor Mats for Tesla Model X (6 Seater w/o Middle Console)
Pros
Exact computerized cut for a precise fit
Edge-to-edge design for maximum coverage
Honeycomb pattern traps dirt, debris, and spills
Trunk mat included
Cons
Fits only 6-seater Model X
If you enjoy the design of the ToughPRO floor mats and value durability and toughness, this is a fantastic addition to your SUV. They are suited for use in the 6-passenger version w/o the middle console, and it includes a trunk mat. There is also a variant for the 6-passenger version with the middle console.
This set of all-weather mats have an industrial and rugged construction, with a more standard design and rubber blend build. These Model X floormats don't focus as much on appearance as the 3D Maxpider mats but they fit just as precisely. The Honeycomb pattern traps dirt, spills, and makes the interior easy to clean.
Overall, these are an accessible set of floor mats with a simple yet effective design to help you protect the interior of the Model X.
TOUGHPRO Floor Mats for Tesla Model X (7 Seater)
Pros
Computerized cut for an exact fit
Easy to remove and clean
Non-skid backing and mat anchors for extra safety
Trunk mat included
Cons
Raised edges could be higher to help trap bigger spills
Only for 7-seater model
If you are looking for heavy-duty Model X floor mats, the kind that will endure not just mud, dirt, and water but also damage and heavy objects, the ToughPRO is the one for you. Laser-cut and produced from durable plastic, this product is available for 7-seater Model X models only and comes as a full set, including a floor mat for the trunk. The characteristic honey-comb pattern will provide grip even if you enter the vehicle with moody boots.
Available in two colors (black and gray), this product is affordable and designed for people who value practicality over design. When ordering, please note that you cannot get this floor mats just for the front seat; the fit will vary depending on the exact production date of your Model X.
TOUGHPRO Rubber Mats for Model X (5 Seater)
Pros
Heavy-duty rubber blend construction
Honeycomb pattern traps spills and dirt
Trunk mat included
Cons
Another set of floor mats offered by TOUGHPRO is for the 5-seater Tesla Model X. It's yet another set of floor mats with an exact fit, rugged rubber construction, and honeycomb pattern for spill retention.
The design is simple, yet very effective at helping keep your interior clean and preserve the factory floor mats. A trunk mat is included, which is a welcomed addition that not many floor mat sets include.
Overall, this is an excellent set of floormats for users that offers great quality and value for the price. They fit incredibly well in the 5-seater Model X and its rugged construction should last daily use season after season.
Related: Model X Sunshade for Windshield & Roof
Tesla All-Weather Interior Mats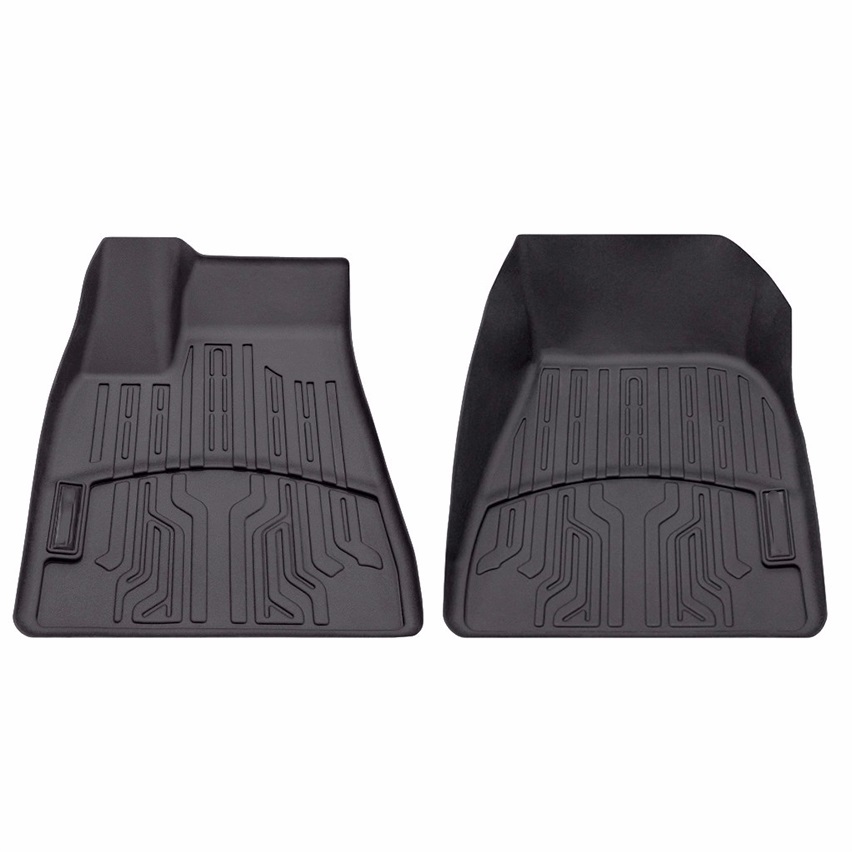 Pros
OEM fit and finish
Excellent
Made from thermoplastic elastomer material
Cons
1st row sold separately from 2nd row
Pricey
If you prefer original equipment from the manufacturer, you can always purchase a set of Model X floor mats directly from Tesla, although at a higher price. Tesla offers heavy-duty floor mats made of PVC plastic in various configurations, guaranteed to fit.
This product is designed to be durable and sturdy but not particularly visually appealing with a simple pattern and only one color available – black. We are not exactly sure that the quality of this item justifies the price compared to the rest of the product on the list.
Tesmanian Tesla Model X Floor Mats Liners (5 Seater)
Pros
Raised edge design for maximum spill protection
Sleek and minimal design
Cons
Fits only the 5-seater Model X
This floor mat set is a must-have to keep things neat and tidy in your Tesla Model X. The backing ensures that the mats firmly grasp the original floor mat, which keeps them from sliding and in place.
Its interlocking pattern is set with deep grooves and ridges that trap moisture, dirt, water, and slush. It is also designed to fit precisely in your Tesla Model X. It has excellent durability due to its distinct blend of rubber material resistant to wear and tear.
The mat itself requires minimal maintenance. When it is time to clean, wipe it with a cloth or hose it and let it dry. The floor mat is available in black, which matches well with the interior of most Model X's.
Additional considerations:
Model X configurations: 6-seater, 7-seater, and 5-seater
There are several things you should know before you go shopping for the set of Model X floor mats. The first is that not all Tesla Model X are equal, and there are subtitle differences between five, six, or 7-seat models in terms of floor construction and seating configurations, all of which will affect the design of floor mats.
Also, since there are models with no center console, this should be considered. You will need front floor mats as a two-piece product if you have a model with the center console. However, if your car is not equipped with a center console, you will need a floor mat as a one-piece item.
We strongly suggest you check what exact model you own and the year it was manufactured before ordering since it will help you find the right set of floor mats for your Model X.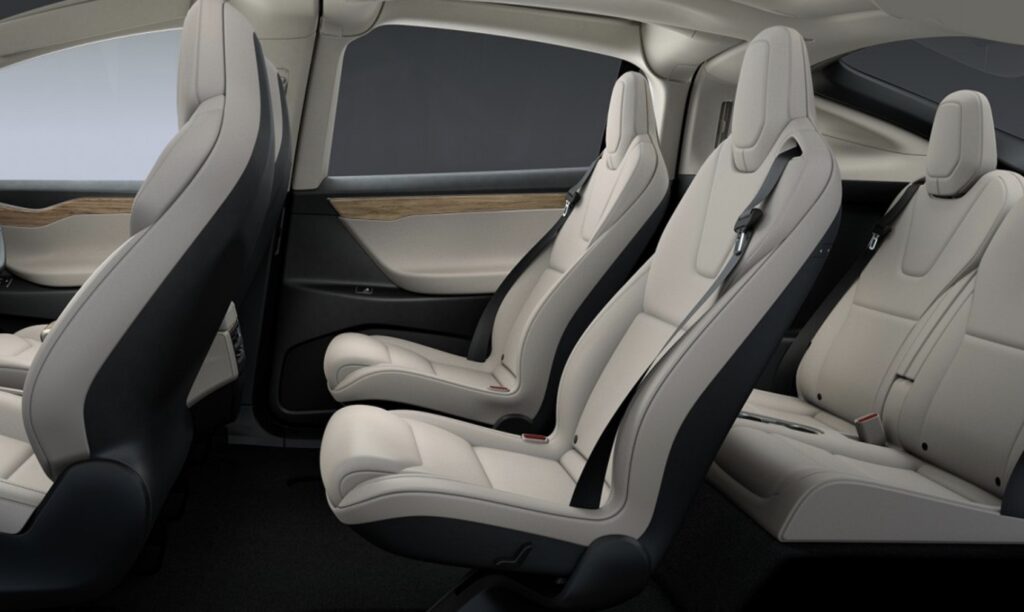 Why are All-Weather Interior Mats important in your Model X
Regardless of the climate or way you use your car, floor mats are welcomed in addition to every car interior. Whether you want to protect the interior carpet from moisture, mud, or dirt or you are just tired of cleaning after your kids spilled the juice in the back, this simple product can help save you a lot of time and effort. Not to mention that you will avoid taking the car to professional cleaners and protect the carpet and floor.
With Model X floor mat choices ranging from simple, inexpensive, and durable to well-designed, colorful, and easy to clean, there is no reason you shouldn't get yourself a set and keep the interior of your vehicle in like-new condition. Not to mention that clean and well-preserved carpet could add retail value to your car someday.
Conclusion
There isn't a more straightforward yet more practical addition to the Model X's interior than a set of well-designed and durable floor mats. The value exceeds the price since floor mats can last years, offer excellent protection not only from dirt and water but also from physical damage. You can always buy a couple of sets and have heavy-duty protection when you need or elegance when you want it.
We personally recommend the 3D MAXpider Kagu Model X Floor Mats as they combine practicality and an attractive design that matches well the interior of the vehicle.