A car cover for the Tesla Model Y can help you keep your electric SUV protected from the elements throughout the year. There are many car covers for indoor and outdoor available but for a Tesla, options are more limited as having an opening for the charging port becomes a must.
If you are planning on keeping your Model Y for several years, a car cover is a worthy investment that can preserve the brand-new look of the car by protecting it from harmful solar radiation, dust, dirt, and other environmental damage that slowly fades the clear coat of the vehicle.
Lets take a look at some of the best car covers that you could use for your Model Y, for outdoor & indoor use:
Finding an appropriate car cover for your Model Y might prove to be a time-consuming task. Since there are so many options to can choose from, we've compiled a list of some of the best Tesla Model Y car covers.
Hopefully, these will help you find the cover that is appropriate for your vehicle:
Car Covers for the Tesla Model Y Reviewed
Farasla Outdoor Car Cover for Tesla Model Y with Storage Bag
Quick Overview
Custom-made for the Tesla Model Y
Convenient charge port opening
Ventilated mesh allows for airflow while the vehicle is covered
Three protective layers ensure water-resistance and scratch protection
Storage bag included
This all-weather cover from Farasla uses elastic hem and bottom buckles to fit tightly to your Tesla. Using double stitching on its seams, it proves to be quite durable, making sure it will serve for a long time. For improved convenience, the cover includes opening ports with Velcro straps, providing access to the car's charging port. Therefore, you won't have to remove the cover in order to charge your car.
Just like the models mentioned above, Farasla's cover also comes with a front mesh panel. It allows for the airflow necessary for the proper functioning of the battery cooling system. This helps keep the car's batteries from reaching high temperatures while charging or after a session of hard-driving.
The three-layered fabric provides breathability and waterproof properties, making the cover ideal for any weather conditions. Be it rain, snow, or dirt, it will make sure your car gets the protection it needs. And when not using the cover, you can simply pack it into its carry bag and tuck it away. Being small enough, it won't take much space in the trunk.
Related: Tesla Model Y Floor Mats
Xipoo Tesla Model Y Car Cover (Black)
Quick Overview
Ultralight fiber cloth is resistant and durable
Fits the Model Y and Model 3
Precise fit prevents the cover from flying away in strong winds
No opening for charging port
For anyone looking for the best car cover for Tesla Model Y, the Xipoo car cover offer great outdoor protection, it shields your car from wind, rain, dust, and dirt. In the wintertime, you won't have much problem with snow and frost as well. And as far as the vehicle's color finish is concerned, this cover will keep it safe from harmful UV rays, bird droppings, grime, and dust.
Additionally, since the inner layer is made from soft cotton, you don't have to worry about the cover scratching your Tesla either.
A light mesh on the front lower end of the vehicle does a perfect job of letting enough air pass through to feed the car's ventilation system to cool the battery when needed.
Favoto Universal Car Cover
Quick Overview
Universal car cover
Four different sizes
No opening for charging port
Fitment is not precise
Favoto's cover comes with some clever improvements similar products don't have. First of all, there's an extremely convenient flap that allows you to unzip it and enter the car, without removing the entire cover. In addition to this, the cover includes a reflective strip at the front of the car, stretching between the headlights and the rearview mirrors.
With the dual-stitching on its seams and five-layer fabric, this cover proves to be pretty durable. The inside contains soft cotton lining, making sure no micro-scratches appear on your car. Of course, the cover is waterproof, making it work perfectly in rain and snow. With dust, dirt, and UV protection as standard features, this cover might prove to be a great solution.
Unfortunately, there's one downside to Favoto's cover. Although it has tie-down straps and an elastic band on the bottom, being a universal car cover, it won't fit your Tesla Model Y perfectly. It can cover cars in the range between 177 to 194 inches in length.
Tesla Snow Cover
Quick Overview
Snow cover for the windshield, side windows, panoramic roof, and rear window
Eleven anchor points for stability
Not designed specifically for the Model Y
Perfect for models 2017 through 2020, the cover from JOJOMARK is a truly great Tesla Model Y windshield snow cover. Being waterproof, it offers good snow and frost protection for your car's glass surfaces. This includes both the front and rear windshields, side windows, rear-view mirrors, and the panoramic roof.
With eleven integrated tether points, it's quite easy to fix the cover to your car in a minute or two. Thanks to its tight fitting, the wind won't be able to blow the cover off your Tesla. Of course, this cover also protects the shielded areas from the UV rays, as well as dust and dirt accumulation.
Designed to cover the front wipers and almost the half of the car's front section, this Tesla Model Y windshield snow cover will ensure no leaves get stuck as well. Finally, the cover's reflective strips that go over the rear-view mirrors, provide high visibility even in the night time.
FAQ
Can any car cover be used outdoors?
One of the main features of an outdoor cover is its ability to keep water from penetrating through to the car. Besides that, an outdoor car cover needs to be breathable as well, allowing it to evaporate any moisture that builds up between the car and cover.
Since the usual Tesla Model Y indoor car cover models don't have such features, they'll degrade much faster under the varying weather conditions. And when it comes to strong winds, outdoor covers come with straps and hooks that fasten them to your car tightly.
Can the Model Y be charged while using a car cover?
Recognizing the need to charge your Tesla while having the car cover on, manufacturers found a solution for this. By integrating an opening on the cover which you can open and close, you can easily access your car's charging port.
However, if you use a generic or universal cover for your Tesla, chances are it won't have the opening for the charging port. Of course, if you use any kind of Tesla Model Y windshield cover, these won't get in the way of connecting your car to the charger.
Are all covers waterproof?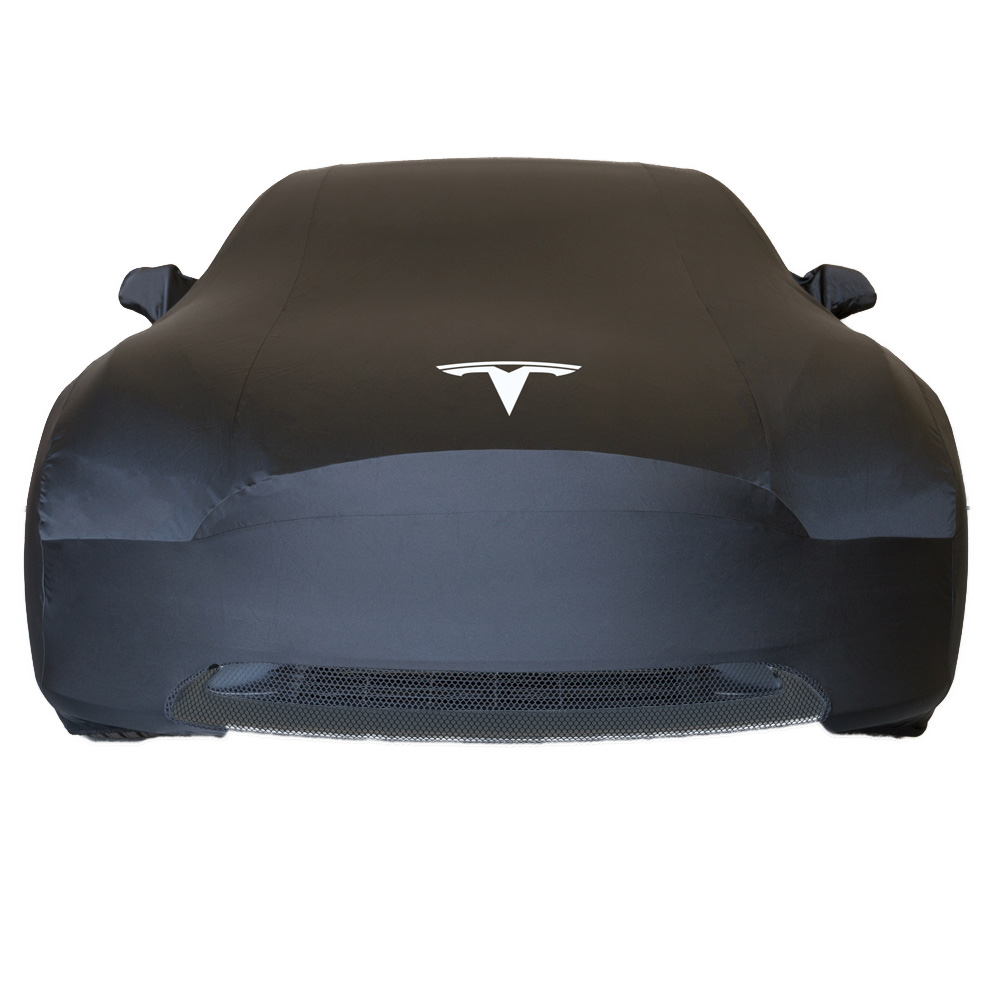 Not all covers are waterproof, since some models are suitable only for indoor use to keep dust off the vehicle. Of course, such covers don't have any waterproof and breathability capabilities, as well as any UV and wind protection.
Can a car cover keep parked car cool?
This mainly depends on the color of the cover you're using. Black and dark-colored covers absorb more of the light spectrum, increasing heat transfer to your car.
Conversely, light gray, silver, and white covers reflect much more of the sun's energy, effectively keeps your car much cooler than if it didn't have the cover on.
Can the Model Y paint be scratched by the cover?
Although car covers can't do any serious damage to your car's exterior, constant use may cause some micro scratches to build up over time. Luckily, most manufacturers use a cotton or microfiber inner layer on their covers, preventing any damage to your car's paintwork. To find the cover which includes this feature, check the Tesla Model Y car cover reviews above.
Car cover materials
Most manufacturers use multi-layered synthetic materials for their car covers. This is especially important for weatherproof covers that need to repel water and keep the moisture off your car. The main components include the waterproof outer shell, middle layer made of breathable materials, and the inner layer of soft cotton, flannel, or microfiber.
Tips when using a car cover for the Model Y
Strap down your cover
Using a car cover for the outdoors is a great way to keep dirt off your car. But if you have a standard Tesla Model Y indoor car cover, it won't be able to sustain the changing weather conditions for long. And in the case of even some mild winds, chances are it could fly away.
On the other hand, weatherproof car covers come with special straps and hooks that allow you to secure the cover to your car. Of course, you always have to double-check if the cover fits snuggly to the car and all straps are tight. If not, stronger winds may find their way under the cover, potentially blowing it away.
Dry completely before storing
When you take the cover off your Tesla Model Y, make sure it's dry before you fold it and tuck it away. If not, you risk having mold build up on the cover. Besides developing a bad smell, this will lead to material degradation.
If you're in a rush and the cover is wet, there's a couple of things you can do. First off, shake any excess water off the cover. If you have a dry cloth, use it to remove any leftover moisture as much as possible.
It's important to stress that in no circumstances should you fold and pack a wet or moist cover into its pouch.