Mud flaps or splash guards offer enhanced protection against road debris, small rocks, muds, and rainwater that can not only make your Model Y but also accelerate wear and tear on the vehicle's paint and body work.
A set of mud flaps can help reduce the amount of road dirt on the side of your car, keep your paint and bodywork free of rock chips, and drive worry-free on less maintained side roads.
Mud Flaps for Tesla Model Y – Top Picks
Lets examine some of the best mud flaps available for the Model Y, the installation process and some of the benefits of mud flaps.
Model Y Mud Flaps & Splash Guards – Review
Motrobe Tesla Model Y Mud Guards
Quick Overview
Includes 2x front mud flaps, 2x rear mud flaps, and installation hardware
No need to drill holes for installation
Made of high-quality impact-resistant black ABS plastic
Available in a set of four, these mud flaps feature a customized design that ensures they fit perfectly in front of your Model Y's wheels. Their attractive design complements the car's aesthetic. Plus, they come with all the screws necessary for installation, with no drilling required.
Made using high-quality plastic, they're both durable and flexible. This means they can withstand most impacts, with the added flexibility allowing for enhanced damage absorption.
Mud Flaps Splash Guards for Tesla Model Y – Front and Rear
Quick Overview
4x mud guards with installation hardware
Pre-drilled for a no-hassle installation process
PP+TPO blend material ensures long-term durability
Much like Motrobe's offering, this is a four-piece set that comes with all of the tools necessary for installation. They're custom-designed to fit both the 2020 and 2021 Model Y. Plus, they're pre-drilled, which makes installation simple.
They're made using a blend of polypropylene and thermoplastic polyolefin materials, enhancing durability while ensuring the flaps can absorb impacts. Their black coloring also meshes well with the Model Y's design.
BASENOR Tesla Model Y Mud Flaps (Set of Four)
Quick Overview
Patented design with bigger protection area than similar products
No need to drill extra holes, straightforward install with included hardware
Strong ABS thermoplastic material ensures long-term durability
Another pre-drilled solution, this set comes with four mud flaps to offer protection to your front and rear wheels. Their custom design fits the 2020 and 2021 model Y variants. They're also made using acrylonitrile butadiene styrene, which is an impact-resistant thermoplastic polymer.
Tesla Model Y Mud Flaps by Tesla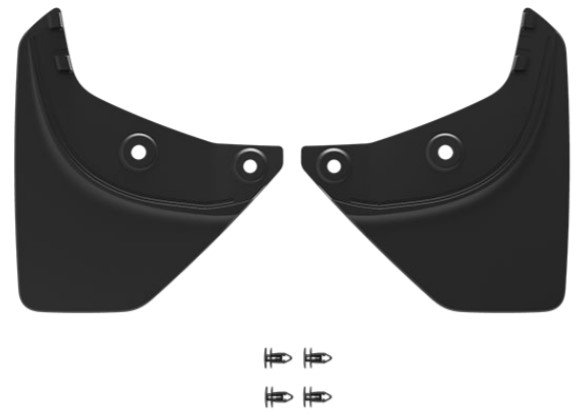 Quick Overview
Tesla-original accessory
Includes 2x front mud flaps and installation hardware
No rear mud flaps included
Tesla's official set of mudflaps, this product differs from the others we've examined because you only receive two flaps with your purchase. As such, you may have to pay double the price you would for an unofficial solution if you want coverage for both the front and rear of the car.
Of course, the product meets Tesla's high standards for quality. Plus, they're designed to perfectly fit the Model Y's aesthetic. However, the cost, coupled with the fact that they're often out of stock, may make them an unattractive proposition for those who need a quick solution.
Benefits of Mud Flaps & Splash Guards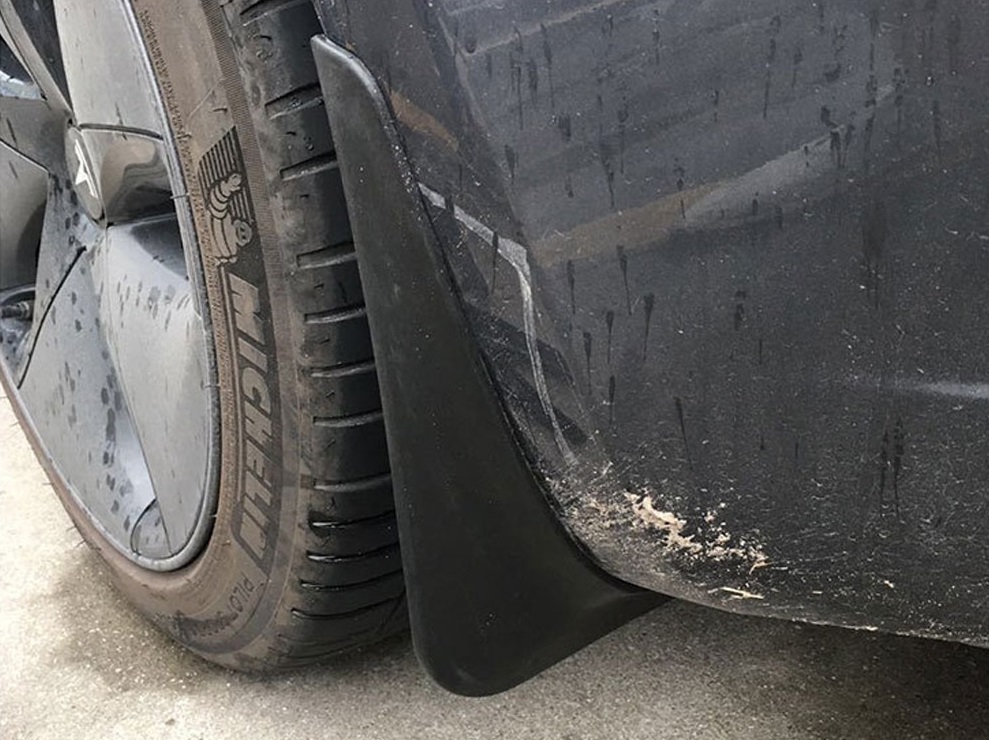 Mud flaps deflect mud and grime away from your vehicle, leading to less time spent on cleaning.
Good mud flaps also deflect debris, such as small rocks. This protects the bottom of your Model Y from the damage this debris can cause.
Protection from snow and ice that would otherwise collect on the car and lead to paint corrosion or rust.
Simple installation that requires no additional tools, assuming the mud flaps come pre-drilled.
Minimal impact on performance and range in exchange for enhanced protection.
How to install mud flaps on the Model Y
While it's easy to install your mud flaps, there are several steps you need to take both to prepare your Model Y and to ensure the flaps are secured safely.
1. Turn the steering wheel in the direction of the installation side
Before installation, turn your Model Y's steering wheel to the left or right respectively to allow for easy access to your wheels.
2. Remove the lower push clips
Using either a flathead screwdriver or the clip removal tool that comes with your mud flaps, remove the two lower push clips that secure the wheel to the arch liner. Note that you will not need to use these push clips again.
3. Place the Mud Flap
Move the mud flap into place while ensuring that it aligns properly with the holes in the wheel's arch liner. The mud flaps tabs will also need to hook onto the front fender garnish's backside.
4. Install the new push clips
From here, open the push clip that came with your mud flaps and push it into the inboard holes. Close the clip by pushing the plastic rivet in. Repeat this process for the outboard hole's new push clip.
Use the same procedure to install the rest of your mud flaps. Note that you may need to turn the Model Y's wheel in the opposite direction to access the wheels on the other side of the car.
If you want to install the official Tesla mud flaps, Tesla has an installation guide specific to this product.
Frequently Asked Questions
Is there any drilling required for installation?
No, you will not need to drill any holes in the Model Y when installing these mud flaps. All of them come with pre-drilled holes that allow them to slot easily into the factory perforation points when installing. They also come with the necessary screws and clips, which slot handily into the wheel wells existing holes.
You can install your mud flaps by hand with no additional tools required.
Do Mud Flaps Reduce Range?
Mudflaps do create additional air resistance, leading to some extra aerodynamic drag, similar to having a spoiler attached to the trunk of your Model Y. This leads to a reduction in range when traveling at highway speeds.
Even when driving at moderate to high speeds for long periods, the additional energy consumption in a Tesla equipped with mud flaps should be less than 1%, and insignificant.
Do Mud Flaps Increase Cabin Noise?
No, they do not increase cabin noise in a significant way. Although the additional area of the mudguards can create wind turbulence and slightly increased wind noise, it is not significant enough to be noticed in the cabin.
Closing thoughts
The official Tesla mud flaps may offer the best design and quality. However, they're expensive and only come in sets of two, which may make them less convenient for the thrifty Model Y owner. Tesla also tends to limit the amount of stock available, which may mean you have to wait a while to get your hands on them.
There's little to choose between the three unofficial solutions. They're all available for similar prices, they're all pre-drilled, and they all come in black. However, BASENOR's product has a more rounded design, which may prove more attractive for most Model Y owners.