With Tesla Model Y Seat Covers, you can create a new aesthetic for your vehicle's interior while protecting your seats. Aftermarket seat covers offer long-time protection with high-quality synthetic leather or waterproof neoprene material.
The Model Y uses modern safety features such as side airbags that deploy from the side of the front seats. Thankfully, seat cover manufacturers have taken this into account and all seat covers listed below are fully compatible and with this airbag system.
Model Y Seat Covers – Top Picks
Lets take a look at the best seat covers for the Model Y available and also review some of the benefits of having seat covers:
Best Seat Covers for Tesla Model Y
INCH EMPIRE Seat Covers for Tesla Model Y (Red)
Quick Overview
Includes 2 front seat covers, 1 front armrest cover, back covers, back headrest covers, and installation tools
High-quality synthetic leather with padding
Easy to wash without having to worry about discoloring or deterioration
Airbag compatible
These gorgeous red seat covers create an exciting contrast between the seats and the otherwise dark interior of the Model Y. They're made using synthetic leather, which is specially tailored to fit the seats of a 5-seater Model Y.
You receive a full complement of covers in this package, including two for the front seat, a back seat cover, three headrest covers, and a cover for the armrest at the front of the car.
The synthetic leather does a great job of resisting wear and tear. Plus, the covers come with handy tools for easy installation.
INCH EMPIRE Tesla Model Y Seat Cover (Black)
Quick Overview
Includes 2 front seat covers, 1 front armrest cover, back covers, back headrest covers, and installation tools
High-quality black synthetic leather
Easy to wash without having to worry about damage
Side airbag compatible
These are the same brand of seat covers as the ones above, with the only difference being the color.
Available in black, these covers align closely with the Model Y's interior design. If you're looking for covers that offer consistency in your color scheme, these may be the best option.
INCH EMPIRE Seat Cover for Tesla Model Y (Black Red)
Quick Overview
Includes 2 front seat covers, 1 front armrest cover, back covers, back headrest covers, and installation tools
High-quality red and black synthetic leather
Easy to wash without having to worry about damage
Fully compatible with side airbags
Again, these are the same seat covers as the two we've already examined. This means you get the same tools and quality. However, it's the combination of red and black that makes these covers unique.
They have a black outer trim, with a red highlight running through the center. You get the best of both worlds, as the covers mesh well with the Model Y's interior while making your seats stand out.
Tesla Model Y Waterproof Front Seat Cover
Quick Overview
Installs in seconds over your seat
Non-slip backing prevents slippage and keeps cover in place
Compatible with front driver and passenger seat
Completely waterproof material catches spills, post-workout sweat, beach sand, etc
Pulls out of the car and washes easily
Waterproof and easy to install, this seat cover has an attractive design that is predominantly black with some white accents along the base and back. They come with elastic straps that make them easy to install. Plus, the non-slip backing means that they stay in place even during bumpy rides.
It's excellent if you get into your Tesla after sweaty workouts, or if you go to the beach and want to get in the car with wet swim trunks with no worry,
These covers are only suitable for the Model Y's front seats. What's more, you only receive one cover per set, which means you've got to double up on your purchase if you want to protect both front seats.
Tesla Model Y PU Leather Cover Front Seat Covers
Quick Overview
Includes 4 pieces to cover the front seats and one armrest cover
Wear and tear-resistant PU leather material
Also available in red and black color.
Airbag-friendly
Made using 36 denier polyurethane leather, this is an attractive 5-piece seat cover seat. The glorious white coloring contrasts nicely with the dark Model Y interior, creating an enticing visual effect. Plus, the covers themselves are wear-resistant, anti-static, and breathable.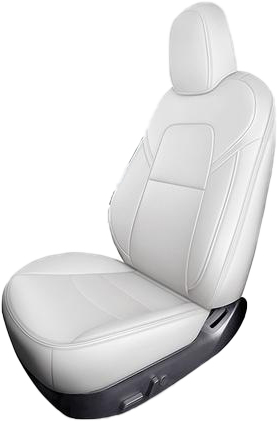 However, this set only covers the Model Y's front seats. Four of the five pieces are used for the seats themselves, with the last one reserved for the armrest.
Compatibility/Fitment
These seat covers are compatible with 2020-2021 Tesla Model Y. However, note that they're only compatible with the 5-seater version of the car. These covers will not fit on a 7-seater Model Y.
Model Y Front & Rear Seat Covers Installation Instructions:
Step-by-step installation of the Model Y seat covers by Inch Empire:
Benefits of Model Y Seat Covers
Upholstery protection
Over time, your original seats will undergo wear and tear. General use, spills, rough fabrics, and over time quite a lot of wear will happen. Seat covers protect the original upholstery so that it stays clean and with little wear for as long as you own the vehicle.
UV protection
The Model Y's unique design means that a lot of sunlight enters the car. Unfortunately, this also means ultraviolet (UV) rays reach your upholstery, causing it to fade over time. While the Model Y's sunroof has some built-in protection against UV rays, seat covers ensure your seats are fully protected from sunlight deterioration.
For the best protection possible against sunlight, a glass roof sunshade would be ideal, as it reduces the amount of visible sunlight and invisible radiation entering the vehicle.
Protection against pets
As much as you love your pets, you know that their claws can cause a lot of damage to your Model Y's upholstery. Couple that with the dirt and water that often accumulates in fur during long walks and you have a recipe for further damage. Seat covers offer protection against all kinds of paw scratches.
Worry-free cleaning
Model Y seat covers use a simple elastic setup for installation. This makes it easy to remove them whenever they require cleaning.
Can Seat Covers Interfere With Airbags?
This is a key concern as modern airbags, including those used in the Model Y, are built into the seats. As such, some seat covers can obstruct airbag deployment and compromise safety.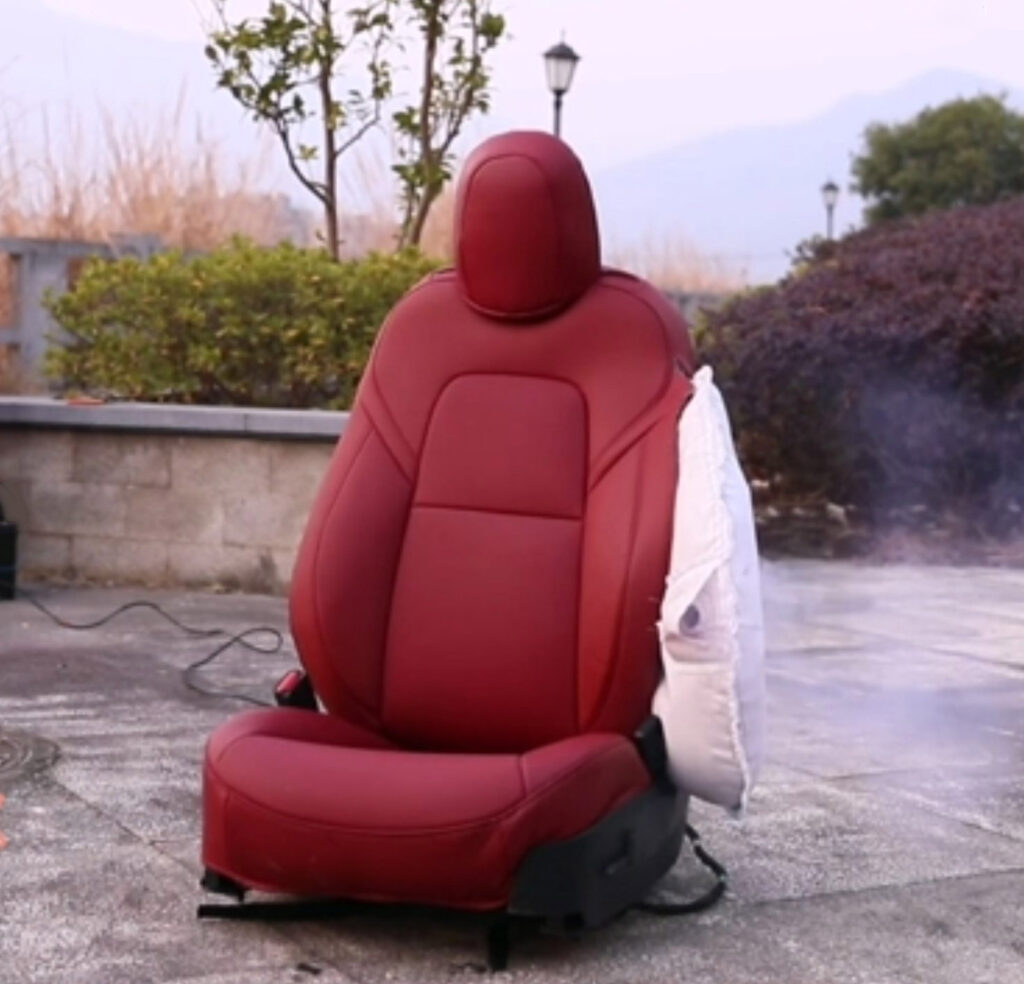 That is not the case with the covers reviewed above, as they designed to work with the Tesla airbag system. However, it's worth noting that the Tesla manual does not recommend the use of seat covers.
How to clean seat covers:
Gently scrub them with a mild detergent and a bit of water. Then, do a final wipe with warm water and a soft cloth. Avoid hot water as it may damage the covers. It's also a good idea to avoid cold water, as this may not remove all of the dirt from the covers.
If you remove the covers, allow the covers to dry naturally before reinstalling them. Do not place them into a dryer, as the heat may damage the cover's integrity.
Closing thoughts
So, which of these seat covers should you choose for your Model Y?
While each has good qualities, the INCH EMPIRE set is our solution as it is the only one to come with the full complement of covers. With the others, you only receive covers for your front seats, which creates a mismatched aesthetic.