Keeping your Tesla Model 3 protected with a car cover is essential if you want the exterior finish of your car to look new as long as possible. Constant exposure to sunlight, rain, dust, and other environmental factors can significantly degrade your vehicle's clearcoat, a protective layer that sits on top of the base coat.
If your park outdoors year-round, a Tesla Model 3 car cover can be a worthy investment that will help you keep your car clean, protected from sunlight, rain, and also free of scratches with a car cover for the Model 3.
Tesla Model 3 Car Covers – Top Picks
When looking for a car cover for an EV like the Model 3, it is important that the cover has an opening for the charging port of the vehicle. It is possible to charge your Tesla with a regular cover, but you would need to partially remove the car every time you want to plug in your EV.
Related: Tesla Charging Cable Organizers
It is crucial to have the car dimensions in mind when looking for a universal car cover. The Tesla Model 3 has a length of 15.38 feet, it's a bit shorter than the average sedan in North America. If you are looking for a car cover to use outdoors, it is essential to use securing straps to prevent the cover from flying away in strong winds. Taking these considerations in mind, let's take a look at some of the best Tesla Model 3 outdoor car covers:
Car Covers for the Model 3 – Review
BougeRV Tesla Model 3 Car Cover with Charging Port
Pros
Offers all weather protection
Three-layer construction for strength and durability
Straps and buckles for wind safety
Suitable for indoor and outdoor use
Effortless to use
Cons
The mesh component is quite delicate.
The moisture-repelling feature is substandard.
This all-weather cover for Tesla Model 3 is a great choice. It is made to protect your car from UV rays, cold, heat, pollutants, dust, and bird droppings. So you can use the cover both indoors and outdoors. This car cover also repels moisture, which is excellent.
When it comes to the cover's construction and material, it is second to none. Consisting of three layers of high-density material, it is sturdy yet breathable. The ventilated mesh component seamlessly maintains the airflow at all times. Nonetheless, if the ambient temperature gets too hot, Tesla Model 3 cars will automatically kick on the air-conditioning. Moreover, the soft lining will take care of the car's paint.
You will also love that this Tesla cover comes with adjustable straps and buckles at the bottom. In addition, the hem of the cover is elasticized. A combination of these features keeps the cover firmly on the car, come wind or rain. Moreover, the elasticized component offers a fantastic fit and makes it effortless to use the cover.
Other features that you will find practical include the opening for charging port and reflective straps. These features add a lot of convenience and safety as well.
Windshield Snow Cover for Tesla Model 3
Pros
Waterproof material
Excellent fit around the windshield and windows
Sturdy and durable material
Can be used as a sunscreen
Simple installation
Cons
Getting the cover to fit around the mirrors is a bit tricky.
This windshield snow cover is a fantastic choice for the winter months in snowy areas. After snow or freezing rain, you won't need to spend time in the cold taking the snow off or ice off the windshield and windows of your Model 3. The snow cover for the Tesla Model 3 makes things easier as removing the build-up from your windows will be a simple as taking the cover off.
The snow cover is a waterproof fabric. So it keeps off the snow and the moisture in a great way. The material has a rather flimsy appearance. However, it is surprisingly sturdy and will easily last winter after winter. In addition, you can also use these covers as sunscreen in the summer.
Overall, if you live in an area with plenty of snowfall, park your car outside, and want something more practical than a full-sized car cover, then this windshield snow cover would be an excellent accessory for your vehicle.
Read more: Wiper Blade Replacements for the Model 3
CarsCover Tesla Model 3 Custom Car Cover
Pros
Weather and waterproof heavy-duty fabric
Buckles and straps for wind safety
Comes with mirror pockets and a charging port
Designed for the Model 3
Comes with a storage pouch
Cons
The mesh vent on some units is placed awkwardly.
Looking for a heavy-duty cover for your Tesla Model 3? Look no further than this custom-fit cover. Consisting of five-layer fabric, this is undeniably one of the best car covers for Tesla Model 3.
The car cover is made with a blend of synthetic heavy-duty fabric, which will keep your car sufficiently protected. In addition, the interior soft fleece lining layer of this car cover snuggles your car paint. However, the lining is not the most durable, which is a bit of a bummer. You will find the mesh vents very useful for facilitating airflow and help prevent humidity from building up.
This cover also comes with practical and thoughtful features. These include mirror pockets and a zipper for the charging port. In addition, the tie-down straps and buckles keep the cover from being blown off by strong gusts of wind. The pouch for easy storage is also a great addition.
All-Weather Car Cover for Tesla Model 3
Pros
Excellent quality with a three-layer design
Weatherproof and waterproof
Mesh vents and charging ports included
Comes in a great quality storage bag
Cons
This custom-made car cover for Tesla Model 3 is another great pick. It comes with impressive features that will keep your car completely safe. This one has three layers to give your car maximum protection.
A waterproof woven polyester forms the outer layer, while the middle layer is a thermoplastic polyurethane. The third layer is a soft flannel that is perfect for protecting the car's paint. The multi-layer build keeps the car safe from sunlight, water exposure, dust, and even hail from hail, which is fantastic.
In terms of quality and design, this cover is also a champ. It has double stitching in the seams as well as an elasticized hem. Moreover, the mesh ports support airflow, and the charging port adds convenience.
You will also find the two built-in reinforced grommets extremely useful for keeping the covers intact during inclement weather. To top it all, the storage bag of this car cover is also of great quality.
Universal Fit Car Cover – Fits the Tesla Model 3
Pros
Five-layer design for maximum protection
Elasticized hems and straps included
Zipper entry on the driver's side for easy access
Fits sedans from 177 to 195 inches
Cons
The fit on the Tesla Model 3 is a bit loose.
No charging port opeing
This car cover is not exclusive to Tesla Model 3. However, since it has a universal fit, it should cover your Tesla without any problem. The covers' fit may not be as perfect as the other covers on our list. Nonetheless, if you are looking for a cheaper alternative for Tesla Model 3, you can't go wrong with this one.
That being said, this car cover works with sedans that are between 177 and 195 inches in length. Since the total length of Tesla Model 3 is 184.6 inches, it lies in the recommended length's sweet spot.
The edges of this car cover are elasticized, which makes it easy to put on and remove. Moreover, it also secures the cover from blowing off in the wind. The four straps also add an element of safety from the wind and harsh weather. The reflective strips on the covers also add an element of safety, especially at night.
If, at any moment, you wish to enter the car without taking off the cover, you can do so. This cover has a zipper entry on the driver's side, which makes this possible.
FAQ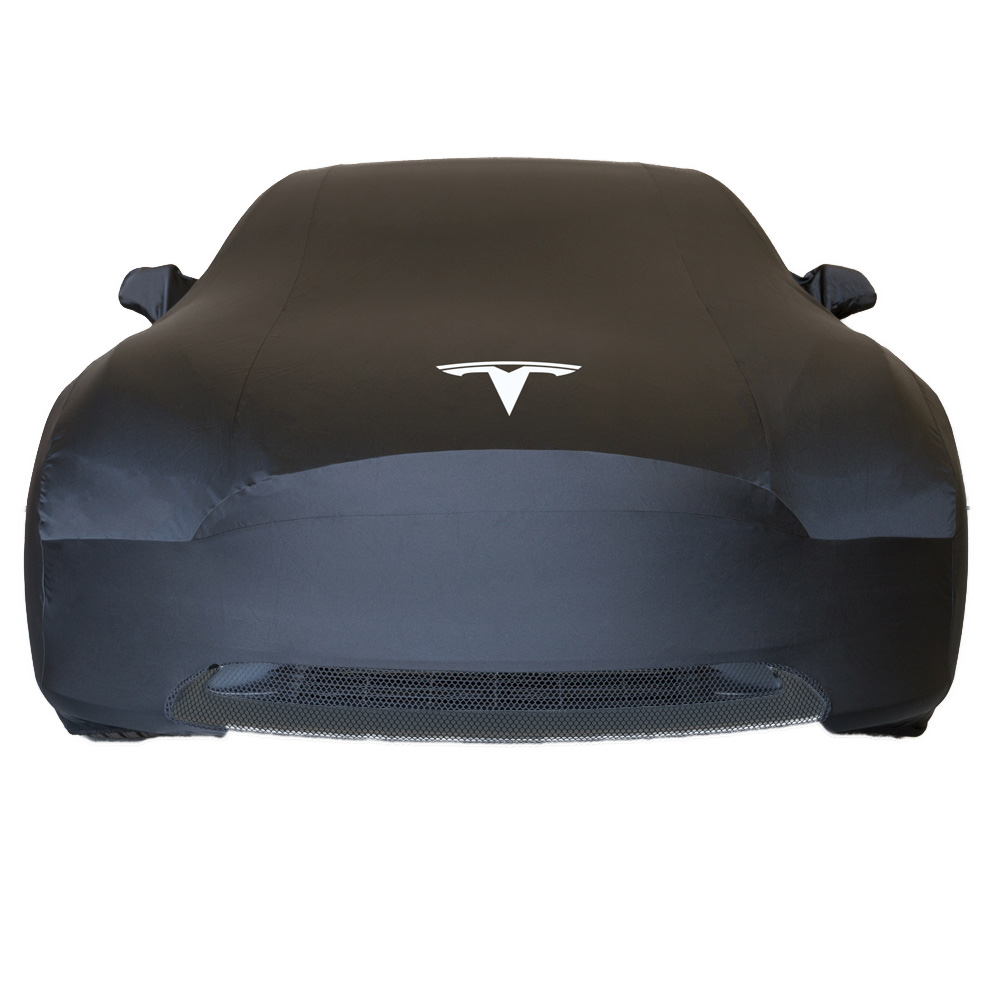 Can I use any car cover outdoors?
Not exactly. Outdoor car covers are a lot sturdier in terms of material and design. These covers can withstand the, including UV rays, in a fantastic way. In addition, outdoor car covers have straps and buckles as reinforcement from flying off in the wind.
On the other hand, indoor car covers are not meant to withstand harsh conditions. Although the indoor car cover may offer a certain level of protection from dust and grime, it will not last as long. In this regard, even the best Tesla Model 3 indoor car cover cannot beat an average outdoor car cover.
Can the Model 3 be charged while using a car cover?
Yes. That is if the car covers are custom-made for Model 3. These covers will come with charging ports that can be accessed without taking the cover off.
On the other hand, generic covers do not have this provision for charging. Therefore, you need to remove the covers every time you need to charge the car, which can be a hassle.
Are all car covers waterproof?
It depends. Car covers that are rated for outdoor use are waterproof and moisture-proof. This is an excellent feature as it keeps the car safe from rain, snow, and hail.
However, most indoor car covers are not waterproof. To make sure that the car cover is waterproof, read the product detail or product page.
Can car covers make your parked car cooler?
To some extent, a white car cover can keep the car cool. On the other hand, dark-colored car covers will not keep your parked car cool. Science says that a black object absorbs light of every wavelength, making black materials good for heat absorption.
Can car covers damage the paint of the Model 3?
A straightforward answer? No. There is no way that car covers will cause damage to Tesla Model 3.
In fact, car covers do to the opposite, i.e., protect the car's paint. The lining of most car covers consists of soft materials. The most common lining of car covers is soft cotton. However, fleece is also used in the lining of car covers. Since these materials are non-abrasive, so they protect the paint and keep it smooth and safe.
What does car cover material constitute of?
Most of the car cover materials are synthetic fabrics. The outer covering and the middle layer of car cover materials are typically thermoplastic polyurethane and polyester. On the other hand, fabrics such as cotton, fleece, and flannel form the car's lining covers. Some car covers are also made with polypropylene for added strength with polyethylene for softness of the interior layer.
Additional tips when using a Model 3 car cover.
Be aware of wind conditions: Battling the winds is the one that most car owners do not anticipate. If the car cover does not have buckles and an adjustable strap to keep the cover in place, the covers can be blown off. To avoid the rude shock of waking up to a car without a cover, double-check that they come with straps. This is crucial if the car cover is for outdoor use.
Store only when dry: Even if you purchase a durable cover for your car, the materials can degrade quickly without proper storage. Do not store the cover while it is still damp or wet. It is a great place for mold to thrive and compromise its longevity. So before you store away the covers of your Tesla Model 3, make sure that the covers are bone-dry.