If you want to keep your Tesla Model X protected while parked, investing in a car cover is an excellent idea to keep your paint, interior trim, and upholstery in excellent condition.
A car cover for the Model X will significantly reduce the impact sunlight has on your car surfaces, and also protect from dust, pollen, precipitation, bird drops, and branches falling from trees.
Even if you keep your Model X in the garage, it will protect it from dust accumulation if parked for long periods.
Let's take a look at the best car covers for the Tesla Model X.
Outdoor Car Covers for Tesla Model X:
CarsCover Tesla Model X SUV Car Cover
Quick Overview
5-layer design for outdoor and indoor use.
Custom-fit for the Model X
Inner soft fleece lining protects the paint
Integrated front mesh provides airflow
Opening for charging port
Tie-down straps included
This car cover has custom measurements that fit perfectly with your electric SUV and even feature a charging port opening.
Using a five-layered design, this cover can withstand continuous heavy-duty outdoor use. Thanks to the soft fleece inner lining, it will also keep your car's paint job free of any smaller scratches. In strong wind scenarios, the tight fit and strong tie-down straps will keep the cover in place and secured.
Being weatherproof, this cover keeps rain, snow, and dust off your Model X. The front mesh allows the air conditioning unit to suck in enough air to keep the car's batteries cool. This will prevent any unwanted overheating that can have adverse effects on the battery.
When you're not using the cover, you can simply fold it and tuck it inside the included storage pouch. Thanks to the pouch's small size, it won't take much space in your car's trunk.
Overall, this is an excellent Model X accessory to help protect your SUV from exposure to the elements when left outside.
Model X Outdoor Weatherproof Car Cover
Quick Overview
Custom-fit for the Model X
Inner cotton lining
Tie-down straps with code lock included
Reflective strips for added safety at night
A storage bag is included
This is yet another alternative for a Model X car cover for outdoor use with water resistance and UV protection.
Made with oxford synthetic material, this car cover can be used outdoors without worry as it includes windproof straps and reflective strips to minimize the risk of an incident while the car is covered.
For extra safety, a password lock can also be used with the central strap. Inner cotton lining protects the paint from scratches with this soft non-abrasive interior lining.
A portable storage bag is also included in the product, and adds convenience and portability to this accessory.
Tesla Model X Car Cover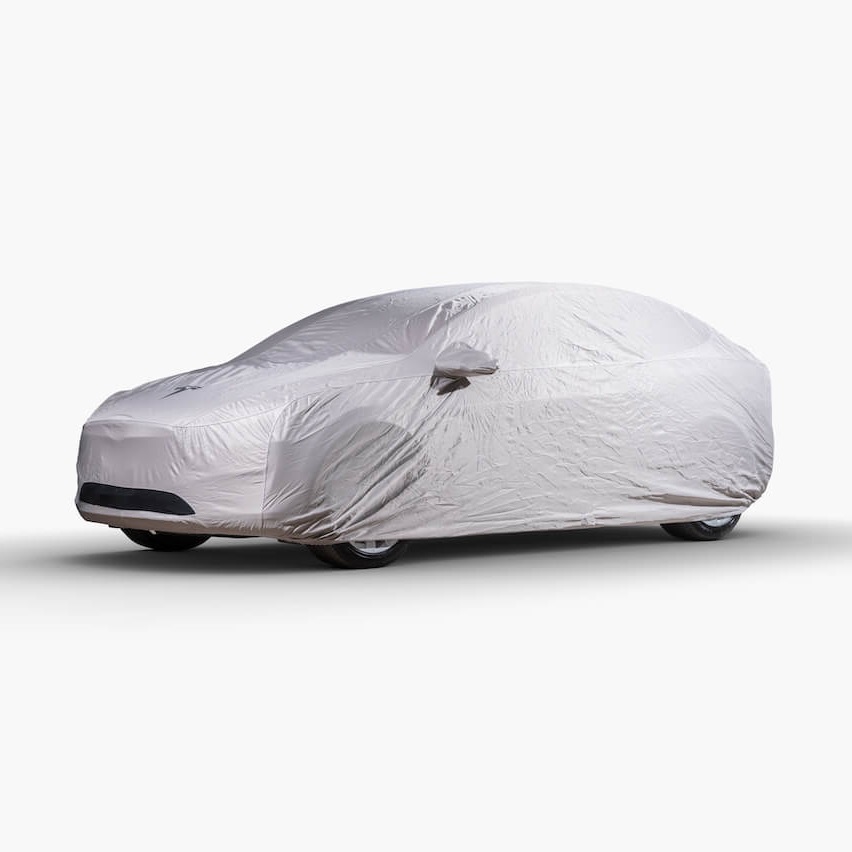 Quick Overview
Indoor and Outdoor covers available
Woven polyester for increased outer protection
Ultra-soft inside
Opening for charging port
Includes a storage bag
Tesla also offers both an outdoor and indoor car cover for the Model X boasting excellent quality and fit at a higher price point. If you prefer OEM original manufacturer parts and don't mind paying a premium this is an excellent option.
Both the outdoor and indoor cover options have a charging port opening for added convenience when charging the car while covered and also include a storage bag. The inner layer of this cover is an ultra-soft material that protects the paint and the outdoor cover has two outer layers of woven polyester for extra weather protection.
We recommend going for the outdoor cover. It is slightly more expensive but you can use it both indoor and outdoors with no trouble, while the indoor cover should not be used outdoors.
Compatibility & Fitment
The car covers listed above fit Model X SUV's if all years:
FAQ
What car covers can be used outdoors?
Not any car cover is meant to be used outdoors. A car cover meant for indoor use should never be used outdoors as it won't protect your vehicle properly and it can even fly away during heavy wind.
Outdoor car covers have additional outer layers for weatherproofing and tie-down straps to secure it to the vehicle.
Can the Model X be charged while using a car cover?
Yes, absolutely. Having a car cover with a charging port opening makes this possible. Make sure you're using a car cover with enough ventilation when charging your Model X.
If you're charging your car in your garage, it could also be useful to have a charging cable organizer.
Are all car covers waterproof?
Not all car covers are waterproof. Outdoor car covers are all waterproof but not all indoor covers are waterproof.
Can a car cover reduce heat inside the vehicle?
Yes, a car cover can help keep your car parked outside cooler as long as it is a white cover. This is due to the fact that white reflects more of the light spectrum compared to dark colors.
Additional considerations when using a car cover for the Model X
Here are a few recommendations that you should take into account when using a car cover for a car parked outdoors.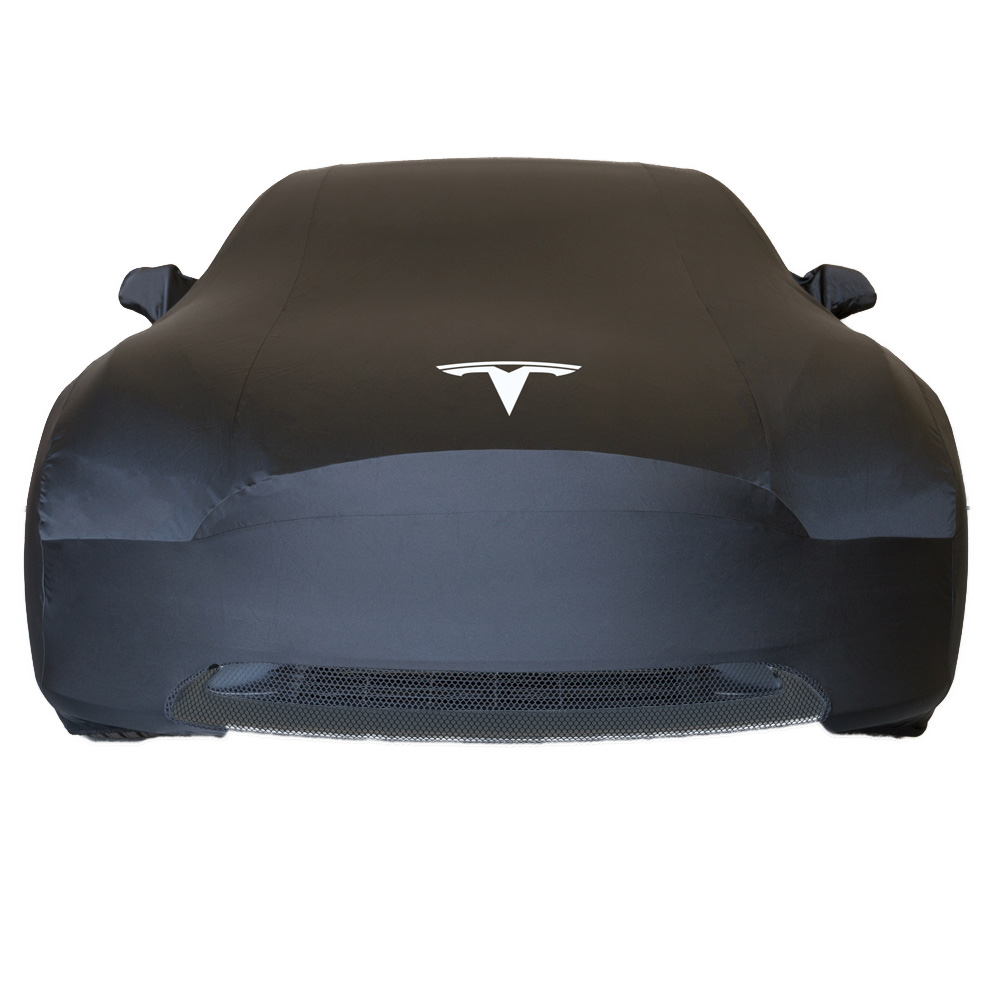 Use the tie-down straps
The use of the included straps is essential as it secures the cover and prevents it from flying off in high-wind conditions.
Always strap your cover properly even when there is no wind or stormy weather in the forecast as a single gust of wind could send it flying.
Store only when dry
After it rains and the car cover is wet, it is essential to dry it out completely before storing it or folding it. Give it a good shake and then place it completely opened up on a dry room with good ventilation.
If you store your cover while wet, it could develop mold, foul smells, and the material would deteriorate prematurely.