A Tesla Model S car cover can do wonders in protecting your car from damage, sun, and weather degradation. Your vehicle's paint can fade over time due to UV rays and having it covered can decrease that considerably. Even when parked indoors, having a car cover for the Model S will help you keep your vehicle free of garage dust.
The Tesla Model S is an impressive electric sedan and deserves every bit of care that the owner can offer. Getting the best car cover for a vehicle should be on every owner's "to do" list. Here are the top Model S car covers:
Car Cover for the Tesla Model S – Top Picks
A car is a valuable asset. Keeping it protected from dust, scratches, and harmful UV rays should be a top priority. If you want to take the best possible care of your Model S, using a cover when it's parked for long periods will help you reduce not only exterior but also interior degradation. Direct sunlight is harmful on the paint and the interior upholstery.
Knowing how difficult it can be to choose one for a vehicle with the dimensions of the Model S, we've reviewed the top five car cover choices for Tesla Model S owners:
Best Tesla Model S Car Covers – Review
CarsCover Tesla Model S Car Cover with charger opening
Pros
It snuggly fits the Tesla Model S
It is fully weatherproof
Charging port opening
Patented UV stabilizer to ensure durability
Cons
The material might be difficult to dry during the winter
If you are looking for a Tesla Model S car cover that will perfectly fit the car and protect it from any kind of weather, the CarsCover Custom Fit Weatherproof Ultrashield is the way to go. Build for heavy-duty use; this outdoor car cover will not disappoint any car enthusiast.
The reason why this product is so effective in keeping moisture and dirt out of the car is all thanks to its material. The fabric has five layers which make it waterproof and weatherproof. You will not have to worry about this car cover scratching or damaging your vehicle's paint because the fleece lining adds a soft finish to the interiors.
You get the perfect pockets for the mirrors and mesh in the right parts so that cool air can circulate when charging the car. There is a flap positioned at the charging port with Velcro for easy opening and closing.
Related: Accessories for the Tesla Model S
Tesla Model S Black Weatherproof Car Cover
Pros
Built-in inner lint to protect pain
Tear-resistant material
Reflective strips makes it easy to spot at night
Flame-retardant material
Storage bag included
Anti-theft password lock feature
Cons
It is available only in black
No charging port flap on the cover
Designed specifically for Tesla Model S, the Old Street Car Cover will be a perfect fit. It has the mirror pockets at the right spots and the exact dimensions for a Tesla Model S. One can say that it fits the car like a glove. Not even a drop of water will pass through the lightweight and durable oxford material.
There are two noteworthy features relating to safety and security. The first one is having reflective strips in the right spots so that people can see it even in dark conditions. The second is a password lock anti-theft design, which is easy to use and safe.
Universal Car Cover – compatible with Tesla Model S
Pros
Universal fit
The material is flexible and durable
Excellent value for the product
Lightweight car cover
Two sizes available
Cons
No charging plug opening
It might not fit the Model S precisely as it a universal-fit cover
Sometimes, it is best to buy a cover that can fit most types of cars because we might not have a particular model forever. If this thought is an issue you face, buying a universal fit car cover such as the Eluto sedan car cover is an excellent idea.
The fabric is a high-density polyester, which has many features like being waterproof, having UV protection features, scratch-proof, and windproof. The design of this car cover is an inverted "v." This shape stops the accumulation of snow and rainwater on the cover.
Model S Car Cover with lockdown straps
Pros
Cable lock included for extra security
Perfect cut for Tesla Model S dimensions
Good for outdoor use
Included wind straps
Cons
The provided clips are not very effective
The perfect car cover is tough on the outside to fight against the wind, snow, sun, and rain, and soft on the inside to keep the car protected from scratches. The Weatherproof Car Cover is one of the best options for all tesla model S car cover reviews. Stitched specifically for all submodels of Model S, this product will not disappoint.
The 5 layer fabric ensures breathability and water resistance. You get many free things with this product like cable and locks, as well as wind straps. This ensures the safety of you car against theft as well as mild or strong winds. The hems have elastic bands for a snug fit and UV resistant material for protection from heat.
Waterproof Car Cover – Universal fit for Sedan
Pros
It has reflective strips for easy visibility at night
It is very lightweight
Multi-layer material
Waterproof storage bag included
The front and rear edges have elastic bands for a better fit
Cons
No charging plug opening
It will not fit the Tesla Model S like the custom-made ones
It is only water-resistant
The Kayme Car cover is another universal fit car cover for all sedans. The 6-layer material is fully waterproof, so you can keep it out on rainy and snowy days without worrying. The entirety of the car cover is reflective aluminum. This feature keeps the heat at bay and your car cool even if you keep it out in the sun.
One convenient feature about this car cover is that there is a zipper door on the left side. You can easily unzip it and open the door of the driver's seat. The wind straps are on the front and the rear to keep the cover fixed on windy days. When it gets dark outside, you can still see it thanks to the reflective strips.
FAQ
What is the length of the Tesla Model S?
The Tesla Model S has a length of 196 inches. This makes it an above-average sized sedan, longer than most vehicles on the road.
Take this length into consideration when looking for a car cover appropriate to your vehicle. A generic car cover that is around 196 inches in length will work on the Model S but you will have to remove it every time you need to charge the vehicle as there is no charging port opening.
Can I use any car cover outdoors?
Considering the fact that there are indoor use car covers and outdoor use car covers, the answer to this question is a no. There is no harm even if you use a Tesla Model S indoor car cover for outdoor use. The only problem is that car covers explicitly made for indoor use degrade much faster than the outdoor use ones.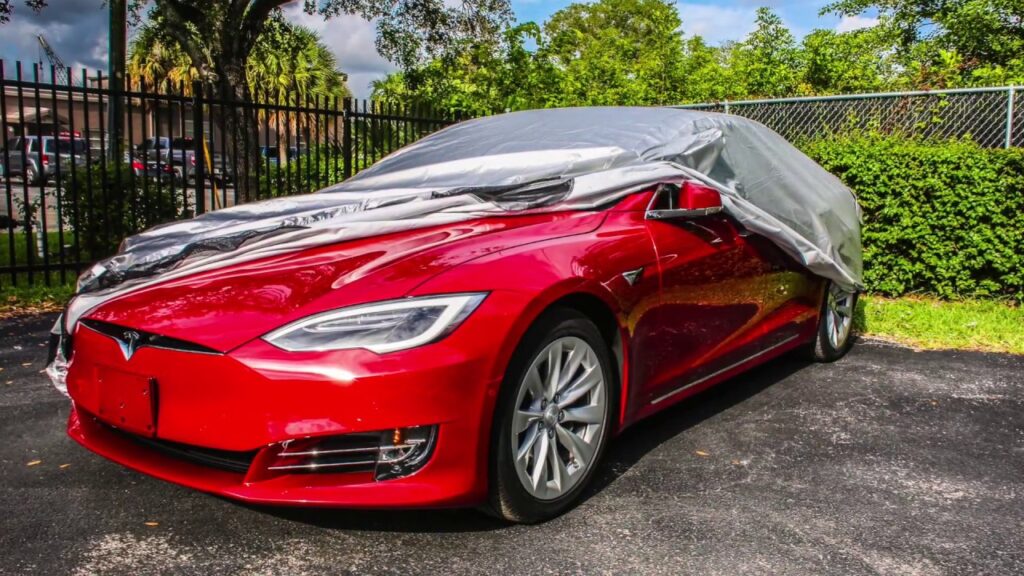 If you park your car outdoors, it is in your best interest to get a car cover for outdoor use. This way, even if you expose it to natural factors like snow, wind, rain, and sunshine, it will last for a long time. Most, if not all, outdoor car covers also come with wind straps so that it can stay put during windy days.
Can the Model S be charged while using a car cover?
Yes, you can charge your Tesla Model S even when covering it, provided the car cover is a custom- made one. There are two types of car covers, namely, custom-made and generic model S car covers.
The generic variant does not have mesh or openings that allow cool wind to enter. Without this feature, you will be compromising the safety of you and your car. At the same time, you do not get direct access to the charging port, so you might have to lift the rear cover to charge it.
The custom-made car covers have features that allow for cool wind to reach the battery. In addition, these car covers also come with a charging port flap or opening. This way, you do not have to lift the rear side every time you charge your vehicle. It is entirely safe to charge your Model S even when covering it with a custom-made car cover.
Are car covers waterproof?
All car covers made for outdoor use are waterproof. Even if they are not 100% waterproof, outdoor use car covers are water-resistant to a certain degree. Even if it is pouring outside, you do not have to worry about leaving your Tesla Model S out in the storm if you cover it with one of these car covers. Please read the product descriptions above to check if the car cover is waterproof or not.
There is a difference between waterproof and water-resistant car covers. Fully waterproof car covers will prevent even a drop of water from getting to the car's surface. They are less breathable than the water-resistant ones. On the other hand, water-resistant car covers can keep most of the water out. But it allows some moisture like dew to pass through because of its breathability.
Can car covers make your parked car cooler?
White or light-colored car covers can keep your parked car cooler on hot and sunny days. One the other hand, black or other dark-colored car covers will not help in keeping your car cool. If you live in a place where sunny weather is more prevalent, it will be best to purchase a white car cover.
The reason why white car covers can keep your car cool even when you park it out in the sun is that this color reflects sunlight effectively. Reflecting sunlight means a certain amount of the sun's heat also gets reflected, and without this heat, your vehicle can stay cool. As for the color black or other dark colors, it has the ability to absorb light and, in the process, heat as well.
Can it damage the paint of the Model S?
No, it will not damage the paint of the Model S. The makers of car covers make sure that the materials of the cover's insides are all non-abrasive material. One function of a car cover is to protect the car from getting scratched or getting the paint chipped off. So it is mandatory for all good quality car covers to protect the paint of a Model S instead of damaging it.
One thing to remember here is that if there is dirt in between the surface of the car and the cover, any friction might cause some damage to your vehicle's paint job. Make sure you clean your vehicle before putting on a cover over it.
What are car covers made out of?
Knowing the car cover material is critical because it decides whether the product will be durable, fit, and long-lasting or not. The materials for indoor use and outdoor use may also differ from each other. The most common type of car covers are made of synthetic fabrics.
Hence, if you are in search of a particular fabric, read the description thoroughly before settling on one car cover. Some recommended materials for outdoor use car covers are plastic, breathable plastic material, polyester-cotton combination materials, polyethylene, and polypropylene. Indoor use car covers can also use the same materials, but they are usually softer and less durable.
Additional considerations when looking for Model S car covers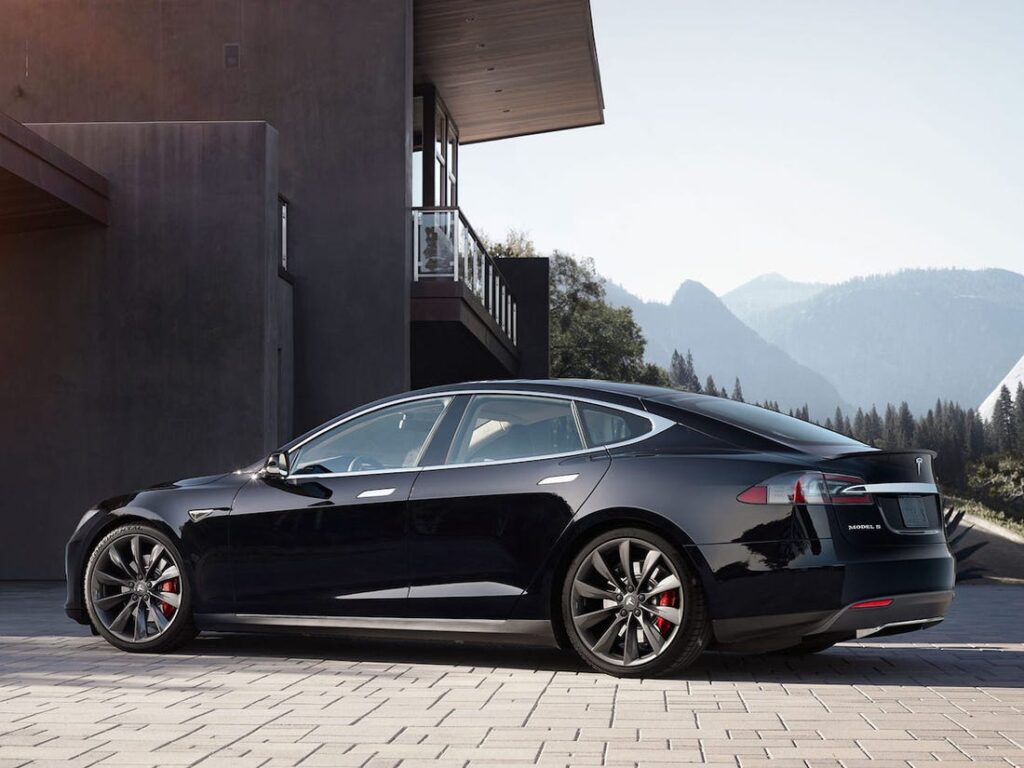 Outdoors vs. indoors car covers
The most important feature to have when looking for a good outdoor cover for your car is wind straps. This secures the cover to your vehicle so no matter the weather conditions out, you can be assured that the cover won't fly off. This will make installing and removing the car cover a little bit more tedious but you can rely on it the cover staying strapped to your Model S.
On the other hand, an indoor car cover won't fly off due to wind gusts and doesn't need the same level of steadiness. Make sure it is double-layered with an interior layer of soft lint to protect paint from scratching.
Be aware of wind conditions
One additional point to keep in mind while buying a Model S car cover is to ensure that it comes with securing straps. This feature will be a necessity, especially if you are planning to use it outdoors, where high winds might be a problem. In case you do not strap the cover on the vehicle properly, it might come off when a strong wind blows.
Keeping the cover strappedcorrectly will also help to keep it fixed so that there is no friction between the cover and the vehicle's surface. This tip will prevent minor scratches. Buy a product that fits your car perfectly to avoid such preventable damages.
Store only when dry
Keeping the car cover in good condition will extend its life. While storing the product, always make sure that it is fully dry. Even a little bit of moisture will degrade the quality of the cover tremendously. Mold may also start to grow, and this is bad news for any fabric. Dust your car cover at least once in two weeks.
While folding it, do the task on a clean surface so that no dirt particles get folded with it. Store it in a clean and dry place to let it stay in top-notch condition till the next time you use it.