Tesla Model S interior lighting is lackluster from the factory. The original LED lights are not the brightest and could use some improvement to light the cabin up better at night.
Luckily, the original lights can be easily swapped out with brighter LEDs with an interior lighting upgrade kit for the Model S. This is a straightforward upgrade that can easily be done in your own driveway, and one of the best Tesla Model S accessories you can get.
There are a few alternatives available both for users who want to upgrade their cabin lights brighter and also for users who'd like to give their cabin a more personal touch with colored ambient lighting. Let's take a look at some of the best Model S lighting upgrades:
Tesla Model S LED Lighting Upgrade – Top Picks
Upgrading the interior LED lights is an excellent aftermarket improvement that any Tesla owner can do. They help with night visibility and make the interior look more appealing and modern.
Here are some of the best Tesla Model S interior lighting upgrade kits that we've selected from a variety of products available in the market:
Interior Lighting Upgrade Kits for the Model S
Tesla Model S Full LED Lighting Upgrade Kit
Pros
17-piece set
Straightforward installation
Replacement LEDs for every interior light
Cons
Some users might prefer replacing just a few lights
This set of LED lights, specifically designed for a Tesla Model S, contains all the LED lights you need for a complete upgrade of every replaceable interior light of your vehicle. It can make
It contains 17 pieces of plug-and-play LEDs. From your trunk to the courtesy lights and footwell, you can count on this product to shine a light on every nook and cranny.
The plug-and-play installation makes it effortless for anyone to install them into the Model S in no time. You will not need any extra tool because the extra-long wire plug snaps in easily.
Related: Center Console Organizers for Tesla Model S
Bright LED Lighting Upgrade Kit for Tesla – 4 pack
Pros
High-quality construction
Bright LED chips
Prying tool included
Cons
Four LED replacements might not be enough for most users
The direct replacement BougeRV interior lights for Tesla Model S are simple to install due to their design. There are no wires on it that you need to stuff back in or hide to keep things tidy. All you have to do is remove the original lights and clip the new ones in its place.
It includes four interior light replacements so that you can replace some of your interior lights. This allows you to just upgrade the few spots you think need brighter lighting in a cost-effective way.
A useful and convenient addition included with the replacement lights is the prying tool you get for free, and you can use it to remove the old lights or other pieces of trim.
Model S Interior LED Light Kit – Blue Ambient Lights
Pros
Four distinct color options (Blue, Red, Purple, and White)
Excellent value for the money
Even the colored ones shine very brightly
Fairly easy to install
Cons
If one of the lights does not work, you will have to uninstall them for replacement.
Interior lights with colors can serve two purposes: First, brighten up dark places. And second, to give your car interior a custom interior atmosphere. This product comes in four enjoyable colors: white, blue, red, and purple. You can choose the white option if you want to stay true to the original ambiance of Teslas.
There are five spots in which you can place these lights in the Model S. The choices you have are putting the lights in the trunk or frunk, the glove box, the puddle light, or footwell lights.
The installation is simple enough, and if you have a driveway or private garage it should be a matter of minutes to install these. They perfectly balance bright lights, personalized ambient lighting with relatively low power consumption.
Ambient Colored LEDs for Model S Ambient Lighting Upgrade
Pros
It lights up in seven different colors
Four different levels of brightness
The USB plug makes it possible to use virtually anywhere
Very simple installation
Cons
USB-powered ambient interior lights are without a doubt the most practical way to improve interior lighting in your Model S. Due to the USB standard, they can also be installed in other vehicles and even your own home. You can control the lights with a remote control that you along with the product.
These ambient lights can shine in seven different colors: purple, white, blue, green, red, cyan, and yellow. There is also an option where the colors switch with a slow fading effect. No matter which color you prefer, these LED lights can create a delightful, personalized atmosphere for everyone inside the car.
If power consumption is a concern to you, the lights only consume 0.035W of power at their maximum brightness. This is a minuscule amount of energy that will have a negligible impact in the range of your Tesla Model S.
Tesla Model S Interior LED Trunk Light Kit
Pros
The size and shape fits into the light slots perfectly

It evenly and brightly illuminates the trunk
Cons
A well-illuminated trunk is a wonderful thing. This Tesla Model S trunk light kit comes with two LED lights to upgrade both of the trunk lights in your Tesla.
It is a relatively straight-forward process as all you need to do to install these is remove a few pieces of trim and install the upgraded lights. They are plug-and-play, just like all of the products mentioned above, and should only take a few minutes to install.
Motrobe uses only the best quality parts, from the plastic materials of the casing to the LED lights themselves. The manufacturer is confident in this product and they include a lifetime warranty in case one of the LEDs malfunction.
Tesla Model S LED Interior Light Upgrade – Red
Pros
Sleek and stylish design
No modification of the lights is necessary
Easy to replace
Cons
Red color might not be appropriate for illuminating certain interior areas of the car
Adding a dash of brightness and style to the interiors of your Tesla Model S might be the best decision you make with these lights by Mallofusa. They come ready for use in the package itself. You do not need to do any assembly, drilling, or cutting.
The base material of this lighting kit is ABS and aluminum alloy. Whether you want to put them in your trunk, the glove compartment, the courtesy lights, puddle light, or front light, the choice is yours. You get four pieces of light in one single package, so you do not have to settle on lighting up just one part of your car.
Tesla Model S LED Lighting Upgrade Installation
As mentioned earlier, the task of changing the interior lightings of a car is not so complicated that you will need to call a professional. Especially with the lights listed above, you get everything handed to you on a silver platter. You do not have to buy any additional parts separately. All you have to do is plug them in and turn them on.

Here is a more detailed step-by-step look at how a person can change the interior lights of their car:
Decide on how many lights you want to upgrade and where you want to place them
Completely turn off your Tesla Model S
Locate the position of each connector on the panel
Pry out the original LED light
Remove the original light and replace it with the new lights
Turn on your car and enjoy your new interior lighting setup
Related: Tesla Model S Sound System Upgrade
FAQ
What are the benefits of upgrading the interior LED lights?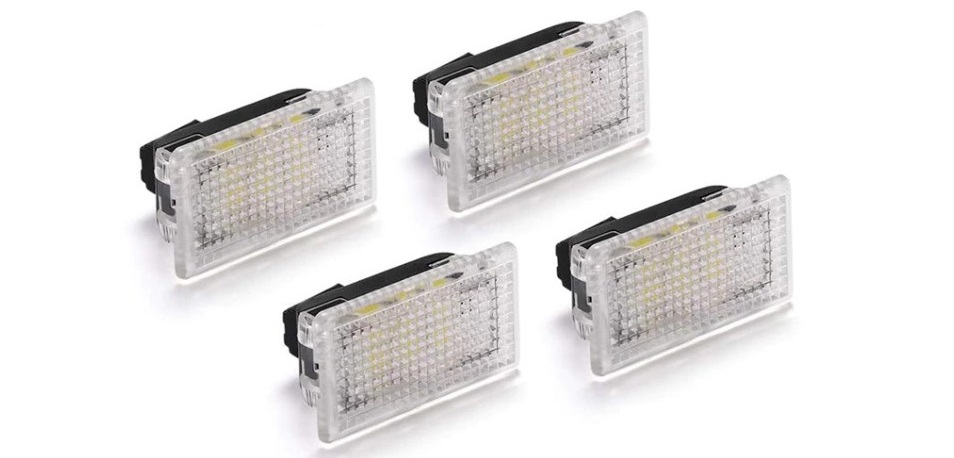 The stock factory lights Tesla includes from the factory are dim compared to a set of upgraded aftermarket LED interior lights.
With an interior lighting upgrade, visibility at night will be increased. There is also the option of giving a more personal touch to your Model S with one of the colored LED lights that plug-in directly to the original connector.
Would these brighter lights drain the battery faster?
No, these lights will not drain the car's battery faster even though they may be brighter than the previous ones. LED technology allows for bright chips with low energy consumption.
They will only use slightly more energy than the factory lights, and will only be on when having the door open. There will be little to no difference in energy use, and it won't be noticeable to the user due to the significant size of the Model S battery.
Can upgrading the Model S interior lights void the warranty?
No, you will not void the warranty of your car by upgrading the interior LED lights. If you are concerned about this issue, you can always keep the original stock factory lights safe and switch them back if you need to get any service done.
How long does the lighting upgrade installation take?
It takes around five minutes to install one light. Even if you are no expert and have only basic knowledge about changing bulbs, it should be a straightforward process.
You do not need to call a professional to help you change the interior lights of your car. You can do it on your own. Make sure to follow all the necessary safety precautions, such as completely turning off your Tesla, have all the right tools in hand, and more importantly lots of patience.
Is there any fuse that needs to be changed when doing this upgrade?
No, you don't need to change any fuses or electrical system components to upgrade the Tesla Model S interior lighting with brighter LED's.
Some final thoughts
An excellent addition to your Tesla Model S is installing an aftermarket set of interior LED lights. They not only help illuminate your car better but also give your interior a custom look if you opt for any of the colored interior lights options.
If you're looking for a complete upgrade kit, our recommendation is the Model S complete LED upgrade kit by Oznium. The 17-piece LED set includes every light you need to fully upgrade every replaceable interior light.