The Model S is a very spacious vehicle with plenty of space on the inside. Despite boasting plenty of interior space for passengers and cargo, actual storage areas for everyday items is very limited. The first models manufactured by Tesla didn't even include a main storage console.
Fortunately, there are various aftermarket center console accessories for the Model S. A CCI can greatly improve the practicality of our front console area so let's take a look at the best Tesla Model S Center Console Inserts.
EVannex Center Console Insert
Easy installation
High build quality
OEM-look
Topfit Silicone Center Console
Varied storage types
Easy to clean
Silicone material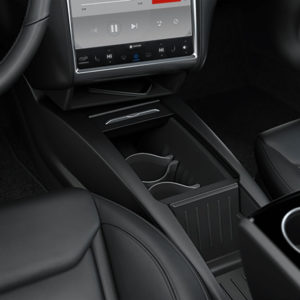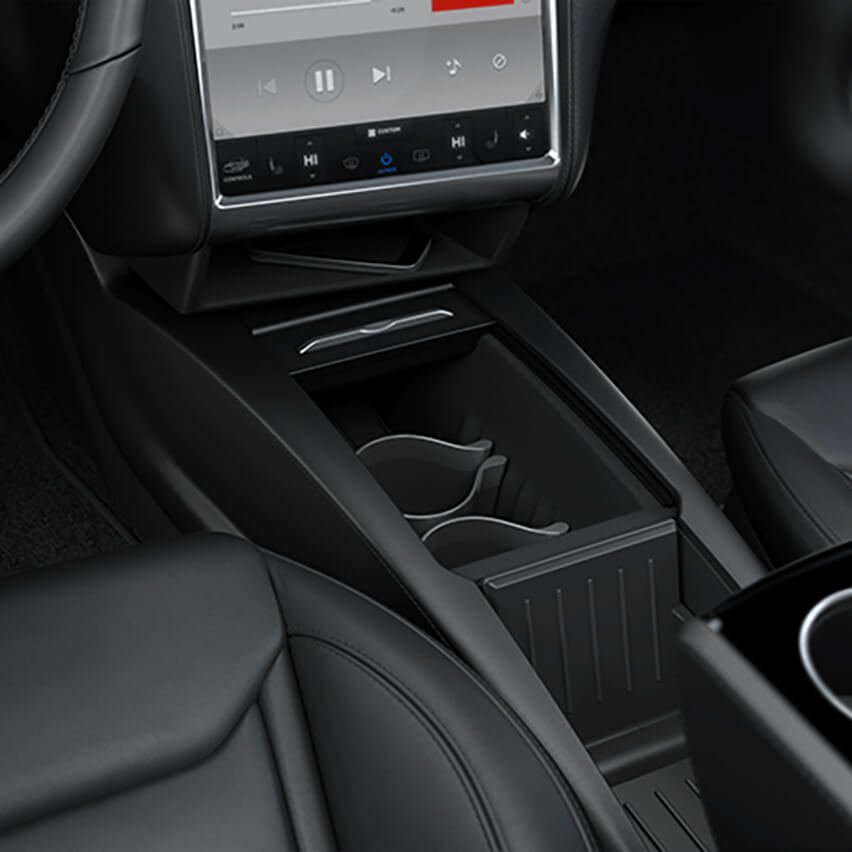 Tesla Integrated Console Insert
Premium styling
Flexible storage
Expensive

EVannex CCI – The Best Tesla Model S Center Console Insert
Pros
Easy installation and removal
Very high build quality
Well-known manufacturer
Cons
Phone holder could be improved
Has only one cup holder
The Center Console Insert (CCI) is Evannex's most popular product by far. It was designed for Model S configurations with no center console. It provides concealed storage for your items, a cup holder designed to accommodate all beverages of essentially all sizes and a phone caddie to store or charge a smartphone.
The CCI can be inserted or removed at any time with ease. This CCI is the only console that allows you to order the exact trim finish and upholstery that matches your Tesla Model S interior. It has been designed to fit perfectly with other interior elements in the car to maintain that OEM feel. To unsuspecting eyes, this center console insert looks like it came with the car from the factory.
It comes in three different finish textures:
Carbon Fiber
Piano Black
Matte Black
Let's take a quick look at the three main storage spaces offered by the Evannex Center Console Insert:
Storage Area
This area has a sliding lid that securely stays closed with a magnetic latch. It is relatively roomy and can store quite a bit of stuff. An extra cup holder can be added here but it will take up most of the space inside this storage area. The bottom material is rubber and it prevents your items from sliding around.
Cup Holder
The main cup holder is appropriately designed to accommodate drink containers of almost any size. There are rubber inserts that keep smaller containers secured but also do their job with bigger drinks. However, with very large drinks they can be problematic but fortunately, these can be easily removed if you have troubles accommodating any container.
Phone Caddie
The phone caddie is a small opening very reminiscent of other phone storage areas in many newer cars. Obviously, it can serve as storage for other items apart from your phone and many users will end up using it is not the best phone caddie out there. Why? It has an inconvenient angle and it can be sometimes hard to reach. This is not good for a storage space that will be accessed often. Cables can be routed to this area as well.
Topfit Center Console with Cup Holders – Silicone Alternative
Pros
Easy to clean
Varied storage types
Lower price while maintaining quality
Cons
Doesn't look as OEM-ish
Silicone texture does not give a premium feel
This Center Console Container is made from premium silicone and was also designed with Tesla Model S with no center consoles in mind. It has a different approach to Evanexx's CCI as its a single piece of silicone that doesn't have any covered storage. This resembles the center console approach of many vehicles where there is no covered storage apart from the main console between seats.
The container can not only be inserted and removed with ease but also it is extremely easy to clean. If it gets dusty or you spill something on it, remove it, give it a good spray with water and put it back, simple as that.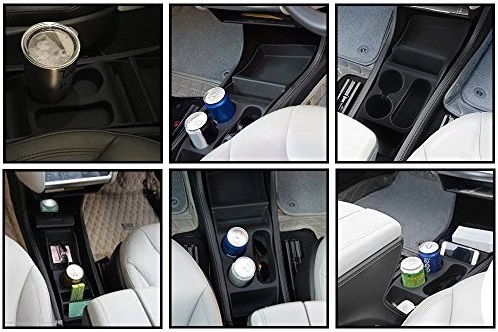 While the main storage area is not as roomy as other center consoles, this PROBASTO's center console insert boasts five different storage areas:
Main storage
Phone holder
Miscellaneous
Sunglasses holder
Cup holder (x2)
Model S Integrated Center Console – Tesla's Alternative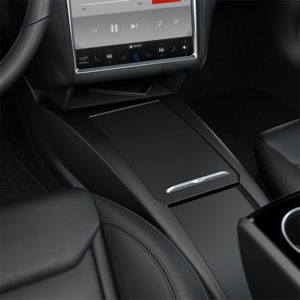 Pros
Premium look and feel
Flexible storage
OEM-like fit
Cons
Often out of stock
Not easily removable
Pricey
Tesla also offers its own integrated center console accessory for the Model S. This console integrates seamlessly with the car's interior and is a very stylish storage compartment. Tesla's option integrates best with the car, and it doesn't surprise us as it comes from the manufacturer itself.
This insert is the most sophisticated one: Tesla uses the exact same material that already exists on the vehicle sliding armrest and decorative trim. It can also accommodate the installation of Tesla's new phone dock.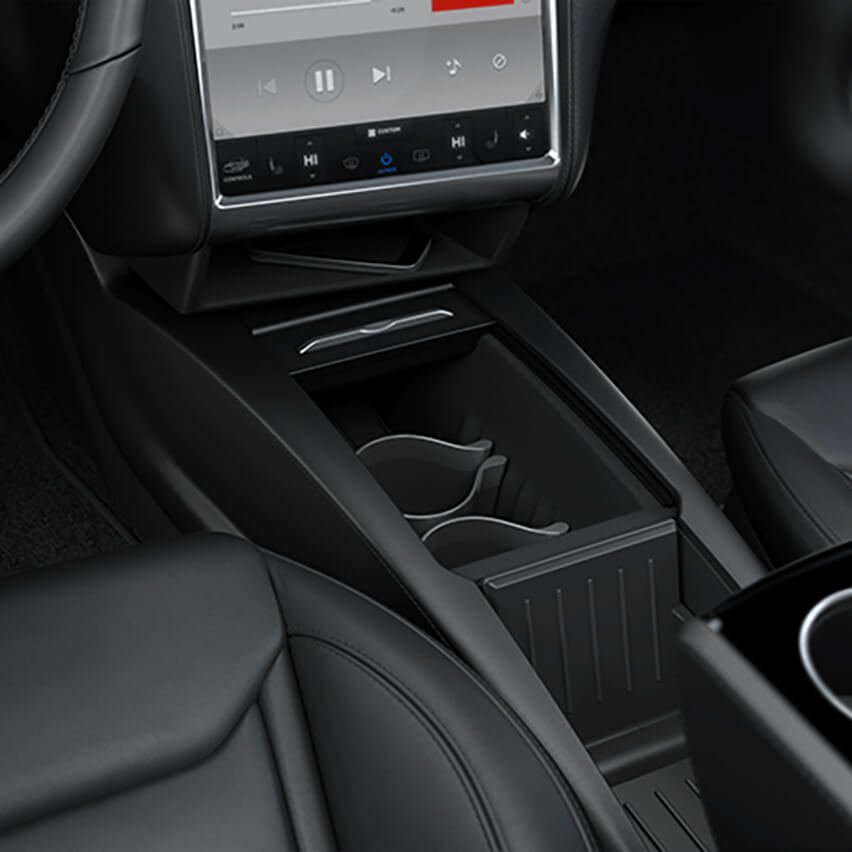 Some of its main features are:
Side panels with premium stitching.
Single piece sliding cover in Tesla's signature Mammoth Black.
One-touch to close operation for the sliding over
Two retractable rear cup holders
Removable, curved dividers to customize the space fully according to user needs
Final thoughts
Looking at the three alternatives, it is clear that Tesla's offering may be superior in all aspects. After all, it's the console insert that should have been included with every Tesla vehicle. Unfortunately, this item has been out of stock for a while and we suspect Tesla has stopped production of it.
On the other hand, the Evannex Center Console Insert is a very strong alternative that provides almost the same OEM feel. Not to mention its price is much more affordable, it can be easily installed and removed and also has different texture options. It's also always in stock so getting one in your hands quickly won't be an issue. This accessory will absolutely make a huge difference in terms of the interior utility of your Tesla.
Related: Tesla Wireless Phone Chargers
Note: Evannex CCI was been designed for Tesla Model S models manufactured from June 2012 to May 2016. Evannex CCI may not be compatible with the Model S refresh vehicles manufactured after that date.